FOR THE ATTENTION OF ALL DFWI DELEGATES attending the NFWI Annual Meeting:
NFWI 2022 Annual Meeting Information – Member Lunch orders
The link to order a packed lunch for the Annual Meeting is now live and will be available to place orders until Friday 27th May 2022.
Please follow the link before and use the instructions below to assist you with your lunch purchase.
This link is dedicated to the NFWI 2022 Annual Meeting only - https://accliverpool-web.ungerboeck.com/sop/sop_p1_steps_booth.aspx?eventid=43012&cc=SOPCAT&oc=10
It will ask for a stand number; I kindly ask if members can enter '0000'
The ordering form will then appear and show the option of lunch bags
Members need to enter how many lunch bags they will need
There is an additional details box which needs to be filled out – here the members will put their preference of meat/fish/vegetarian and any allergy requirements etc.
Members will be asked a 'stand name' – Members will need to enter their name as this will be what we need for them to redeem the packed lunch on the day
Lastly the last page will be the payment and they will be sent confirmation of purchase
As this is new and quite a lot of information, we have attached a step-by-step guide (slides 1-4) as an example to assist your lunch order purpose.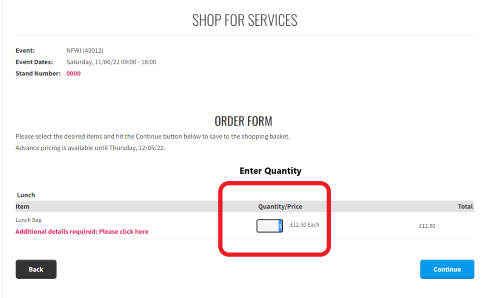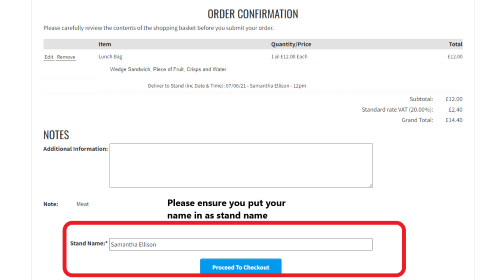 Good Morning All,
This year we are taking the opportunity to join the NFWI Virtual Resolution event on Monday 25 April at 7.00 pm. As the delegate for your linking group we hope that you will register to join and hear two excellent and knowledgeable speakers discuss the Resolution along with delegates and members from all over the country.
This online event will replace our usual "in person" meeting to discuss the resolution.
Please check here for instructions on how to register
NFWI 2022 Annual Meeting Speakers Announcement
Sarah Clarke OBE – Black Rod
Sarah Clarke OBE is a British administrator. Since 13 February 2018, she has served as the first female Black Rod in the 650-year history of the role. She is also the first woman to hold the posts of Serjeant-at-Arms for the House of Lords, Secretary to the Lord Great Chamberlain and to be appointed an Officer of the Order of the Garter. As well as the key ceremonial role of banging on the Commons door at the State Opening of Parliament, Black Rod controls access to the House of Lords.
Sarah Clarke has previously worked in senior roles at four Olympic Games (including London 2012), the London Marathon and UK Sport. She also previously ran the Wimbledon tennis Championships.
Helen Clarke - Prime Minister of New Zealand (1999 - 2008)
Helen Clark served three successive terms as Prime Minister of New Zealand between 1999 and 2008. She was the second female to hold the position. During her time as Prime Minister, she led on many governmental issues and policies. She led policy on a wide range of economic, social, environmental, and cultural issues.
In 2009, she became the United Nations Development Programme (UNDP) Administrator until 2017 and she was the first woman to lead the organisation. Helen was the Chair of the United Nations Development Group. This Group includes all the Heads of all UN funds, programmes and departments working on development issues.
In 2019, Helen Clark became patron of The Helen Clark Foundation.
Representatives from Scottish Women's Institutes & Federation of Women's Institutes Northern Ireland
This year we are delighted to announce that we will be joined by Anne Kerr, President of Scottish Women's Institutes and Margaret Broome, Federation Chairman of Federation of Women's Institutes of Northern Ireland.
This will be an exciting opportunity to learn about the Women's Institutes in Scotland and Northern Ireland and extend our hands of friendship.
Please
check here
for the Annual Subscription Fees Form - to be returned by 1 July 2022 at the latest
Please check here for the Sport and Leisure Resources Pack
Please check here for the WI Bulb Catalogue 2022 and here for the order form
Travel information for the day excursion to the NFWI Annual meeting at the M&S Bank Arena in Liverpool on Saturday 11 June 2022

Please find below the pick-up/drop-off location points and times for the DFWI coaches transporting Delegates and Visitors to the NFWI Annual Meeting in Liverpool on the 11th June 2022.

Please could we kindly ask you to note the exact time for your selected pick-up/drop-off point and try to ensure that you arrive promptly at that location as the coaches will be working to a very tight timetable to guarantee you arrive at the conference venue in good time.

If you would prefer to attend the meeting virtually rather than in person, can you please inform the office as soon as possible so the coach company (Slacks) are given the correct information in a timely manner.

Main Coach Pick-up/Drop-off point
0615 Ripley Market Place
0625 Alfreton Bus Station
0650 Chesterfield West Bars
0710 Matlock Slacks Coaches (depot)
0730 Bakewell Buxton Road bus stop
0800 Chapel New Inn bus stop
0825 Glossop Bus Station

Feeder Minibus Pick-up/Drop-off point
0555 Derby Full Street/Premier Inn
0620 Toyota Services
0650 Ashbourne Bus Station
0730 Bakewell to meet main coach at Buxton Road bus stop

If you would like any further information or have any queries please do not hesitate to contact the office during opening hours.
-----------------------------------------------
PAI Appeal 2022
Once again, we are asking for your help to improve the lives of others in Derbyshire.
We are launching an appeal for new toiletries and other items for the women and children in a refuge in Buxton – this
to tie in with our Autumn Federation meeting there in October this year.

We are asking members and WIs to collect the following items for Charis House, Good News Family Care Home
based in Buxton. If you can collect items together between now and the October meeting and bring them along then,
collection will be arranged on the day.

If you, or your WI needs more information please contact Viv Rhodes email vivr1@yahoo.co.uk , phone 01909723437
or any member of the PAI team
.
Perhaps your WI could collect a few items to donate in a small toilet bag as a welcoming gift

Toothbrush – Child and/or Adult Deodorant
Toothpaste – Child and/or Adult Face Mask
Shampoo – Child and/or Adult New Hand Towels
Conditioner Baby Wipes
Shower Gel – Child and/or Adult Cotton Wool Balls
Bubble Bath – Child and/or Adult Face Cleanser
Body Lotion Face Toner
Hand Cream Face Moisturiser
Moisturiser New Pants – Women – Girls – Boys all sizes
Hair Brush – Child and/or Adult Bath Bombs
Soap – Child/Baby/Adult Wet Wipes
Disposable Nappies – all sizes Antibacterial Gel
Tampax and/or Sanitary Towels Antibacterial Wipes
----------------------------------------------------------
See below the Resolution voting results for Derbyshire Fedeeration for 2022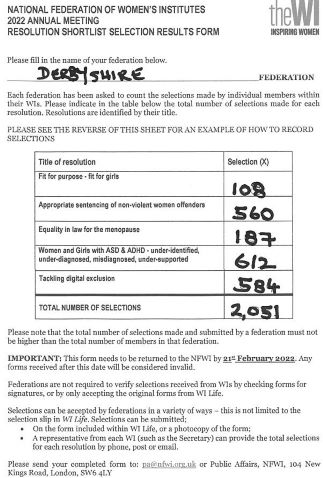 Check here
for the application form to visit Garden 34 an event organised by the Home Economics Team. Details for this event can also be found under Diary Dates and Events
For details of the pro rata subs for new members only from 1 January - 31 March 2022 please
check here
Please
check here
for information on NFWI activities leading up to the Queen's Platinum Jubilee Celebrations in June 2022
We are calling for all photographers to submit photos depicting light and shade for the DFWI calender 2023.
Check her
e for more information and dtails on where to send your ohotos.
Please check here for the 2022 version of the DFWI General Application Form
Check here to download the new DFWI Welcome Leaflet for new WI members.
National Federation Annual Meeting 2022
Save the date - Saturday 11 June 2022 - NFWI Annual Meeting - Liverpool
---------------------------------------------------------------
Parking Restrictions on Sherwin Street
AS FROM THE 10th MAY 2021 the residential streets in the vicinity of the DFWI HQ will be RESIDENTS PARKING ONLY between the hours of 08:00am - 20:00pm.
Please try to ensure you park in the DFWI car-park when visiting the office to avoid any unnecessary fines while our Business Parking Permits can be obtained on the day of your visit from the office.
---------------------------------------------------
DFWI Public Liability Insurance
Please check here for details of the form for 2021 - 2022
----------------------------------------
-------------------------------------------
Constitution and Rules for Womens Institutes 2021
Please
check here
for the updated Constitution and Rules for WIs
You will find the changes made are on page 13 - section 38 & 39 to allow for Virtual meetings.
Page 23 requires signing
A message from the DFWI Resolutions Co-ordinator Diane Smiles
Great News for DFWI members - we can now pay for events and items such as diaries and calendars over the phone. Simply ring the office on 01332 342596 to make your payments.
BOARD OF TRUSTEES 2022-24
Following the recent election the Board of Trustees 2022/24 is as follows:
Barbara Bailey
Anne Bellamy
Chrissie Booth
Rosie Fisher
Sam Hall
Linda Odell
Viv Rhodes
Fay Rumley
Margaret Scott
Linda Singleton
Diane Smiles
Judy Stanhope
The officers are as follows:
Chairman - Chrissie Booth
Vice Chairmen - Rosie Fisher
Vice Chairman - Linda Singleton
Hon. Treasurer - Anne Bellamy
Asst. Treasurer - Sam Hall
----------------------------------------------------
DERBYSHIRE HOUSE is our Federation Headquarters.
The Federation office is open between 10 am and 2 pm Monday to Thursday, however, if you contact us outside these hours the answer phone is always on when the office is unoccupied. We will endeavour to respond to your query as soon as possible.
The Hall is available for hire, please see DFWI Hall Lettings below. New audio visual is available to hire at an extra cost, please contact the office on 01332 342596 for further information
-------------------------------------------