Public Affairs and International Committee
Public Affairs and International Committee
Meet the Committee
Diane Smiles - Chair
Sam Hall - Secretary
Linda O'Dell
Viv Rhodes
Margaret Scott
Events 2020
Just prior to lockdown at the end of March 2020 PAI organised an up-cycling event at Derbyshire House with Mig Holder, a local tutor and speaker. Mig suggested that all particpants bring along a garment they no longer loved, or had grown out of to see if it could be revamped into something lovable or reusable rather than being destined for the charity shop or the recycling bin. Mig gave us a precis of her journey to date along the road to recycling and reusing everyday items before rising the challenge to offer ideas and advice on our offerings.
We had a great afternoon swapping and suggesting and produced some amazing makeovers along the way thanks to Migs enthusiasm and creative suggestions. A fun day to look back on during these strange times.
Events 2019
Autumn Federation Meeting 2019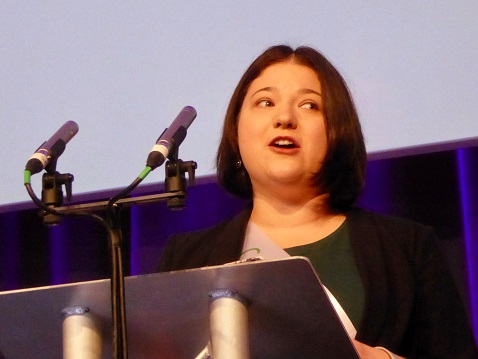 Introducing our very first Campaign Ambassador Bex Atkinson - Bex and Christine our first two recruits will be co-ordinating events associated with the annual resolutions in the future. Look out for their activities regarding buses and don't fear the smear during 2020
Top tips on Avoiding the Use of Plastics
1. Bars of soap and shampoo - there are many plastic free bars of soap, shampoo and conditioner on the market at the moment. Alternatively, some shops are now offering a refill service.
2. Bamboo toothbrushes are a good alternative to a typical plastic one. They can be ordered online or found in some high street shops. Electric toothbrushes are also a better alternative if you don't get on a with a bamboo one as they use less plastic and last for longer than a manual plastic one.
3. Make sure you check your tea bags! Many of them now contain plastic. Loose leaf tea may also be used and there are a number of options available to make it easier to use e.g. strainers, tea straws and infusers.
4. Re-useable cups and water bottles are a great way to reduce your plastic consumption. Often coffee shops will give money-off if you bring along your re-useable cup and most cafes and restaurants will re-fill your water bottle if a water fountain is nowhere to be seen.
5. Bring your own shopping bags! With the 10p plastic bag charge in place across the UK now there is more incentive to bring a re-usable bag nowadays, however it's not always easy to remember to bring one. A top tip if you often forget your shopping bags is to get a fold-up bag that clips onto your key ring.'
Freya Radford – Research Scientist – Southampton University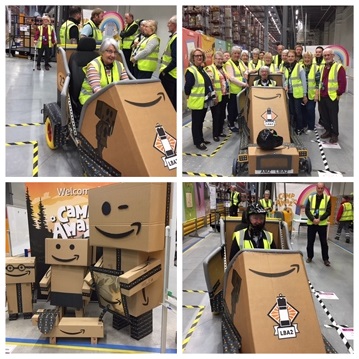 In October Public Affairs organised a visit to the Amazon Fulfilment Centre at Doncaster. The centre is vast and almost totally computerised - ensuring we all receive correct orders on time. A very informative visit
During 2019 Public Affairs organised two visits to the Veolia Recycling Facility in Mansfield where members were given information on just what we should be recycling in our bins at home. Everyone who visited was very impressd by the facilities and came away determined to spread the word on how to ensure the correct items went into each bin!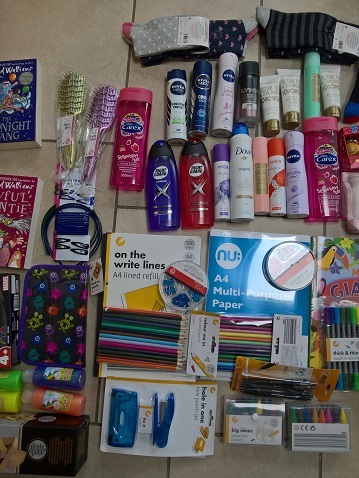 Donations for our Public Affairs Appeal for 2019. Derbyshire Young Carers will appreciate all your generous gifts this Christmas. Once again thank you all for your continued generosity. Derbyshire WI ladies are amazing!!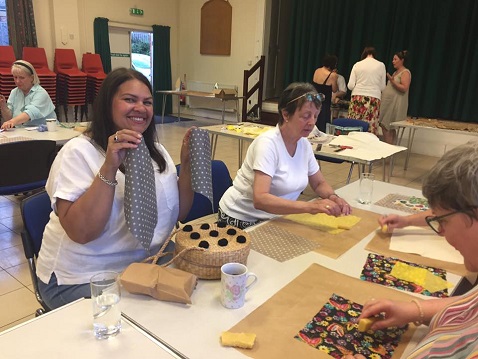 Another two Beeswax Wrap workshops. Thanks to Jess and her able assistant Paul for another great event.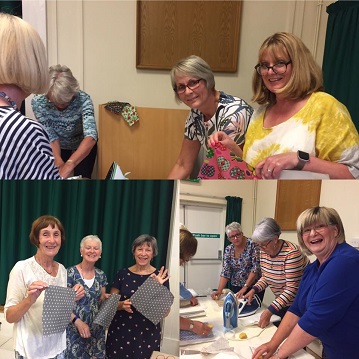 Public Affairs and International held their very first Beeswax Wrap workshop at Derbyshire House. No more plastic cling film for these ladies! A very successfuland enjoyable evening to be repeated soon.
With donations from members and the efforts of a small team of sewers, Willington WI have now completed nine 'Days for Girls' kits. They will be collected in September and taken out to Uganda, enabling nine young girls to go to school every week of the month and giving them some protection from abuse. Well done ladies - a fantastic effort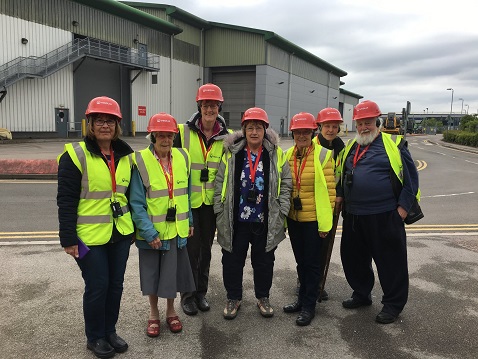 Thanks to Viv Rhodes and the DFWI PAI Committee, Chaddesden WI ladies were able to visit The Veoila Recycling Plant at Mansfield. Photo of 5 of their members with a member from Carver and District WI. A very interesting morning and thye are now on a mission to get the Derby City Recycling team to one of their meetings!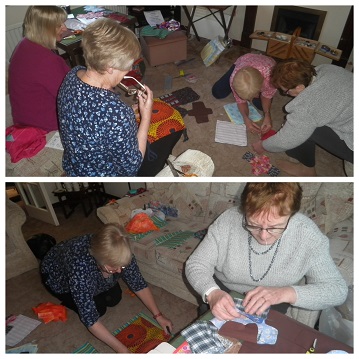 Willington WI held a small workshop where they started to make feminine hygiene kits after the DFWI 'Days for Girls' event in September 2018. Well done ladies - it is not as easy as it looks at first glance!
_____________________________________________________________________________________________________
Events 2018
Autumn Federation Meeting October 2018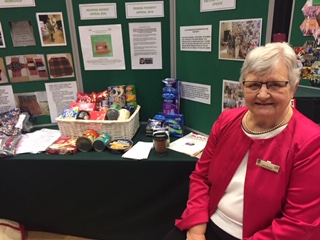 Committee members Ann and Elizabeth were kept busy on our stand tat the meeting. There was a great deal of interest in our latest project - providing reusable sanitary protection for girls and women in the third world. We were also busy promoting the Reverse Advent Calender and Period Poverty projects again this year.
Days for Girls Event - 25 September 2018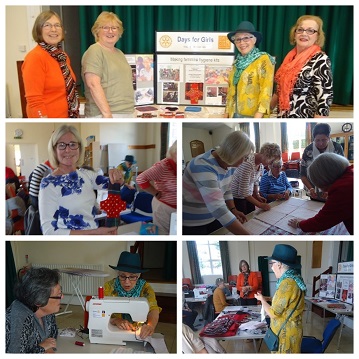 Around 40 members from all over the county along to the Days for Girls workshop – two from the League of Ladies WI in Glossop had one and a half hour journeys each way!
It was a great day with two excellent speakers in Issy and Beryl from the Days for Girls charity who both spoke with passion and enthusiasm about the project.
Girls in third world countries can be sent out of their villages during their menstruation cycle to live in 'huts' with no contact with anyone. They have no food or water and are totally isolated as 'unclean'. Death from starvation and illness is frequent during this period as is the incidence of rape and physical abuse as they have no way of protecting themselves from predatory males. They miss out on education too as they are not allowed to attend school during this time.
Issy and Beryl explained their introduction to and work for the charity before setting us the task of making a complete set of washable and reusable protection.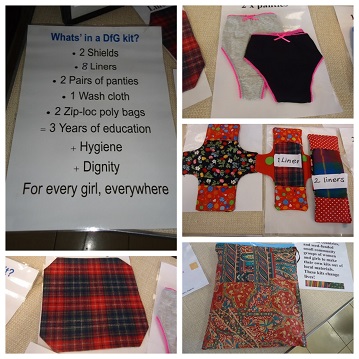 The room buzzed with activity and concentration as the key element to the process is accuracy and durability as the pads need to be strong enough to last for three years. Lots of questions and a few pitfalls – but Issy and Beryl were on hand to help and advise. Working in teams the processes were broken down into stages and everyone had the opportunity to work on each stage during the afternoon until we had – between us – actually completed a pack ready to send.
Refreshments and cake were available throughout the day to keep everyone's stamina up and everyone went home with a true sense of achievement and a commitment to pass on the skills learnt.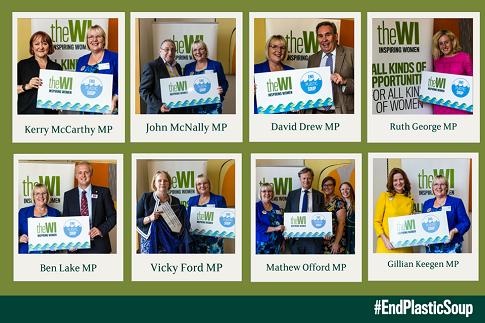 The NFWI Public Affairs Team had a great turnout for their #EndPlasticSoup drop-in session at Parliament this month

Please ask your MP to continue their support by signing the Early Day Motion on microplastic pollution, available here: http://thewi.org.uk/s/edm — with Kerry McCarthy, John McNally MP, Matthew Offord, David Drew MP, Gillian Keegan , Ruth George MP for High Peak and Ben Lake - Ceredigion.
The Women's Quilt Event
A great event today Wednesday 25 July 2018 focusing on the Women's Quilt and the work of the Elm Foundation. Roxanne and Mia guided us through the history of this beautiful quilt and impressed on us the fact that through this project women murdered through domestic violence will not be forgotten but remembered in a unique way. Diane, Rebecca and Mark then spoke to us about their work with the Elm Foundation, our donation charity for 2018. An enlightening insight into the efforts to help and support abused victims to rebuild their lives and the work involved in rehabilitating their abusers. An emotional and thought provoking afternoon.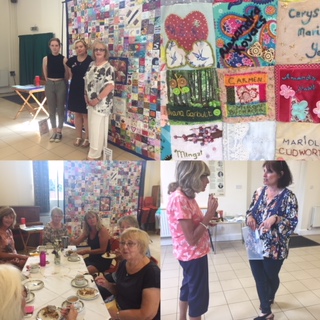 ______________________________________________
DFWI Public Affairs and International - Charity Appeal 2018
THE ELMS FOUNDATION - Supporting abused Women and Men and their families in Derbyshire
Launched on Tuesday 3 October 2017 at the Autumn Council meeting by PAI Chair Diane Smiles we appealed to individual members and WIs jointly to collect new personal items for those seeking refuge at the centres. Men, women and children who have been the victims of domestic violence and sexual abuse arrive at the refuges with nothing more than the clothes they stand up in desperate for help and support during this crisis in their lives so small acts of thoughtfulness and kindness mean so much! People do move on into new accomodation so we also asked for new 'Starter Packs' to help them settle into their new homes.
The number and variety of donations made by everyone was enormous and your generosity was amazing. On the day of the Spring Council meeting in March 2018 at the Winding Wheel we were inundated with donations which were taken away on the day by members of the charity. This was on top of the numerous trips made to the charity premises by PAI committe members with cars full of goodies! Thank you all so much for your overwhelming response to this appeal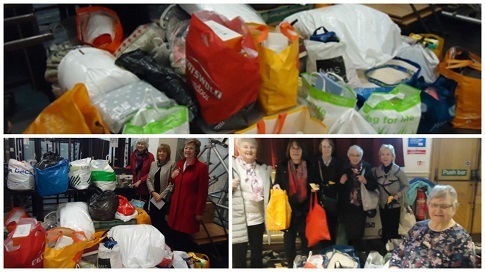 ___________________________________
Visit to Barlborough NHS Facility - Sunday 15 October 2017
The PAI tour of the Barlborough NHS facility was a great success. The staff, nurses, consultants and anaesthetists were so helpful and informative. Twelve WI members and friends from around the county had a private tour of the whole facility including the theatres and wards. All for free. Lots of information given and questions answered. A big thank you to all the staff for their time and patience this afternoon.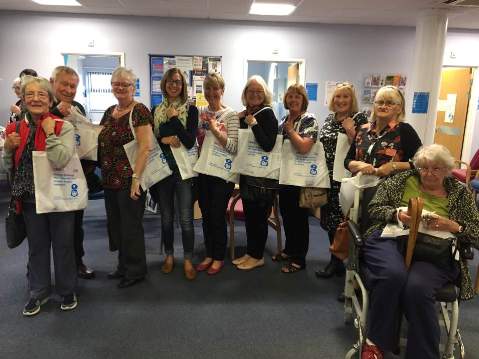 "Come Into My Parlour"
Members enjoyed a visit to Chesterfield Town Hall to meet the new Mayor on Wednesday 26 July 2017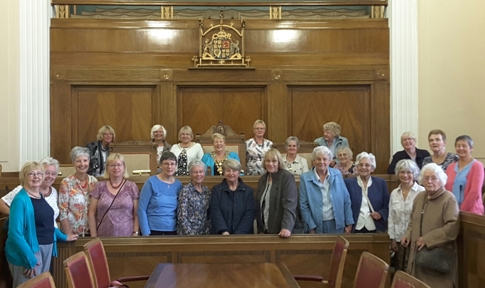 Reverse Advent Calendar News - November and December 2016
A few collages of the Food Bank donations as part of our Reverse Advent Calendar Appeal 2016
What a generous group you are ladies. A few are even going to make this an annual event and donate next Christmas to their local Food Bank.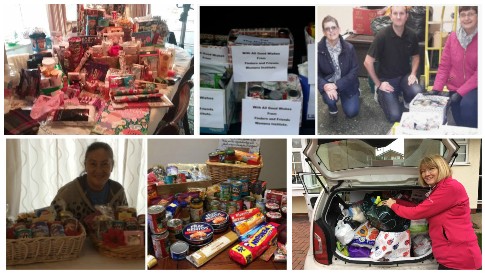 .
In response to the Public Affairs and international Appeal for Christmas 2016, Findern and Friends W.I. arranged to collect items for the Hope Centre Food Bank in Curzon Street Derby.
We contacted the Centre and obtained a shopping list of items that would be acceptable to them. With help from other friends, we assembled over 8 boxes of groceries – a car boot full! We were requested to deliver the goods by 25th November if we wished to include any seasonal items.
Photo of the food boxes and photo of Hilary Samways and Mary Ellis (members of Findern and Friends W.I) with Paul from the Hope Centre.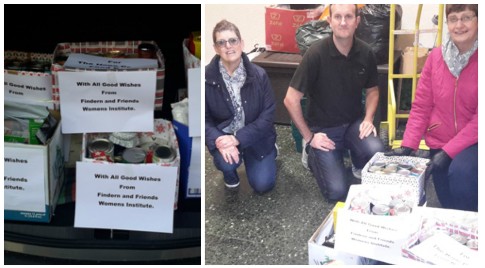 Autumn Council Meeting - October 2016
PAI members who attended the meeting had a great day. Sarah Sissons, who took the lead in our very successful 'Smalls for All' campagin updated everyone on the status of all those pants and bras. They are all now being distributed to needy women and choldren in Africa - so a big thank you to all for your support.
We launched our new appeal - one closer to home this time. The Reverse Advent Calendar asking members and WIs to fill a box or basket with up to or even more than 24 food and toiletry items to take along to their local Food Bank in the run up to Christmas to help make a difference to a struggling family over the festive period. Ann Daniels -committee member took charge of our stand and distributed suggestion shopping lists to interested members. If you do take part in oour appeal - Thank you but please remember to take a photo of your donation and send it to us at PAI for our display at future events.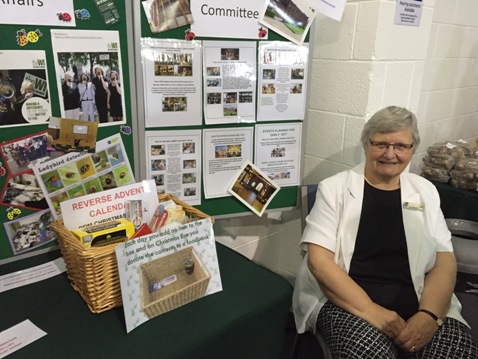 _______________________________________________________________________________________
Trip to the Roundhouse in Derby - September 2016
Our visit to the Roundhouse in Derby gave all an insight into changes made to this historic building over the years. Michelle, our guide, took us around the site pointing out several buildings and the historical features, as well as some of the newer ones.
We visited the Carriage Shed and the Engine Shed as well as the new Kirtley building. She pointed out the very creative historical references such as quotes from George Stephenson which were used on the glass doors, a great idea designed to prevent people walking into them inadvertently. The Roundhouse, now used as a cafe and meeting area, was quite spectacular. Michelle showed us the pits below, covered over now in thick glass.
After our tour we went into the Engine Shed for lunch. The Catering students learn their craft here. All in all, an excellent "round" off to our visit!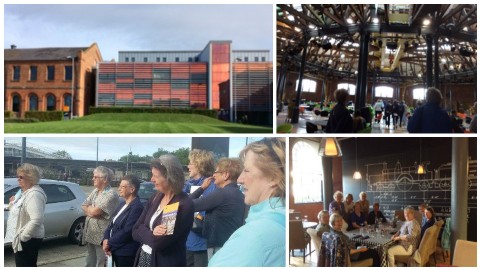 _______________________________________________________________________________________
Public Affairs and International - Health and Well Being Day 2 - Friday 23 September 2016
The Public Affairs and International Health and Well Being event proved to be yet another great success. Ladies from around the county joined us for a day of informative talks on Caring for Carers, Breast Cancer, Personal Training and Yoga. A Beauty Routine demonstration was given by a representative of Body Shop.
Treartments were available to book during the day including Manicures, Hand Massage, Reflexology, Makeovers, Hairdressing, Neck Massage, Foot Scrub and Face Massage.
After a 'healthy' lunch of soup and fresh fruit salad everyone also very much enjoyed our Yoga session followed in complete contrast by a very enthusiastic Zumba session to round off a varied and exciting day.
Proceeds from the raffle, tombola and donations from stall holders will be added to our target to purchase a difibrilator to be installed outside Derbyshire House.
Thank you to everyone who came along to support this event. We hope you enjoyed the day as much as we did.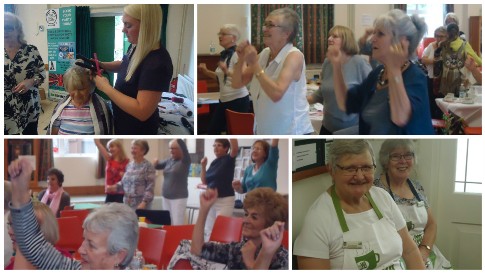 ____________________________________________________________________________________
Public Affairs and International at Bakewell Show 2016
Our Ladybird activity proved very popular with young people and adults alike this year. There was also much interest in our display stands covering ACWW achievements, Resolutions 2016, Smalls for All project progress,our Well Being days and forthcoming events.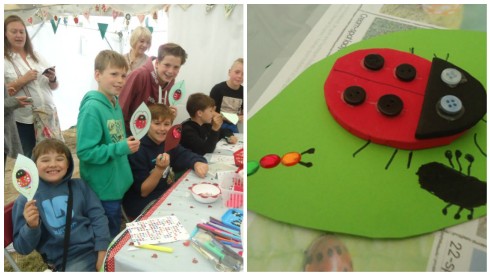 ______________________________________________________________________________
Health and Well-Being Day Friday 20 May 2016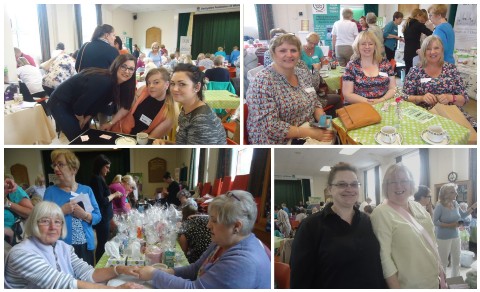 The first Health and Well-Being Day was a very busy event with over 60 WI members attending for a fun and education filled day. In the morning there were talks from Derbyshire Carers Association, Breast Cancer Care and Fitness and Nutrition experts to name a few. A delicious 'healthy' lunch of home made soup, rolls and refreshing fresh fruit salad (with cream!), was followed by gentle yoga exercises. The pace then quickly quickened as we all showed our Zumba moves - the highlight of which was a routine to Grease Lightning from the movie Grease!. We wound down with a relaxing Tai Chi routine before heading off home. Treatments on offer during the day included Reflexology by our very own county Secretary Denise, Hand Massage by Sub Committee Chair Ann Tunley, Facials by the Body Shop, and Nail Treatments and Nutrition advice to name but a few. Proceeds from the Raffle and Tombola will be put towards the purchase of a Defibrilator for Derbyshire House.
__________________________________________________________________________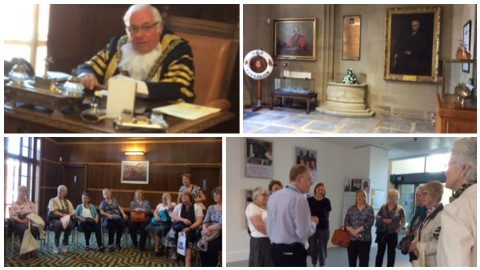 Snapshots of our visit to Derby City Council Offices
What lies behind the doors of the Council Offices?
A group of DFWI ladies visited Derby City Council Offices today. This was an event organised by PAI - Public Affairs and International - for ladies to see inside the revamped Council Offices - first built in 1939. Our guide Phil - a former employee - took us around the offices which were bright and airy and full of natural light.
We were very lucky to meet the Mayor in his parlour, as he was involved in another event that day where ex servicemen were being presented with their medals for services in the North Atlantic during the war. The medals were being presented by some visitors from Russia - a Russian version of the Légion d'Honneur. We were able to see at close hand, the Mayor's robes and chain of office as well as the Mace and Sword of Honour. This is why the Russian flag was displayed with the Union Jack in the Council Offices.
Phil showed us how the original Council Offices were redesigned, including before & after photos showing how the whole area was covered by a new roof. The massive interior space is now used far more effectively. A further floor was cleverly added in the roof area, where there is a large open plan office space. Part of the old building has been kept and cleverly amalgamated with the new part of the building. This is where the Mayor's Parlour is found. Some old oak panelling from another building was recycled to cover the walls.
We all went into the Council Chamber and Phil explained how it worked.
Finally he took us onto the terrace which is rather like the House of Commons terrace.
The Council Offices have a five star plus rating for the Eco measures built into it, providing power for heating, lighting and air cooling. Rainwater is also collected and reused. It is the only building in the country with this high Eco rating.
_______________________________________________
SMALLS FOR ALL FINAL COUNTDOWN.

Sarah Sissons appeal Co-ordinator reported that she has 100 boxes filled with 10,749 pairs of pants and 4,630 bras to be transported FREE OF CHARGE by Parcel Force on Wednesday 6 April 2016 to the charity HQ in Scotland.
What a fantastic response from all the ladies of Derbyshire WIs!!
_________________________________________________________________________________________
ANNUAL COUNCIL MEETING 1 MARCH 2016
I am sure that everyone who attended the Annual Council Meeting on 1 March 2016 had a great day out.
I am a member of the Public Affairs and International Sub-Committee and we certainly had a day to remember!
As we stood by our display table in the main hall hoping that some members of some WIs would remember our appeal for pants we were overwhelmed by the number of packets, carrier bags, large carriers and black bin bags packed to the brim with knickers and bras. Why did we ever doubt that the WI would not respond to such a worth appeal with the usual enthusiasm and generosity?
Sarah, the committee member who first raised awareness of the appeal, drove home with a people carrier packed to the roof with the bags full of WI donations. She has now sorted them and packed them ready for dispatch. Parcel Force have agreed to collect the bags from Sarah's home on 1 April 2016 and will take them to the Smalls for All Charity Headquarters in Lanarkshire for us free of charge. How fantastic is that?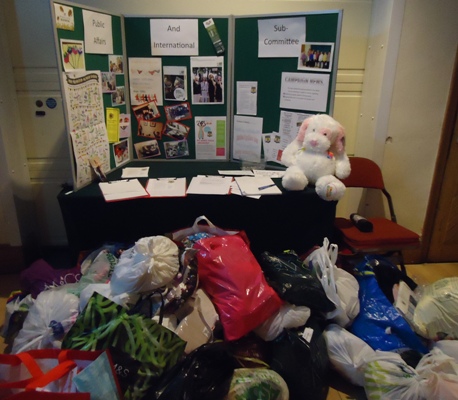 _________________________________________________________________________________
Our stand at Bakewell Show 2015
Focus on Saving Butterflies Campaign