Membership Support Committee
Membership Support Committee
Welcome to the Membership Support Committee page
The Membership Support Committee is made up of WI Advisers who are there to help WIs.
WI Advisers in Derbyshire Federation are:
Liz Mangle - Chairman
Barbara Barlow - Vice Chairman
Ann McPhie - Vice Chairman
Sheila Berry
Bridget Hodson
Judy Stanhope
Nancy Hawksworth
Diane McHarg
Pauline Hallam
Liz Neal
Sally Jury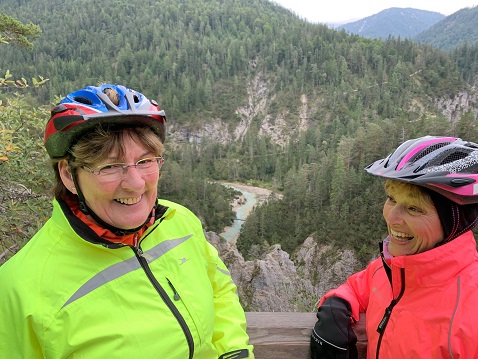 Baslow WI : Baslow Bikers Ann & Liz visit Bavaria's lakes, rivers and mountains on ebikes. Both are DFWI Advisers and Liz is also a member of Barlborough and Clowne WI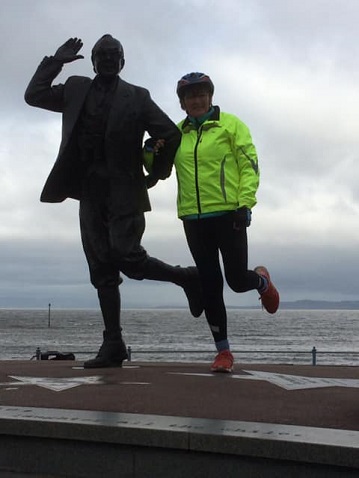 WI Adviser, Baslow Biker and member of Barlborough and Clowne WI, Liz Mangle cycled across England from Morecambe to Bridlington, on 'The Way of the Roses'. She had all her clothes for the journey in panniers on her bike and accommodation booked along the route. This was the photo from the start of her journey that we just couldn't resist!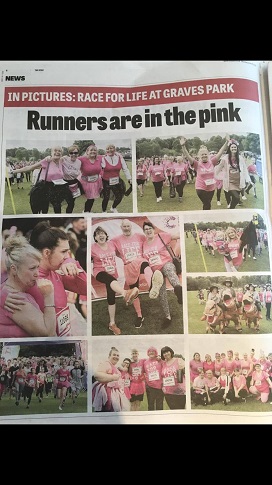 Liz Mangle, WI Adviser and member of Barlborough & Clowne WI is in the news, she has run the Race for Life 'in the pink' at Graves Park raising money for Cancer Research with her family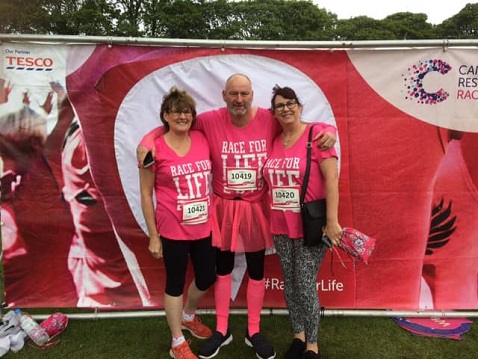 Barlborough and Clowne WI member and WI Adviser Liz Mangle took part in the Race for Life in Graves Park Sheffield in June . She managed to avoid the rain. 2019 is the first year that men could take part.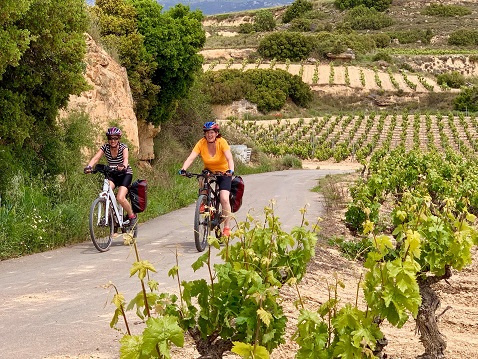 Ann & Liz from our Membership Support Committee at DFWI went cycling in Northern Spain last week here they are amongst the mountains and vinyards.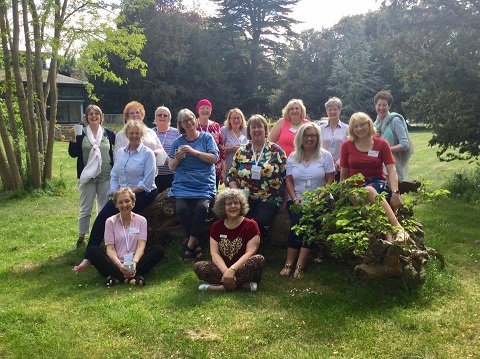 Sally Jury from Breaston WI was at Denman last week doing the final part of her WI Adviser Training. We wish her good luck with her last assignments and look forward to hearing that she has qualified and will be joining the team of Advisers in Derbyshire Federation where she is already doing a grand job! Thanks Sally and all the best from us all.New WI Adviser in Training (Sally is sitting on the front row left)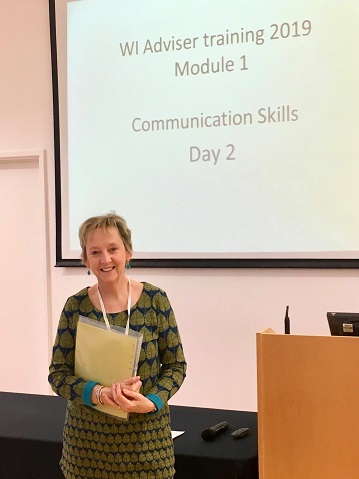 Sally from Breaston WI was at Denman for the first part of her WI Adviser training, she says '... I've met some really interesting people who it 's been fun to work with.' It sounds as though she enjoyed it! Advisers at DFWI are looking forward to hearing her news at their next meeting and welcoming her as a fully trained Adviser later this year
WI Adviser Retirement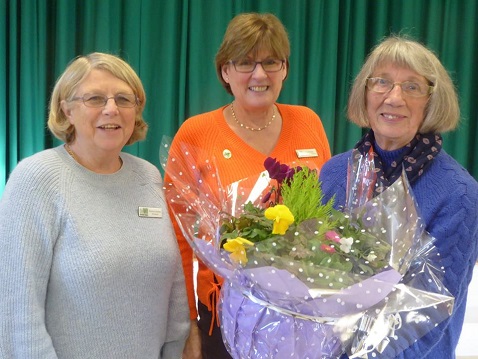 WI Adviser Susan Birch has retired from Membership Support Committee today. We wish her all the best for a very happy retirement, we know we will be keeping in touch! Susan is seen here on the right with Liz and Pauline.
Welcome to Two new WI Advisers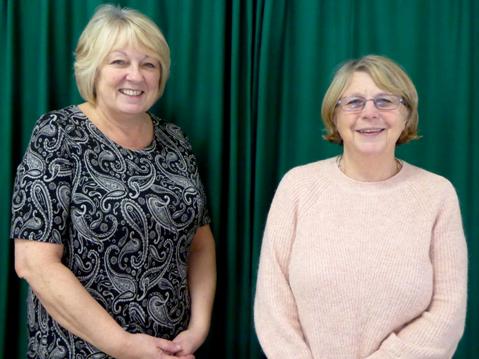 Pauline Hallam and Liz Neal have joined Membership Support Committee as Trainee WI Advisers. They attended the first module of their training programme at Denman in January 2018.
WI Advisers at 31 March 2017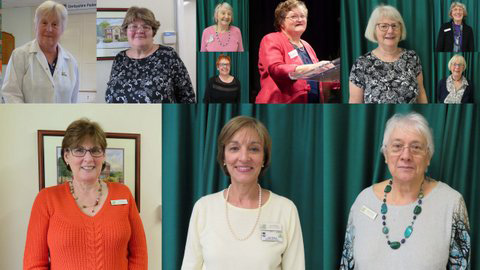 Top Row : Maureen Anderson: Judy Stanhope : Bridget Hodson : Diane McHarg: Nancy Hawksworth: Sheila Berry: Susan Birch: Dawn Eyre
Bottom Row: Chair Liz Mangle: Vice Chair Ann McPhie: Vice Chair Barbara Barlow
A photo of the happy team!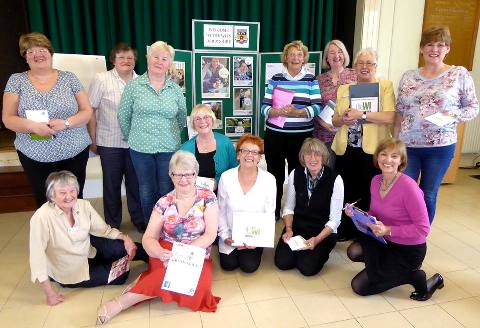 ___________________________________________________________________
A list of WI Advisers and their allocation of WIs for 2017 is availalbe here with contact details. Click here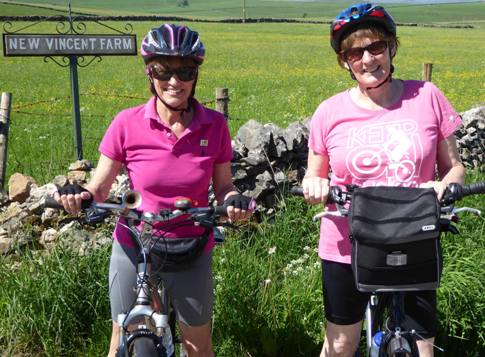 WI Advisers Liz Mangle and Ann McPhie cycled from Parsley Hay to Tissington via Ashbourne for a picnic lunch and to visit the amazing Well Dressings. The scenery along the route was Derbyshire at its very best and for once they were extremely lucky with the weather - it was perfect cycling weather, strong sun and a light breeze!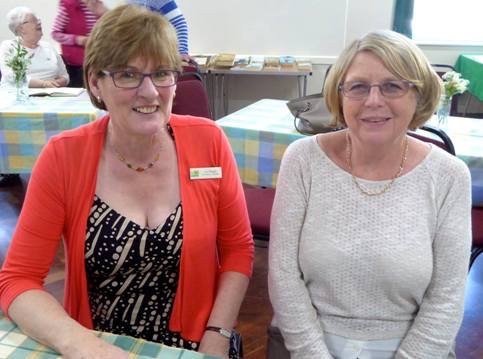 WI Adviser, Liz attended the Soup & Sweet Lunch and Annual Meeting of Baslow WI yesterday with Pauline. Liz is no stranger to Baslow WI as she has joined the 'Baslow Bikers' cycling group and has visited before when they held a meeting for New Members at one of their Social Afternoons.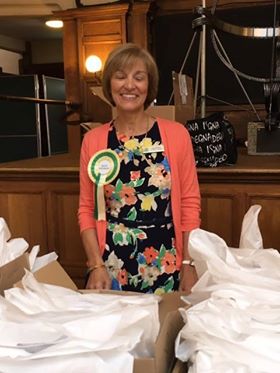 WI Adviser Ann McPhie caught on camera at the Annual Council Meeting in March 2017
Derbyshire WI Adviser Liz Neale has retired from the Membership Support Committee after 15 years. Liz was also a member of the Board of Trustees for 6 years and for part of that time she was Federation Treasurer. Today MSC Chairman Liz Mangle and Dawn Eyre, our newest WI Adviser, presented her with two planted outdoor arrangements as a thank you for her hard work and support. We look forward to seeing Liz around the county at WI meetings and of course at ACWW, one of her great passion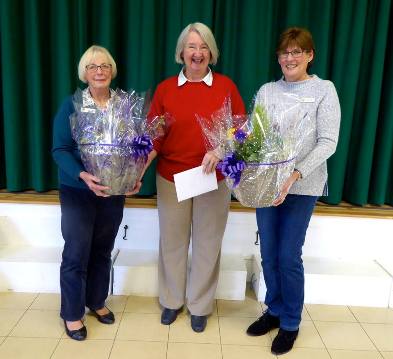 Barbara B and Ann McPhie were at were at Denman on an Adviser Forum (refresher course) in October 2016. It was a fun and useful weekend. We learnt and shared a lot.