Welcome to the Home Economics Committee 2017
Fay Rumley - Chair
Maureen Anderson
Sue Bown
Carol Wileman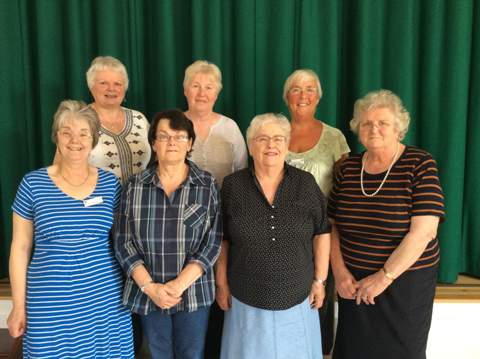 The Home Economics Committee organise and deliver activities and events covering, cookery, floral art, gardening, preserves, confectionery and sugar craft. Events take place throughout the county several times per year.
The committee develops the show schedules for the County and Bakewell Shows and oversees the judging of the Home Economic classes.
The committee also arranges the competitions at the Council and Federation meetings including the Dorothy Hartley Competition and supplies recipes for the federation calendar.
The committee are always happy to hear of ideas for events and activities from members so please get in touch.
For the NFWI Recipe of the week Click Here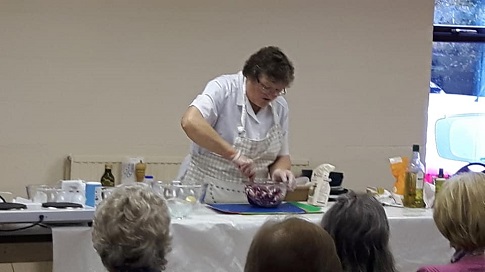 The Home Ecconomics Autumn Glory event 2019 was a great success with our very own Nancy showing everyone how it is done!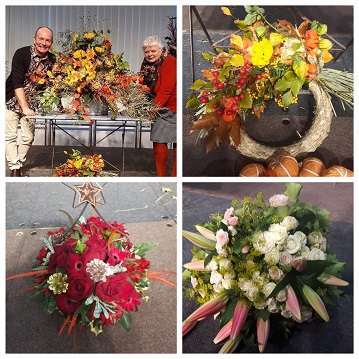 Tuesday 30 October 2018. A fabulous day at Cliff College with Jonathan Moseley. We hope all of the raffle prizes arrived home safely!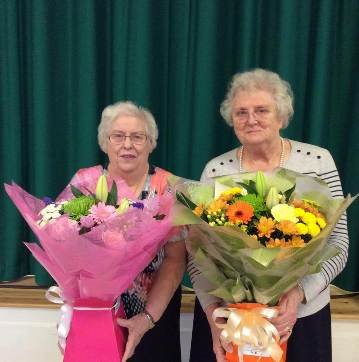 Sadly the Home Economics Committee said farewell to Jeanette Waterford and Ann Etches today after 20 and 17 years of service. That's a lot of cake and lunches they've made!
_____________________________
On behalf of the NFWI Food and Garden Committee, we are pleased to announce that there will be three Christmas step-by-step guides available from November 1st on My WI for members to enjoy. There will also be an 'Additional Decorative Extras' guide, which accompanies the three step-by-steps.
Click below for meeting pack ideas for festive WI meetings:
Candle Centrepiece guide and additional Decorative extras
These will be available on the My WI website along with the two other brand new guides on November
________________________________
REVIEW OF HOME ECCONOMICS EVENTS
Christmas Wreath Making at Derbyshire House - 30 November 2017
It's beginning to look a lot like Christmas!
Home Economics Christmas Wreath making event.
All Things Chocolate Full Day Event - Thursday 19 October 2017 at Wyaston village Hall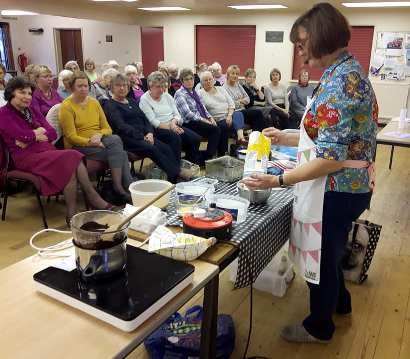 Cathy Wright talked about and demonstrated making chocolates. Cathy is Sat Baines Chocolatiere and her knowledge and chocolate is amazing. The opportunity to purchase her chocolates after the talk proved very popular. Lunch took the form of a hot meal – lasagne with salad and French bread followed by homemade meringues, fruit salad and cream. In the afternoon Ann Brayne (in the photo opposite) carried out a chocolate cookery demonstration making Chocolate and Gingernut Biscuit Cake,
Chocolate Surprise Pudding
and Riccotta with Chocolate and Orange Cake. Click each for recipes.
Spring into Summer Tuesday 11 April 2017 - at Ashford-in-the-Water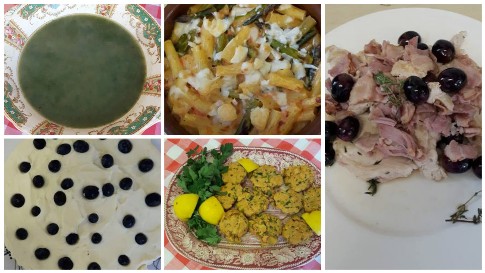 During the morning Anita Butt demonstrated a range of spring floral arrangements and after a buffet lunch
our very own Trustee Ann Brayne demonstrated a variety of dishes including Nettle soup, Asparagus Rigatoni, a Chicken and Bacon dish, a Blueberry White Chocolate and Marscapone Cheesecake and Thai Fish Cakes . Nom nom! Click here for a list of the recipes
Oriental Evening 31 March 2017
Our Home Economics Sub Committee organised a Flower Arrangement Event at Headquarters recently. Lovely demonstrations and very enjoyable evening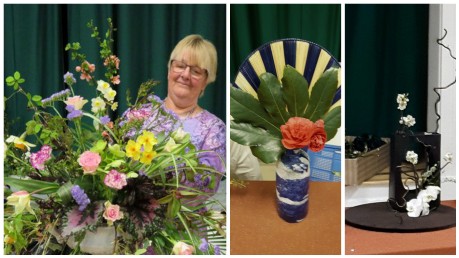 Home Economics Christmas Event
Punch Canapes and Christmas Cookery Demo - Thursday 15 November 2016
A fab time at the Canapés, Punch & Christmas Cookery Demonstration. Amazing canapés, sumptuous punch and am excellent demo all set in a wonderful kitchen showroom, Kitchen Craft in Chesterfield. Fay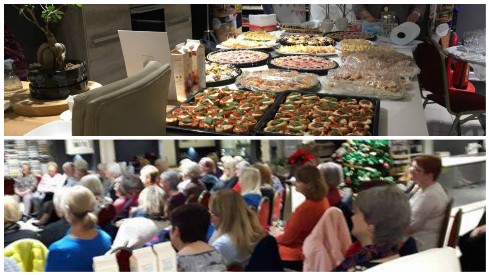 ____________________________
Home Economics Committee
Chairman Fay Rumley
Tel: 07789 394931