A page full of interesting articles and information on WI activities from around the County. Members can scroll down to see just how different and varied our activities and WIs are.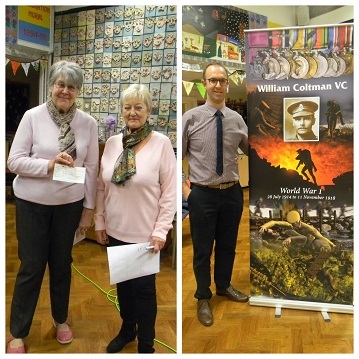 Briz Valley WI Meeting on Monday 13th January 2020. The first meeting of the New Year was a busy one. The President presented The Young Ones with a cheque from the Coffee Morning in November.Sheila Meacham kindly came to receive it. She thank the members who had helped with packing boxes and told us some of the stories of the children who are less fortunate than others who loved the gifts. Then the speaker was Tim Coltman VC, who's great Grandfather William Harold Coltman received the Victoria Cross for the part he played as a stretcher-bearer in the 1914-18 war.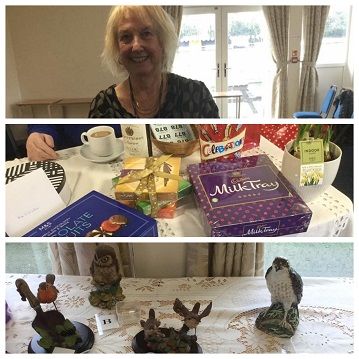 The speaker at the January 2020 Ravensdale WI meeting was Linda Proud, who gave a very interesting talk on the history of Markeaton Park.
Chesterfield Town WI
The Festival of Christmas Trees at Chesterfield Parish Church
Members have been busy knitting and crocheting squares which Siobhan has kindly joined together in Christmas Tree form! Doesn't it look gorgeous and cosy?!
Thank you to Karen for the fantastic idea and coordinating all things relating to the Christmas Tree Festival for us.
Thank you to all members who have contributed to the Tree and to members who have volunteered to steward at the Festival. We hope you have a wonderful time!
And thank you to Chesterfield Parish Church for organising such a wonderful community event!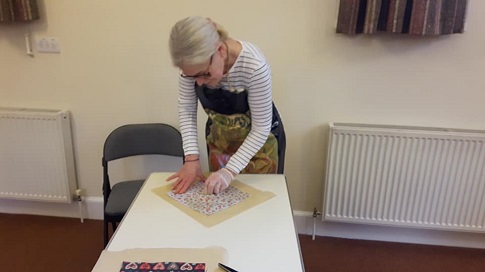 A fabulous afternoon up at Bakewell WI for local members and friends to make bee's wax wraps.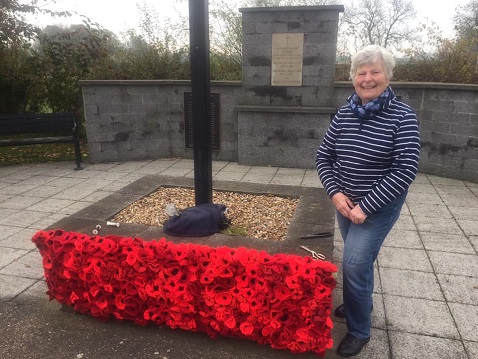 Well done to Sawley Women's Institute for producing poppies to cover the flag area and around the memorial today
Cllr Alan Chewings, Chair of Sawley Parish Council said:
"The Women's Institute done a marvellous job which is very respectful and in remembrance of those on all sides who lost their lives or who were badly injured."
Alan added: " Marion Stokes was putting in the poppies - 10 to a dozen, far more able than myself. Well done Marion.
Also a Big Shout out to Chris Roberts who was hard at work cutting the grass around the area."
South Normanton WI has a fantastic new banner taken at Post Mill - thank you Kaydor signs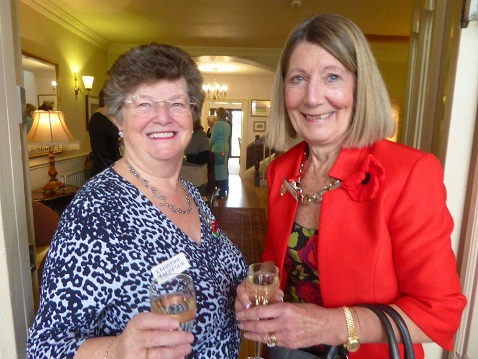 Baslow WI members and guests got together for the celebration at East Lodge Hotel. Christine welcomed everyone and read out a letter received from Buckingham Palace to comemorate 100 years of Baslow WI.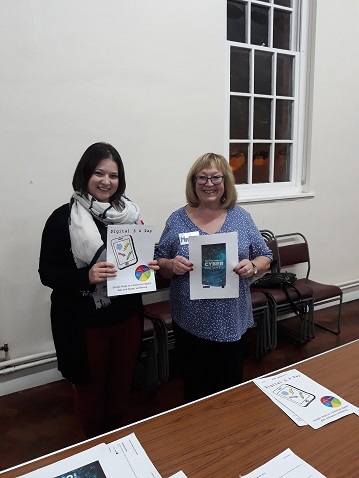 Chesterfield Town WI had an enjoyable and informative talk from Digital PCSO Sarah Dufton about how to keep safe online.
She shared a lot of useful resources and a few key links are listed below:
* Take the digital mot for tips tailored to your usage: www.saferderbyshire.gov.uk/mot
* Check if your email address has ever been compromised at: www.haveibeenpwned.com
* Download the HollieGuard personal safety app to alert designated contacts if you're in danger. Find out more: https://hollieguard.com
* Sign up to www.derbyshirealert.co.uk for alerts relevant to your local area
Don't forget to the top 3 things to prevent 80% of cybercrime:
* Passwords - don't use the same password for multiple accounts. The latest recommendation is 3 random words e.g. teaCatBiscuit2
* Antivirus - on any device that accesses the internet
* Updates - they can be annoying but they're necessary to fill cracks in your online safety wall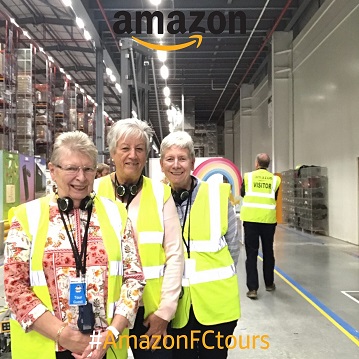 Three ladies from Killamarsh WI just back from the tour of Amazon warehouse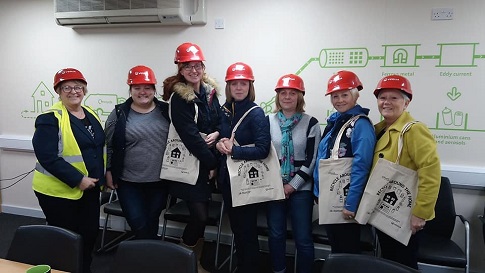 Tibshelf WI had a fantastic evening trip to Veolia
Top tips:-
Check what can be put in your roadside recycling bin - contamination is bad
Clean your recycling rubbish before putting it in the bin - food stains cause rejections and bad smells for the staff who hand sort items
Specialist recycling, like carry bags and electronics, can go to the household recycling centres rather than in your main rubbish bin
♻️REDUCE, REUSE, RECYCLE ♻️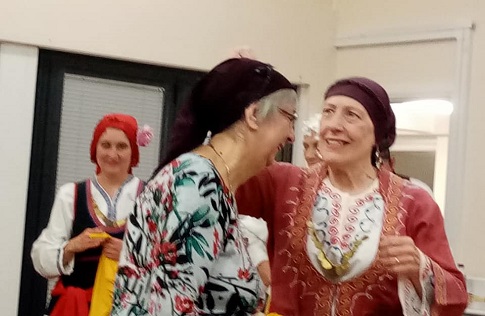 Risley WI were entertained by a group of Greek dancers at their October meeting. They wore traditional dress and between dances they explain both the history of the dances and their costumes. Then members were invited to model the various headscarves and there was an opportunity to join the group in a final dance.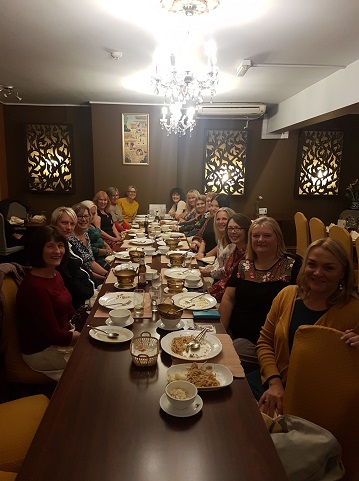 Chesterfield Town WI had an absolutely fabulous meal out at Thai Pavilion . 16 members joined together to enjoy excellent food and hospitality. Thanks to Jo G for organising it and a big thank you to all the staff for looking after everyone so well.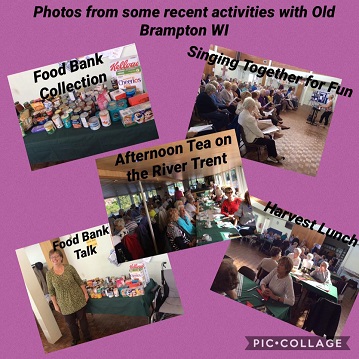 Old Brampton WI Some of the activities during the year. A great way to display!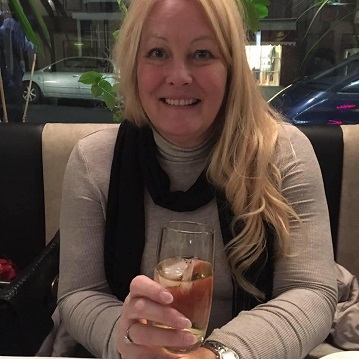 Baslow W I Darling Gill's recipes are 'menu of the month' on My WI the website dedicated to WI members. Starter Tamarind Onion Soup - Main Diwali Celebration Plate - Dessert Cardamom Panna Cotta.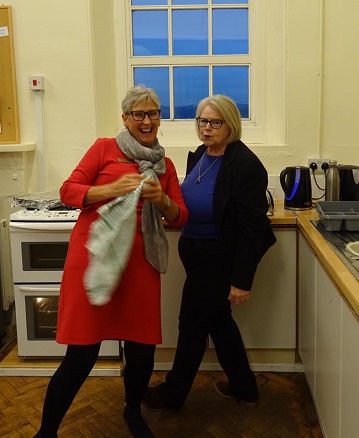 The Amber Group Meeting which Pentrich WI hosted last night. took the form of a cookery demonstration by Sue, who showed us how to make a "simple" three course meal of smoked salmon pate, followed by lasagne and tiramisu with a fruity twist.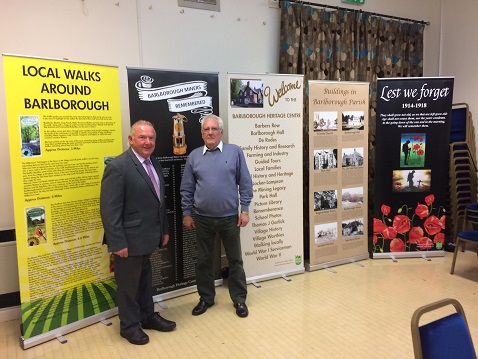 Barlborough and Clowne WI Great meeting. Neil from Barlborough Heritage Centre told us about their work and the information available through their research. One member was so pleased that information had been captured for future generations which we often lose because we don't write down the stories told by our grannies and granddads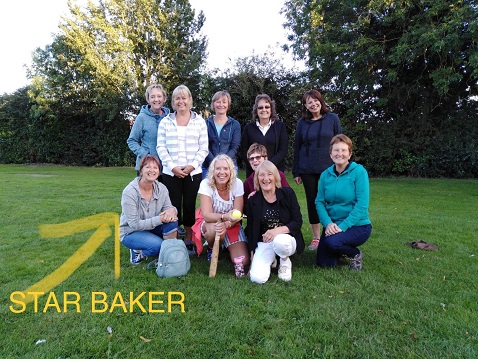 Breaston WI. We're not ladies who lunch- we are ladies who bat! The rounders group met for the last time this year with a final score of 13 to the Aches and 9 to the Pains. Sue says a fun time was had by all.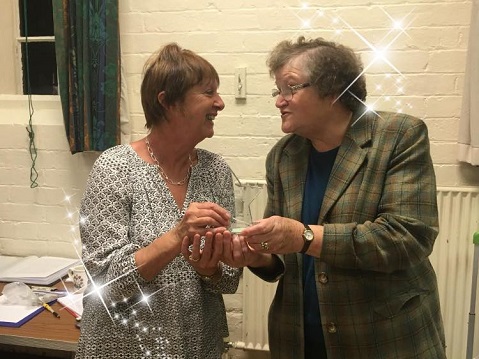 It's "Back to school" time and "Welcome back to Breaston WI" time and we started the year with a bang and a new STAR BAKER
Huge Congratulations to Elaine, May your lemons be ever fresh and zingy, your linings never be shop bought and your bottom be slightly firm but never soggy !!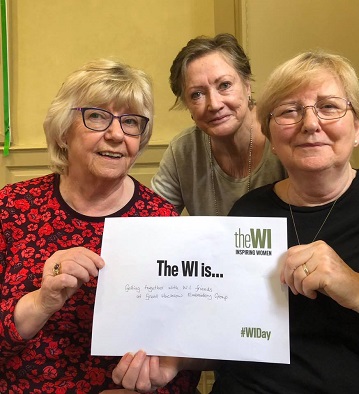 Baslow WI. WI Day is getting together with WI friends at Great Hucklow Embroidery Group. #WI Day.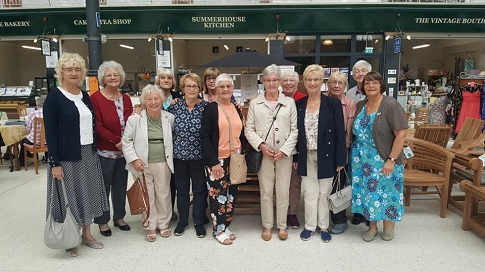 Loscoe WIs mystery tour took them through some beautiful villages in the county as thye headed north through Ambergate, Cromford, then down to Carsington. Where would thye end up. Sudbury museum of childhood? Tutbury Castle? They wound their way to Burton upon Trent, where a superb afternoon cream tea awaited them in the Market Hall. Beautifully presented by the staff at The Summer House Bakery and Tea shop.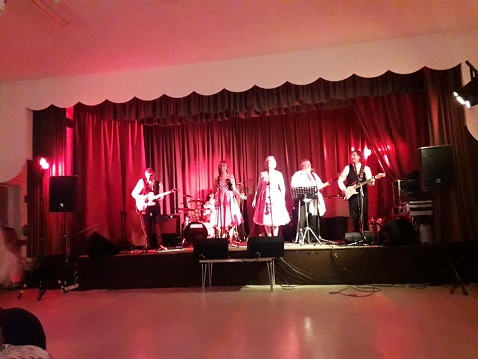 Findern and Friends WI had such a good evening with Rocks & Frocks! Thanks to all who bought raffle tickets to raise valuable funds for Derby Blood Bikes.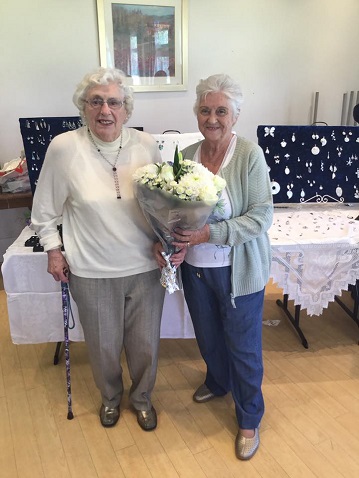 Ravensdale WI At our September meeting we welcomed Louise Grey from 'Silver Sentiments'. Louise brought along her beautiful,distinctive and ethically produced jewellery of semiprecious stones.She started her jewellery business in 2005. Member Margaret Kerry ,celebrated her 90th birthday during August. Our President Vanessa Dorricot presented her with flowers at our September meeting.A very busy enjoyable morning catching up after the August break.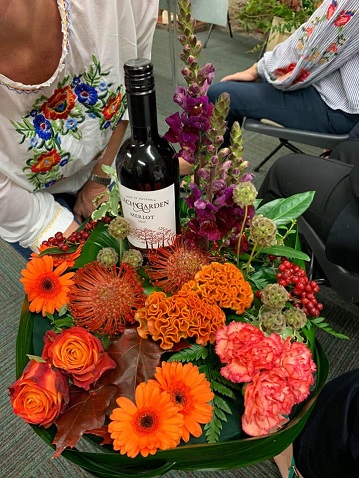 Ashover WI. Thanks to Sam from Fresh Ideas Florists in Chesterfield who gave a wonderful demonstration on autumn floral arrangements which was enjoyed by all. And 3 lucky raffle winners got to take her creations home.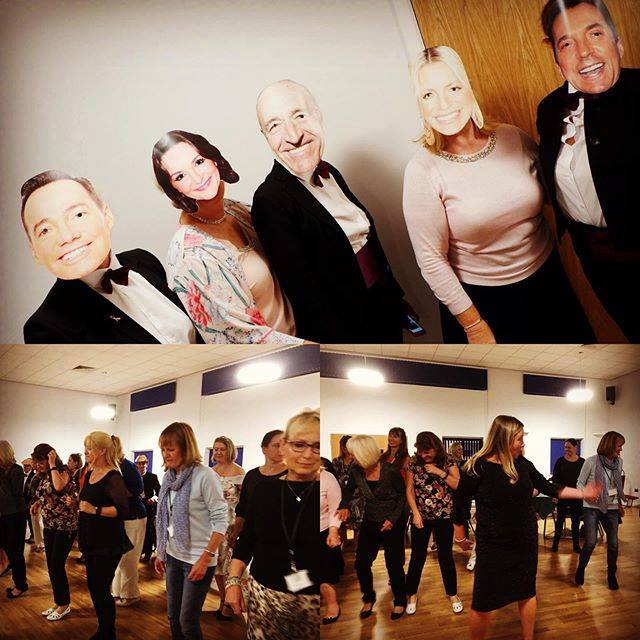 STRICTLY COMES TO REPTON WI! The professional dancers on the BBC need to watch their step. The ladies in Repton WI have proved that they can 'Keep Dancing' with the judges there to award straight 10s!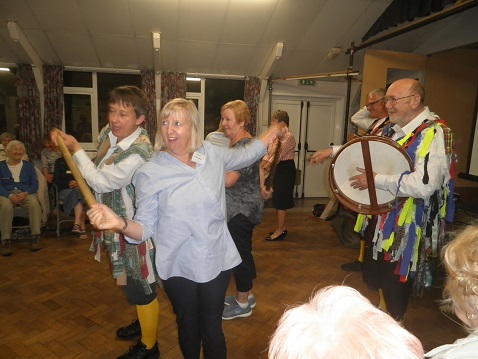 Ricknild Rabble Morris dancers gave Willington WI members a very interesting presentation about the various forms of morris dancing, theirs is Border Morris. They did a couple of dances- and then it was the members turn! The dancers enjoyed it and so did the audience, just watching them!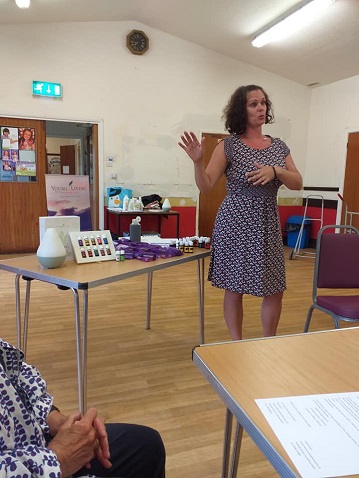 Back from the August break Barlow and Newbold WI were very pleased to welcome Beki Eakins & Elaine Smith from 'Young Living Essential Oils' Facebook Group: Considering Health.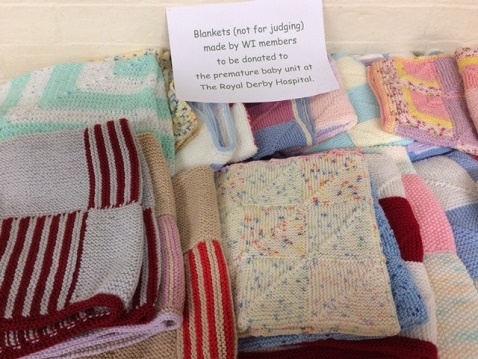 Ashbourne WI had a busy meeting as they welcomed two new members. There was lots to discuss after the long summer break. The blankets knitted for the prem baby unit at the Royal Derby hospital were on display; they were beautiful.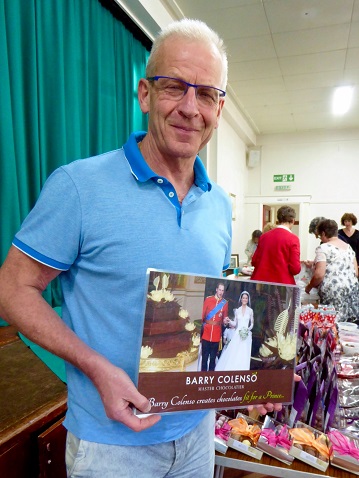 Who doesn't like a man who makes chocolate? Barry Colenso was a fabulous speaker at Baslow WI , telling members about his early career and the making of Prince William's chocolate wedding cake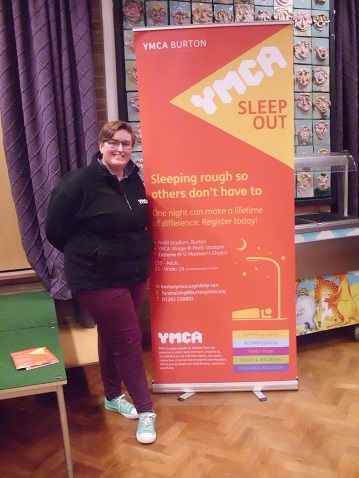 Briz Valley WI evening speaker was Natasha from Burton YMCA. She talked about the Modern Work of the YMCA .It was very interesting and informative. At 170 years old the YMCA is the oldest Youth Charity.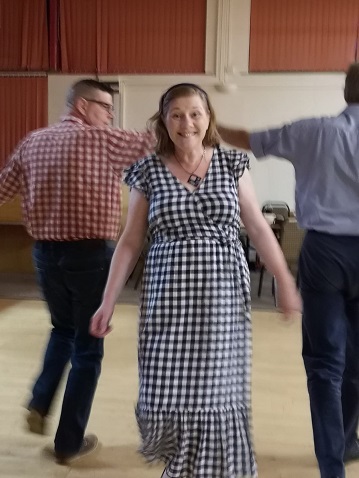 South Normanton WI held their first Barn dance and hopefully not the last. Well attended and enjoyed by all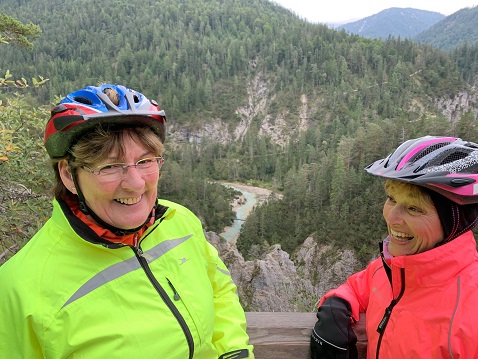 Baslow WI : Baslow Bikers Ann & Liz visit Bavaria's lakes, rivers and mountains on ebikes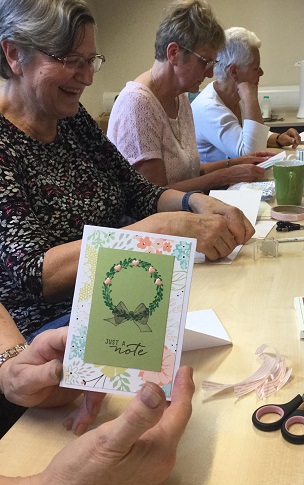 Another busy afternoon for the Heanor Crafty Ladies at Heanor Library.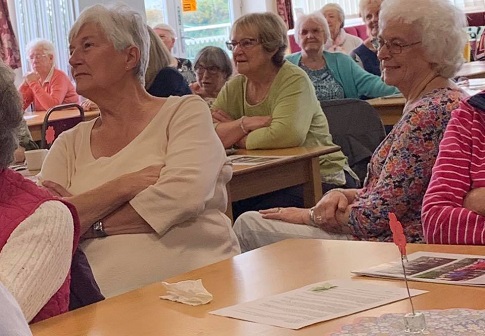 Members of Uffa Magna WI enjoying the meeting following the August break.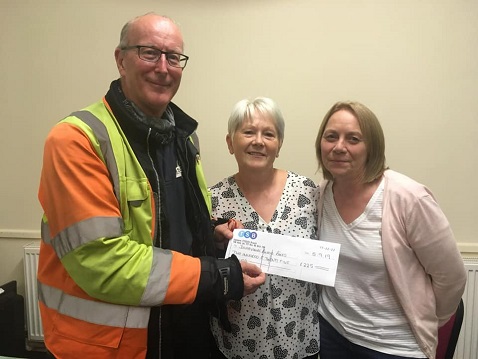 A member of Tibshelf WI, presented a Blood Bike volunteerswith a cheque for £225, the proceeds of a tombola run for DBB at the Teversal Village Fete.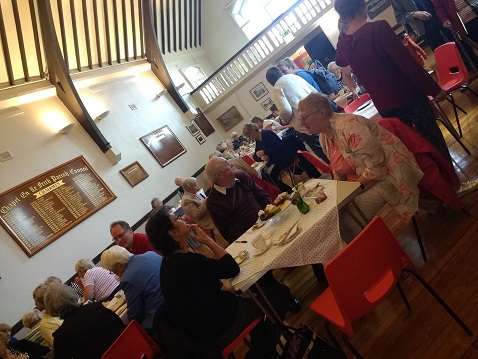 Chapel-en le-Frith WI held an afternoon tea at Chapel Town Hall in aid of Blythe House Hospice and Home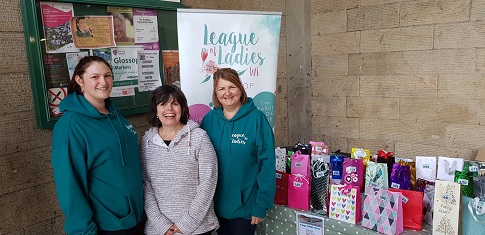 The wonderful women at the League of Ladies WI held a tombola to raise funds for The Bureau.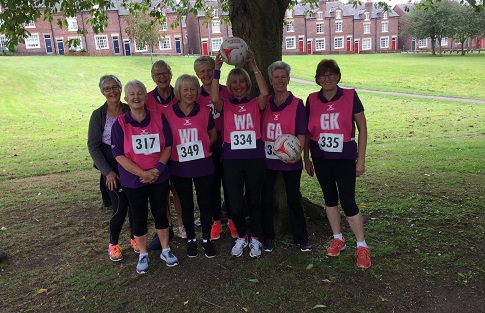 Barlborough and Clowne WI walking netball team the Arc Angels took part in the Bolsover Hill Race. Well done ladies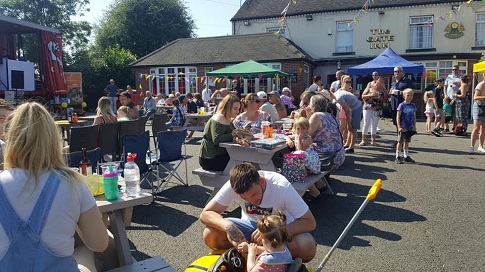 Loscoe Ladybirds baked cakes and ran the stall at the Party in the Car Park at the Gate Inn, Loscoe. Helping raise money for the Air Ambulance and Motor Neurone Association. A great local event to be part of.
The SherWIn Singers at Alderwasley Church - Songs of Praise at Alderwasley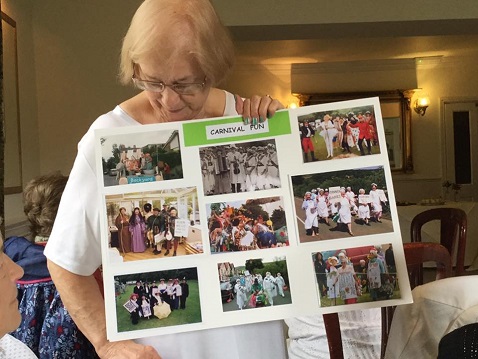 Bamford WI received a legacy for their members and on what would have been her birthday, they all enjoyed an afternoon tea at East Lodge Hotel, Rowsley. Thank you Jennie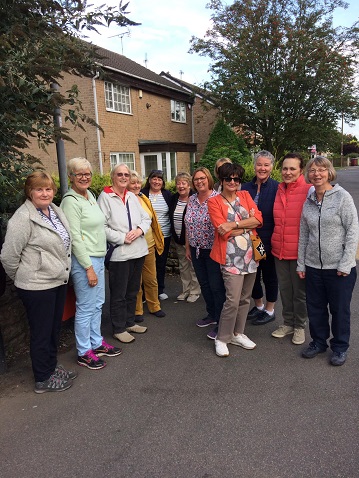 The August Social Meeting at Barlborough and Clowne WI started with a walk through Clowne, along the Clowne Branch Line Greenway and back to the community centre where they met up with other members for pie and peas.Thanks to Karen and Sue for leading the walk. A lovely evening with great company.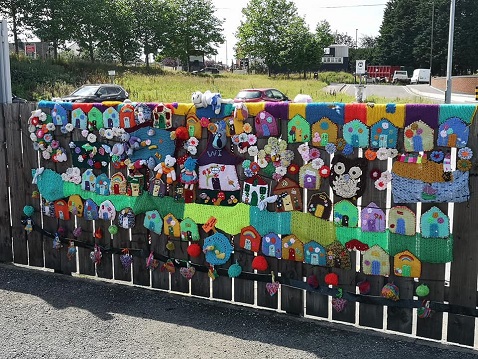 Phew that was hard work. Alfreton WI members moved their wool bombing to the train station where it was in place for 3 weeks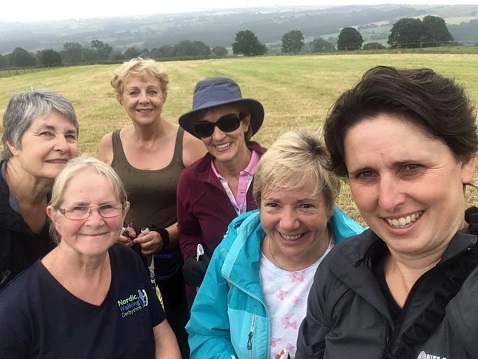 Baslow WI HOW FAR? DONT KNOW! A challengeing day a long walk from Longshaw. Will they keep up with Izzy's Nordic Walking Group?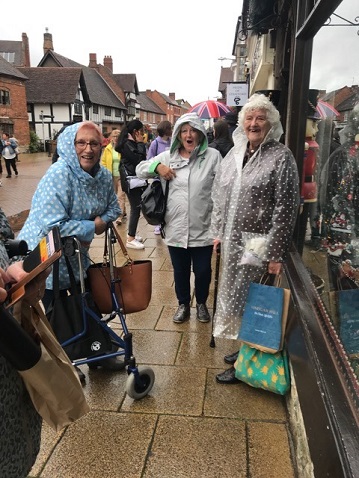 A thoroughly wet day for Willington WIs August outing to Stratford did not dampen spirits! Maybe just a little more retail therapy and coffee shops than everyone imagined!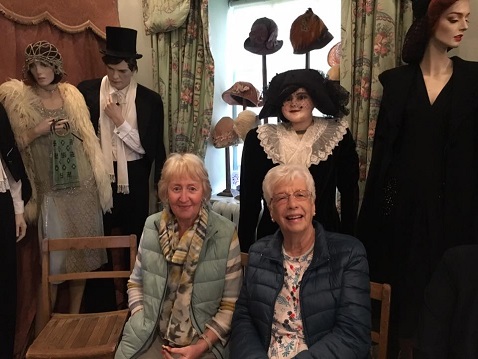 Despite the rain Breaston WI ladies had a lovely day at Notty Hornblower's "Hope Costume Museum" with fascinating insights into the history of fashion and a delicious afternoon tea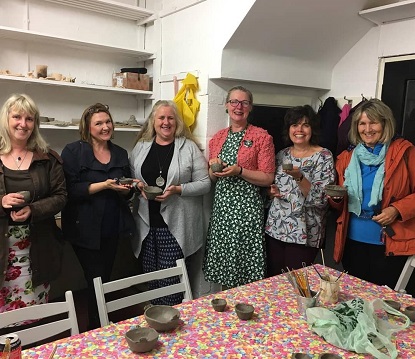 Some League of Ladies WI ladies enjoying their pinch pot session at Kiki and Clay - Smithy Fold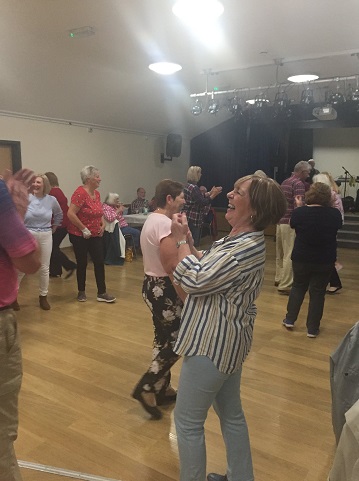 Little Eaton WI Summer Social Barn Dance with The Treacle City Dance Band. A fun filled evening with wonderful music and dancing.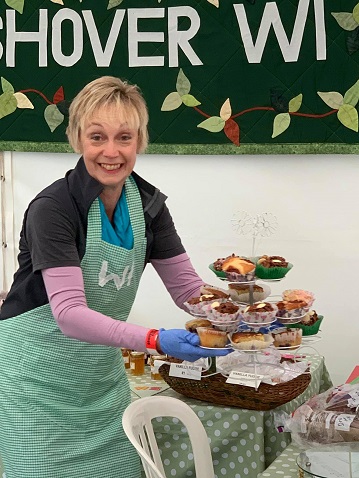 Ashover WI members raising money for CRY and Childrens' Air Ambulance at Ashover Show.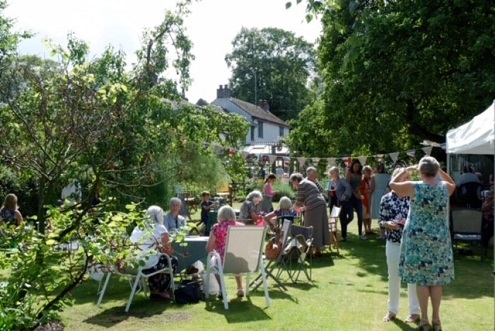 Members of Repton WI enjoyed a social afternoon in the garden. A great way to catch up with old friends and make new ones too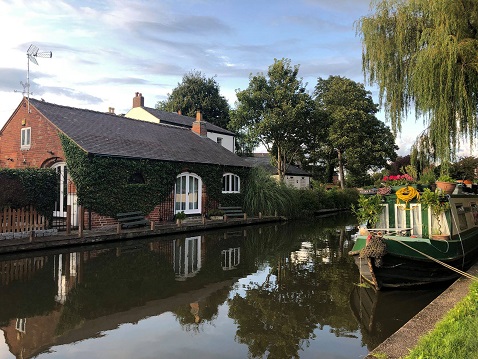 For their August Social Meeting 29 members of Briz Valley WI visited Shardlow W.I. and had a guided walk around the village and along the canal.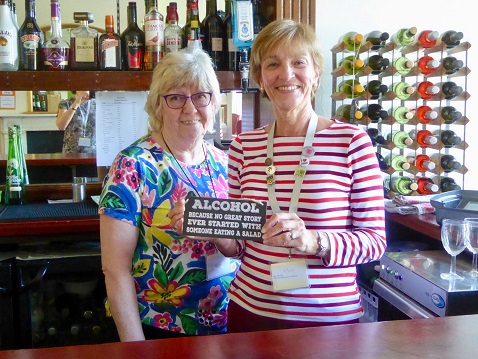 Baslow WI members who are also 'Friends of Denman' enjoying a special weekend.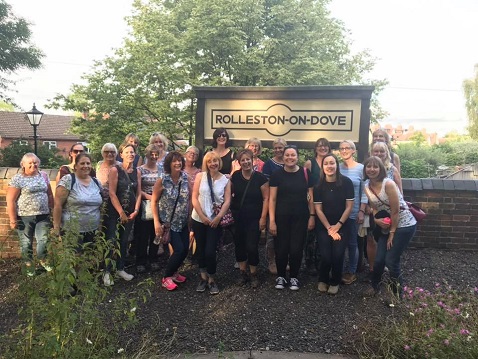 Burton Belles had a summer social instead of a meeting They had a walk along the Jinnie Trail then dinner at the pub with a great turn out of 28 of our members attending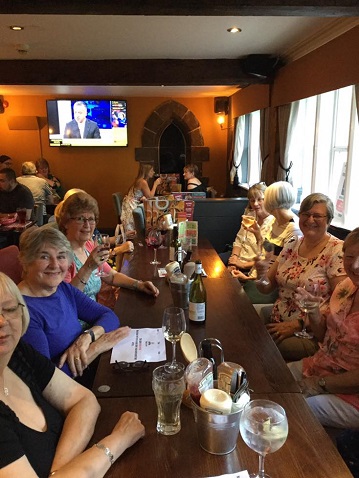 Now it is the turn of Heanor WI Committee for their annual meal which was held at the Mundy Arms.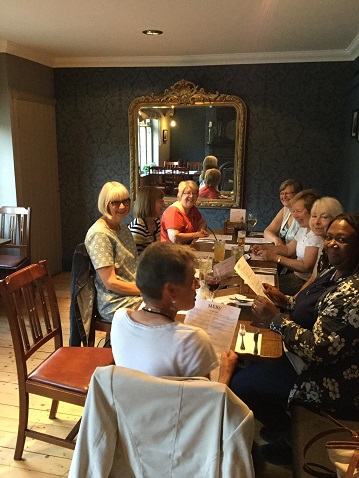 Heanor WI Bookworms had their annual meal at the Thorn Tree, Woodlinkin, this year.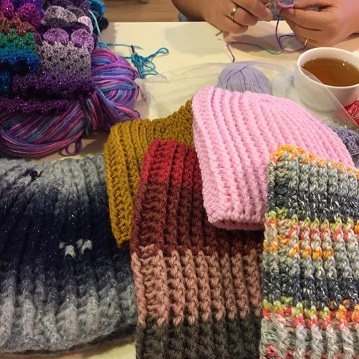 The Woolly Women of League of Ladies WI have some wonderful croched and knited items ready for their Christmas Fayre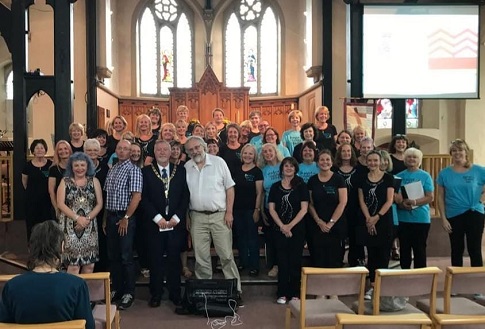 League of Ladies Choir had the pleasure of performing at Glossop Town Twinning Association afternoon tea today at St Andrew's in Hadfield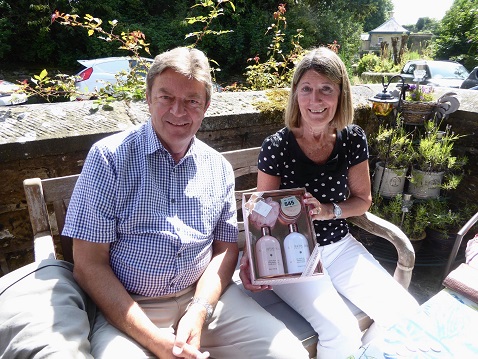 Chatsworth WI members held a 'Coffee in the Garden' fundraiser for their WI today. In glorious sunny weather members and visitors enjoyed coffee, cake and sandwiches. It was good to meet up with members from around the Federation.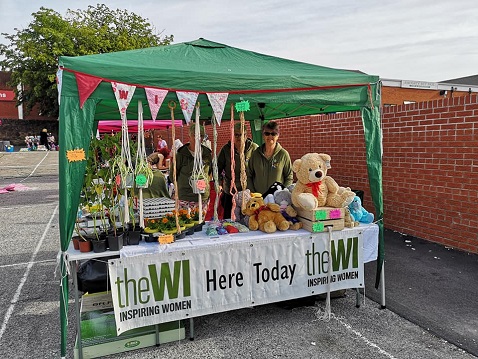 Alfreton WI attending Alfreton Happyfest 2019 at Palmer Morewood Memorial Social Club Ltd.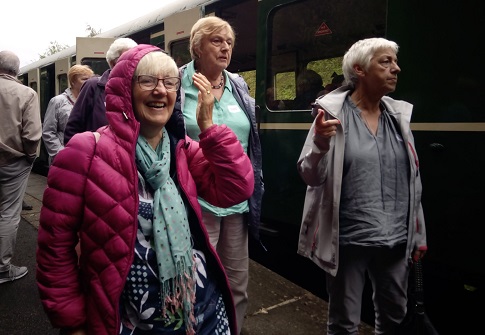 Willington WI As a thank you to all station adopters before Albellio take over the contract, East Midlands Trains invited our station adoption team to join them on the Ecclesbourne Valley Railway. We had a lovely day which included a tour of the yard at Wirksworth, a short ride on the Ravenstor line, an even shorter ride on a miniature railway and a picnic lunch too.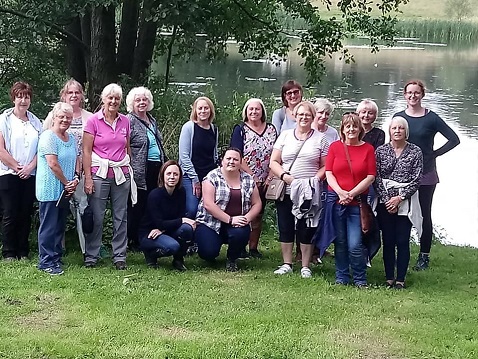 Tibshelf WI. Stroll and Supper at Hardwick.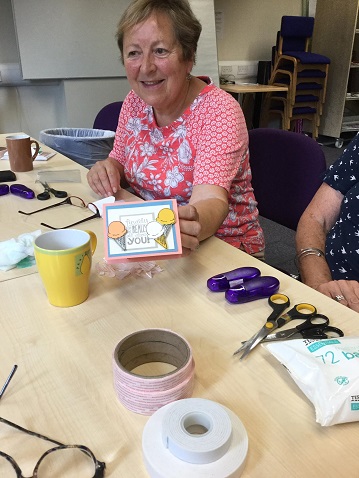 Heanor WI Crafty Ladies had a very productive afternoon making greetings cards.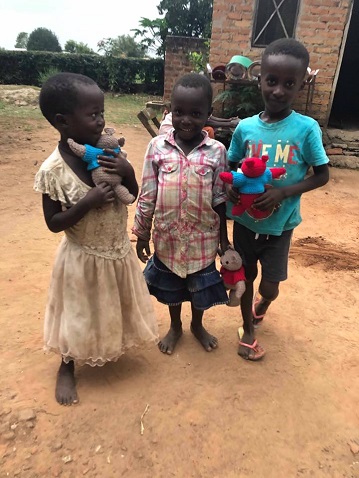 Shelford WI member Carol has knitted these little gorgeous teddies. They are now in Tisai Island, Uganda, with their new families. Have fun, little teds!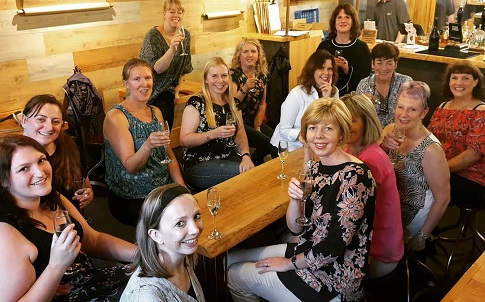 League of Ladies WI A corking evening had by all at @cask_and_kitchen prosecco tasting. Not only was there great company, delicious food and fizz but we actually learnt something too!!!!
Cheers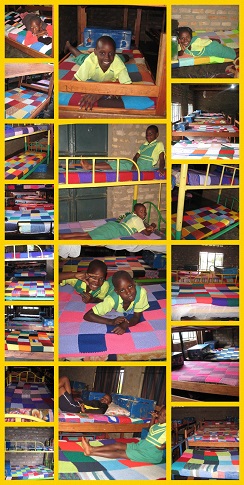 Duffield Afternoon WI photo collage of some of the blankets their members have helped to knit for the charity Child Africa. what an amazing achievement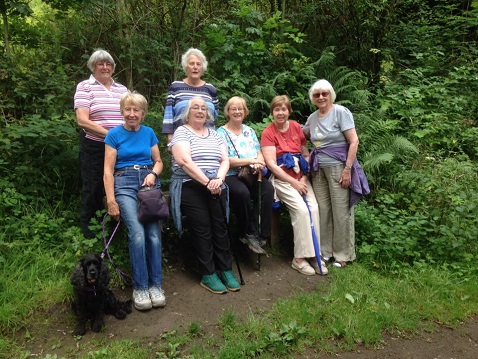 Bamford WI's annual ACWW day, with a walk in the morning followed by a bring and share lunch, this year in the Derwent Room, Bamford Mill. All donations for ACWW.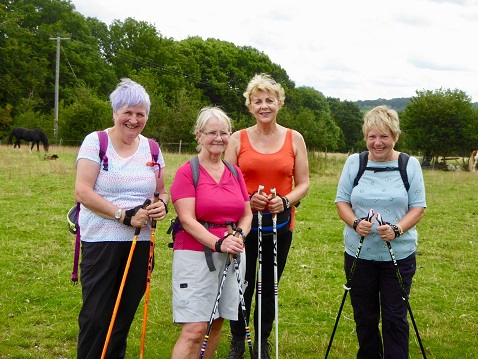 Baslow WI. Two of the Baslow Nordic Walkers joined another group for a walk from Holmesfield . This was a lovely 2hr walk down towards Barlow looping around to Cowley Lane and back up to The Angel Pub for a quick coffee/cold drink.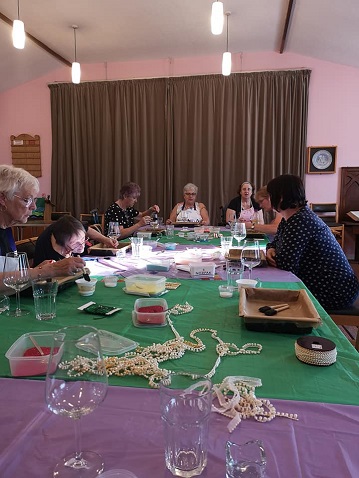 Alfreton WI Craft Club x glittering x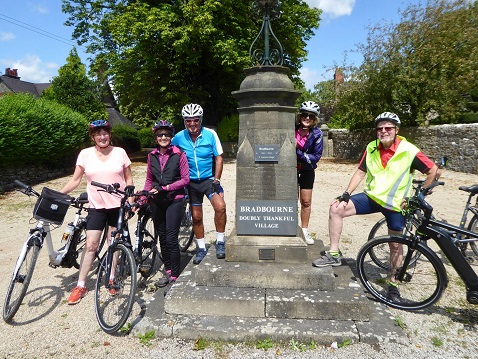 Baslow WI. Six of the Baslow Bikers met today for a 30 mile cycle and picnic lunch enjoying the gorgeous Peak District scenery.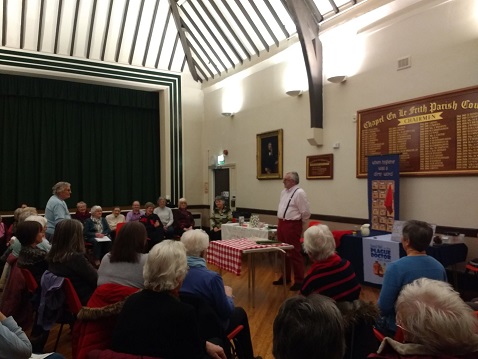 Chapel-en-le-Frith WI enjoyed a talk from David Bell - Trust me, I am a Plague Doctor.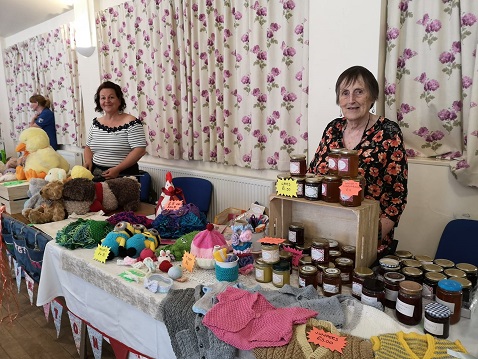 Alfreton WI fundraiser at Ironville Methodist Church in August 2019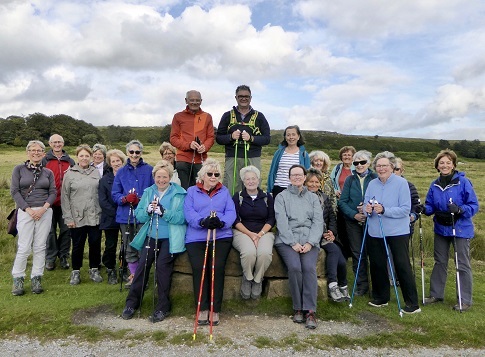 Here is a group photo from Baslow WI: Centenary Evening Walk at Longshaw Estate followed by dinner at The Grouse Inn, Grindleford.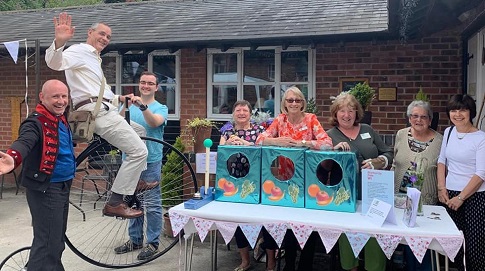 Stanton by Dale WI had great fun running the human fruit machine at the village fete on Sunday. We also judged the baking and flower competition entries. Great promotion for our institute.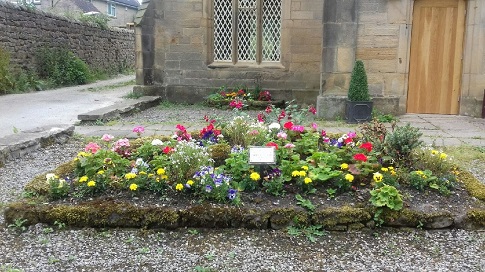 Ladies from Ashove WI have worked hard to replant the 3 beds in front of the Bassett Rooms. Well done, they look lovely and will shortly be enhanced by new paths and lighting.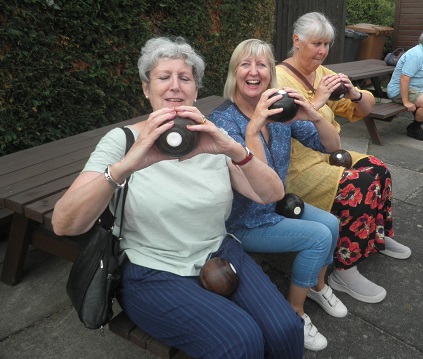 Willington WI had a fun and competitive evening at Willington Bowls Club. Club members helped us choose the correct size bowls and then coached us throughout the evening. As we were 'the WI', one wife had made cakes... she needs to join! Thank you gentlemen, for a lovely evening. We'll come again if we may.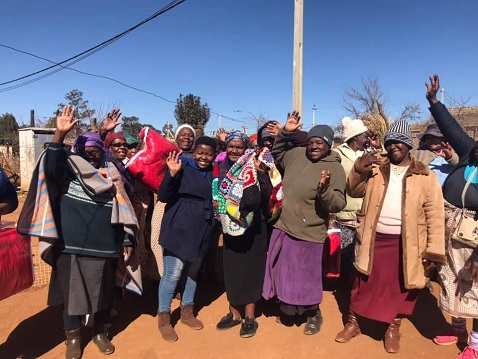 And the last blanket to Adelaide. Thank you Woolley Women crafting group from League of Ladies WI who are knitting blankets for women in Africa.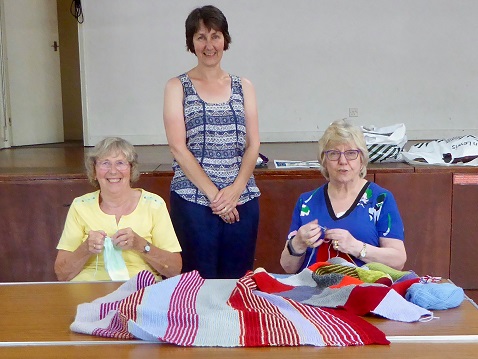 Baslow WI members enjoyed a couple of hours sitting chatting in the Village Hall working on their crafts and knitting for charities. It's good to attend these social afternoons when there is time to get to know each other and share news away from the busy monthly WI meetings.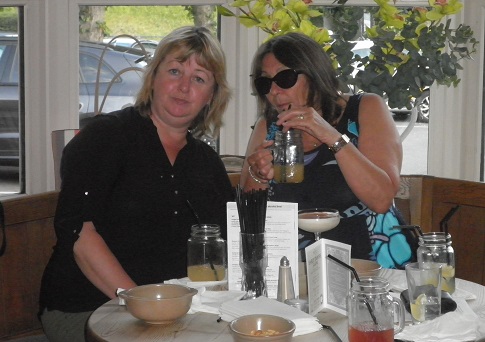 Willington WI enjoyed a Cocktail evening at The Dragon with a fabulous selection created by Paul. On a hot evening the long Apple and Elder Sour and the Jumping jack Mule went down well. But the Cherry Bakewell and Raspberry Ripple tasted just like their namesakes. Straws all round and a sip of each other's before deciding on the next....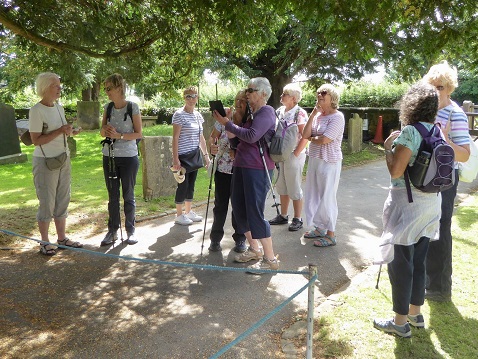 Ten Baslow WI members enjoyed a day out starting with a walk from Rowthorne via Hardwick to Ault Hucknall, followed by lunch at Heath and a walk around the village enjoying the Well Dressings, Flower Festival in Church and of course the scarecrows! Plenty of eating and drinking as always on WI outings!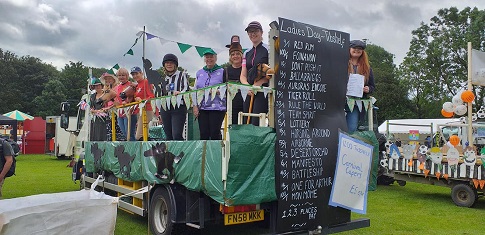 At Tibshelf Carnival the weather didn't dampen yhe spirits of Tibshelf WI, especially as their float won 'Best in the Parade'!!!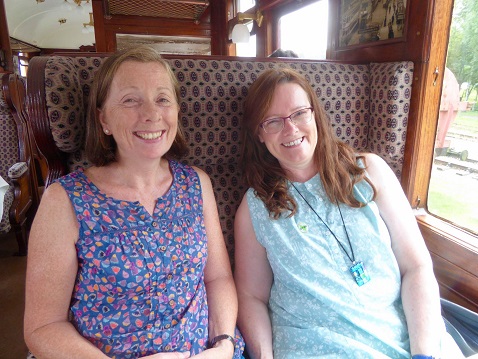 Members of Baslow WI, enjoying the centenary celebrations with tea on the steam train between Rowsley & Matlock.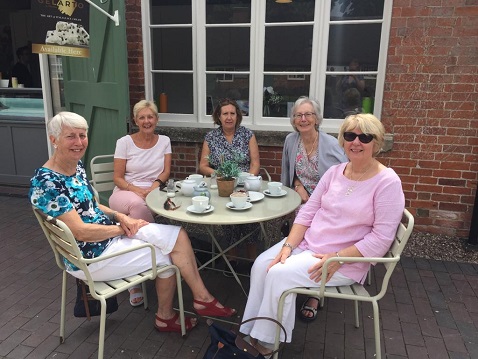 In the sunshine at Sweet Little Sudbury - A few members of Repton WI enjoyed a sunny morning, a coffee and each other's company in the courtyard.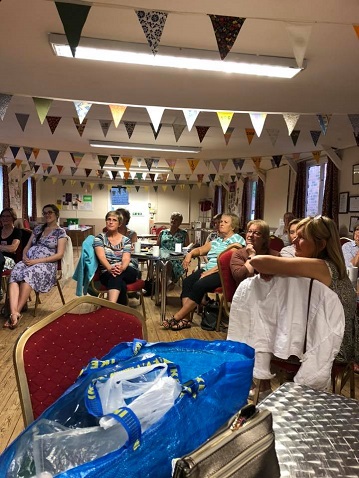 Bingham Belles enjoyed an interesting talk from Graham Keale about his working career as an ex showbiz reporter at their last meeting.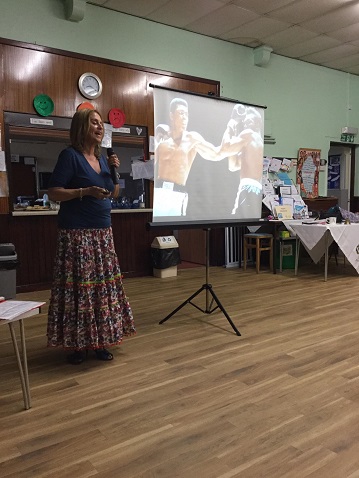 Heanor WI spent a fun-filled evening with Mary de Ville and her Swinging Sixties talk, with songs from 60s films, some amusing poetry, and a slide-show of other notable events of the era. Thank you Mary - it brought back a lot of happy memories for the members who remember those days!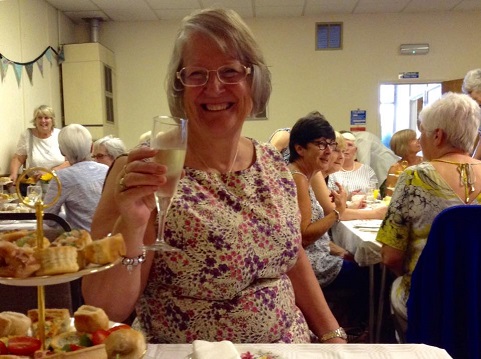 A lovely afternoon at the Uffa Magna and Mickleover WI Tea Party, great company, and delicious sandwiches, strawberries and cream, scones and, of course, cake!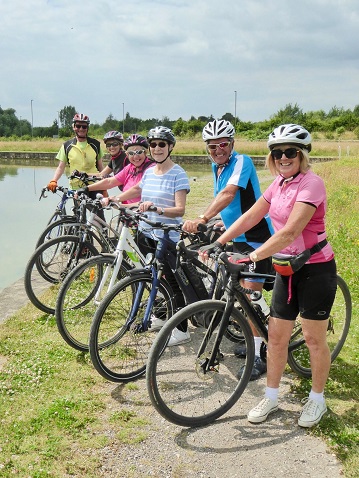 Nine Baslow Bikers enjoyed a 16 mile easy cycle from Poolsbrook Country Park in wonderful warm sunshine and with dry paths to ride on. What a treat, it usually rains on us!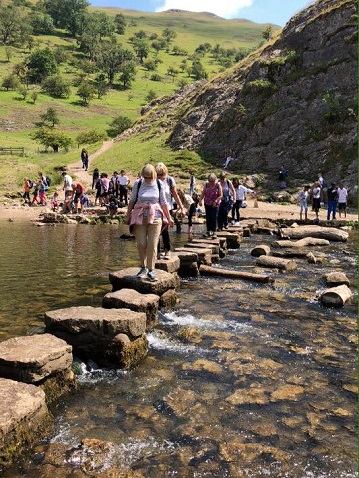 Uffa Magna and Mickleover WI returned from a beautiful but very hot walk from Ilam to Dovedale, Derbyshire, via the famous Dovedale Stepping stones! 8 ladies went on the walk which was 5 and a half miles. The Peak District is really stunning and right on our doorstep too!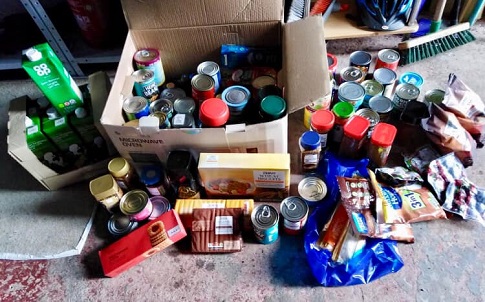 Well ladies you've done it again ! You make us so proud to be part of Breaston WI. A huge thank you to everyone for donating food to the food bank for the school holidays. This is a time when the food bank usually struggle so thanks again for your massive effort.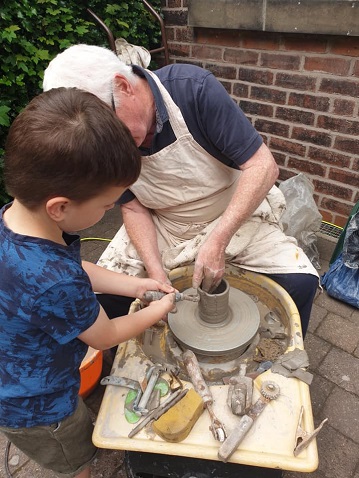 Shipley WI held a Friendship Cafe at - Weleda's Open Day brought in the crowds. But thanks to our wonderful members we managed to share all our fabulous cakes and had a great afternoon. Shared some crafts and James particularly liked our potter, Richard. Asked if we could do it every month.......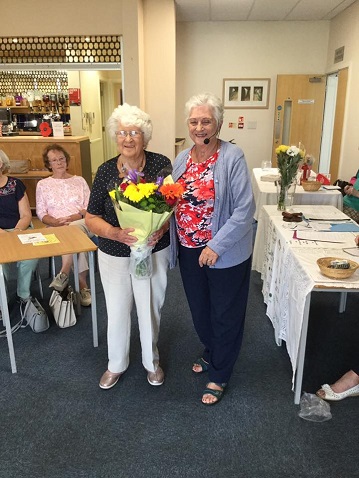 Ravensdale WI member, Sylvia Phillips, recently celebrated her 90th birthday and she was presented with a bouquet of flowers to mark the occasion during a very busy meeting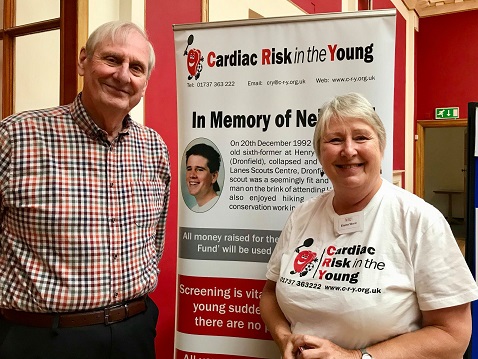 CRY (Cardiac Risk in the Young) - Today at Chatsworth approximately 100 screening tests will be done on young people. DFWI members donated cakes and served refreshments to helpers and young people being tested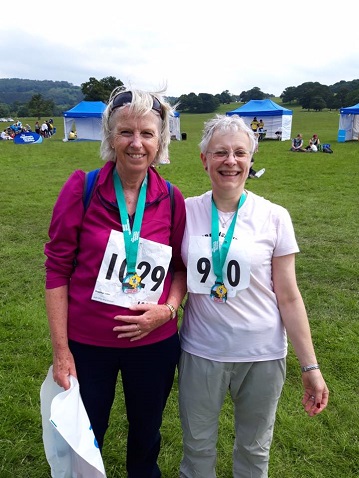 Two members of Swanwick WI completed the Chatsworth 10K sponsored walk in aid of Sheffield Children's Hospital and raised £200. Well done both of you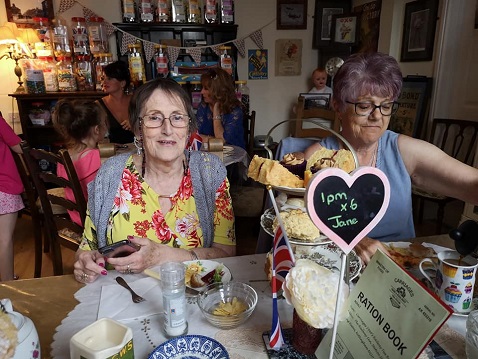 Alfreton WI - Another day out with the ladies x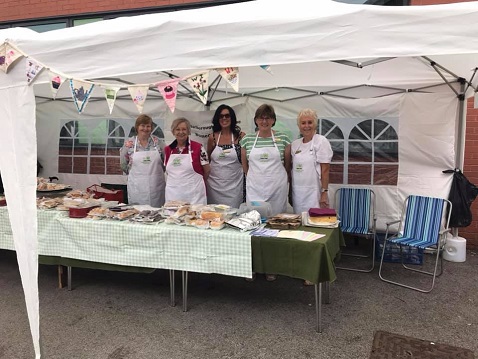 Barlborough and Cowne WI at Clowne gala. Thank you to everyone who has been able to contribute their time and baking . You will be pleased to know we sold everything!!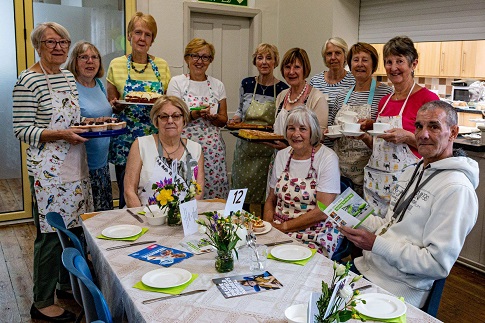 Swanwick WI held a cream tea event, sponsored by Roddas Cornish cream and Tiptree jam. Thanks to all who attended and supported this event for the Children's air Ambulance and the Sheffield Children's Hospital Helipad appeal. The rising total has now reached £950.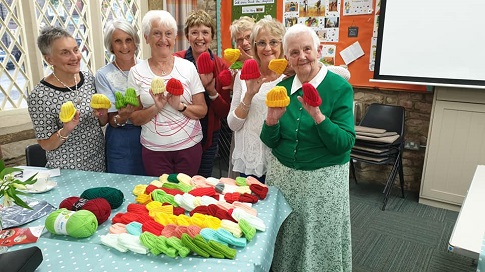 Ashover WI had a great meeting . Elaine and Ian from CRY (Cardiac Arrest in the Young) came along to tell us about the life-saving heart screening programmes run by CRY and the young lives being saved. Our knitters have been busy producing 'Traffic Light' hats for premature babies at Doncaster Premature Baby Unit, and Anne has made some beautiful dolls to sell at the Ashover Show and delicious cake provided by Sue W. Thanks to everyone.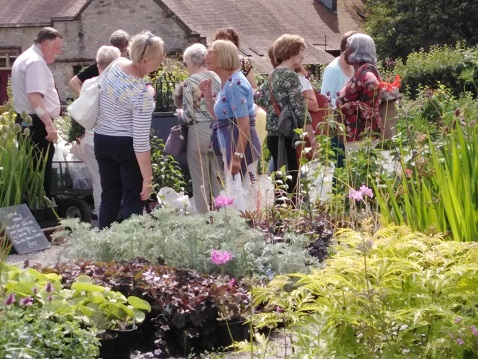 Breaston WI had a wonderful day out. First to Bakewell for fish and chips then to Thornbridge Gardens, a great successful day!!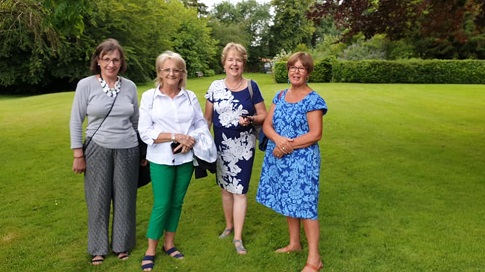 Ladies from Ashover WI had a great afternoon at Walton Cottage NGS garden. Lovely garden and grounds followed by delicious of scones and tea.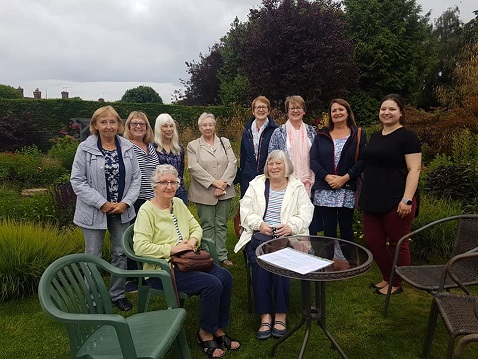 A group of Chesterfield Town WI ladies had a lovely evening out to 'Byways' . Thank you to Eileen and Terry for showing us around your beautiful garden and for the delicious cakes, and thank you to Andrea for organising the evening. Great company and a gorgeous garden!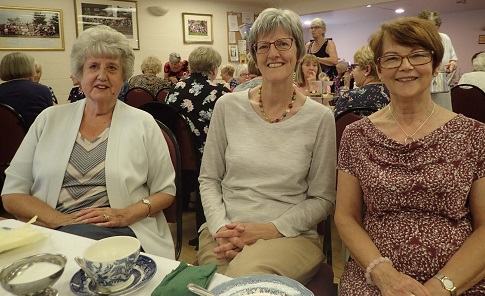 Chaddesden WI A wonderful fun filled afternoon down Memory Lane to the 1970s with the History Wardrobe at Wyaston. Thank you to the two Lucys and Judy Stanhope and the DFWI Fun(d)raising Committee.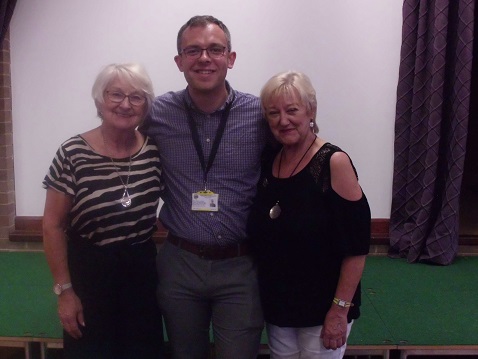 Briz Valley W.I. had a speaker from Burton Albion Community Trust, Wayne Chadfield. Evryone had their eyes opened to the different things that they do and the charities they support.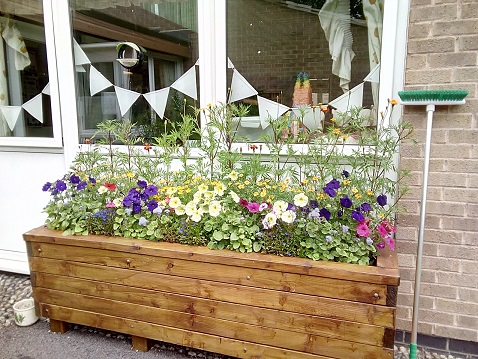 Swanwick WI The progress of the garden adoptedby members at Rowthorn is coming along, doesn't it look lovely. We understand that the residents are enjoying sitting out in the garden.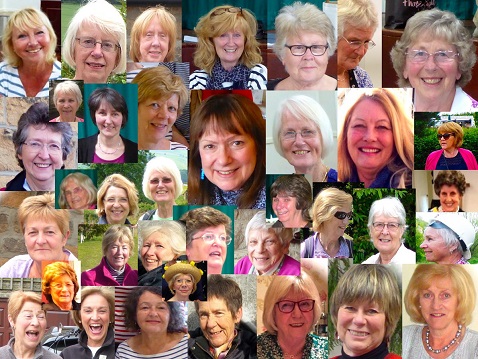 We are delighted to share our latest Peak District Voice with you ... all about the Baslow WI, which this year celebrates its centenary year. Grab a chair and a cuppa, and have a read all about these inspiring Peak District ladies and their adventures in the lovely village of Baslow: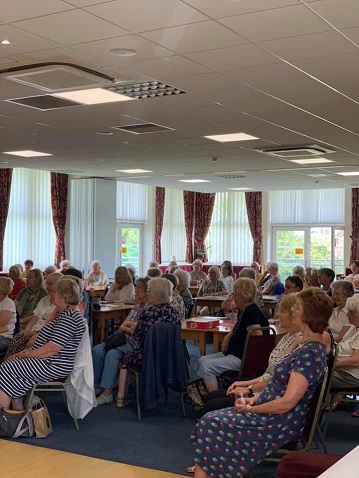 Uffa Magna WI last meeting before the summer break but members will be seeing lots of each other over the summer - there is a walking group trip to Ilam on Monday, afternoon tea party next Tuesday, the munch bunch are going to Zizzi's the week after! A coffee morning on 29th July at the community centre too! Exhausted already, perhaps everyone gets a breather in August but no they are going to Llandudno on their annual trip to the seaside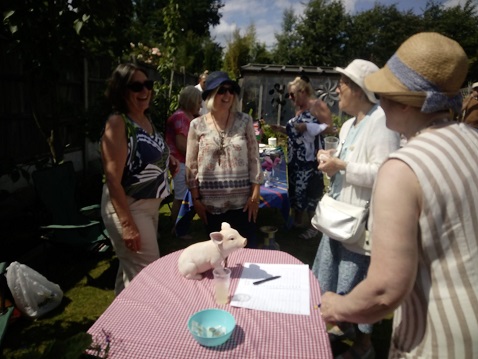 What a fabulous afternoon for a garden party! Gill (and Chris) worked extremely hard in planning and setting up Willington WI's garden party to raise funds for this year's charity- a local women's refuge. On a garden theme there was guess the weight of the planter, a garden tombola, name the pig and of course cake and Pimms. Thank you to both, and to all the members, family and friends who came to support and made the afternoon such a success.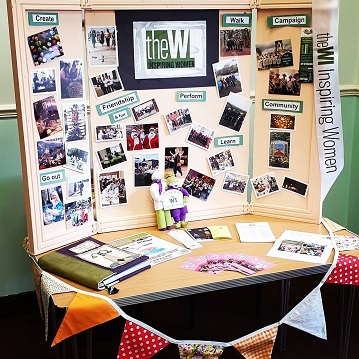 League of Ladies WI Wonderful morning at Bradbury Community House sharing all the great things we do!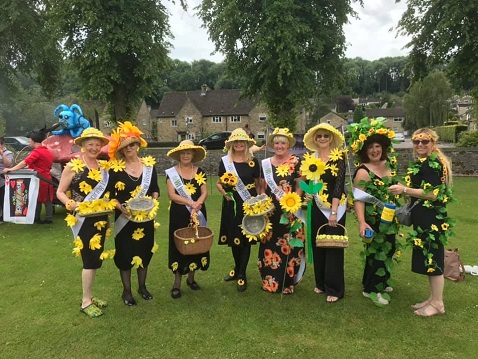 Bakewell WI - Let the Carnival commence....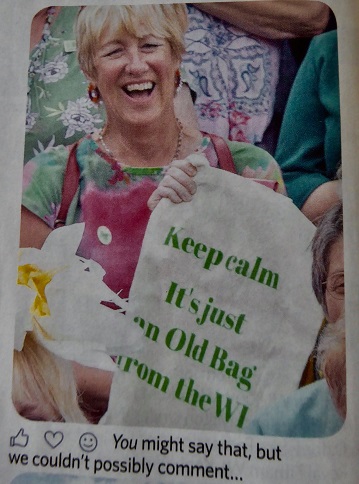 Here she is, Barbara, our Denman Ambassador and Briz Valley member, having fun at the NFWI Annual Meeting in Bournemouth. This photo is in the July/August edition of WI Life along with all the rest of the WI news.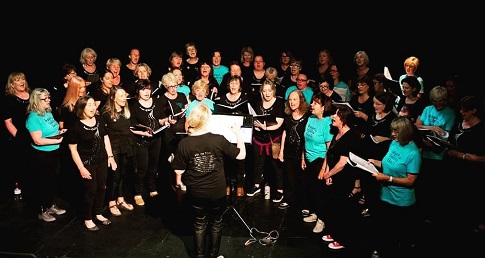 League of Ladies WI Wow! What a night?! The choir sounded fabulous at their Fringe Festival gig last night. Well done ladies! Jar of Hearts gave me goosebumps.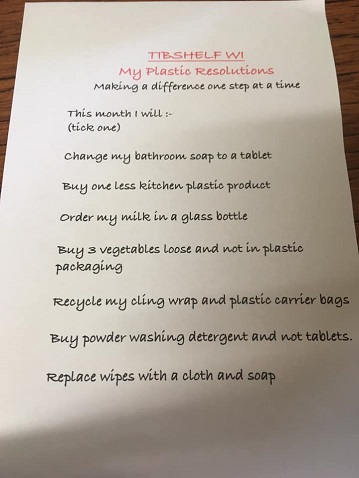 At Tibshelf WI we are making a difference one step at a time! Over the next few months our members are pledging to reduce their plastic consumption.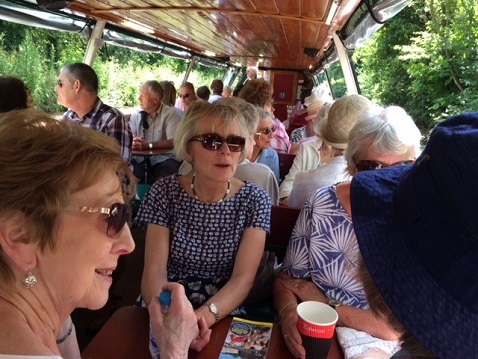 Ashbourne WI joined other local WIs for a trip along the Cromford canal. We progressed at a stately pace spotting flowers, birds and even the odd dinosaur! We stopped at High Peak Junction where we all got off to explore and to have an ice-cream. It was a lovely day out.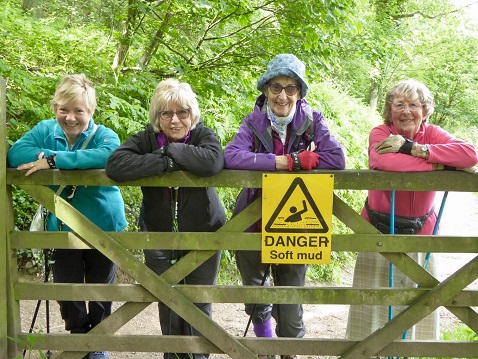 Five Baslow WI members from the Nordic Walking Group met today for a 4 mile walk at Linacre Reservoirs, Chesterfield followed by a picnic lunch. Good walk and good chat!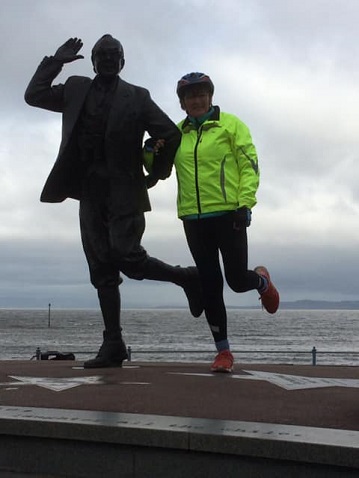 WI Adviser, Baslow Biker and member of Barlborough and Clowne WI, Liz Mangle cycled across England from Morecambe to Bridlington, on 'The Way of the Roses'. She had all her clothes for the journey in panniers on her bike and accommodation booked along the route. This was the photo from the start of her journey that we just couldn't resist!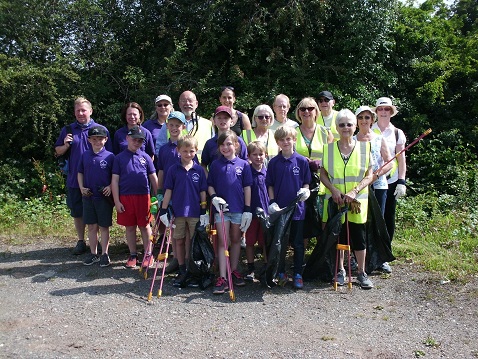 A big thank you to all who helped with the Briz Valley W.I Litter Pick .W.I. members Lynn, Lynda, Lynn, Gordon,Renee, Pam, Pat, Teresa. Councillor Bernard Peters & Councillor Peter Marston and the beavers, cubs, scouts and their leaders Alison, Paul & Helen from 16th Burton (Stapenhill) Group. A successful 2 mornings with 12 bags of litter collected. THANK YOU EVERYONE.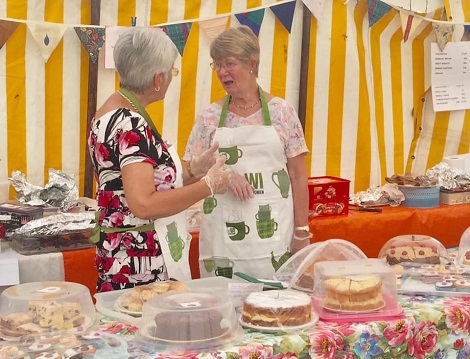 Duffield Cumberhills WI had another successful carniva dayl! Lovely to be in the marquee with the other Duffield WIs. Thanks to everyone who supported us! Just wondering what was being discussed on the cake stall though.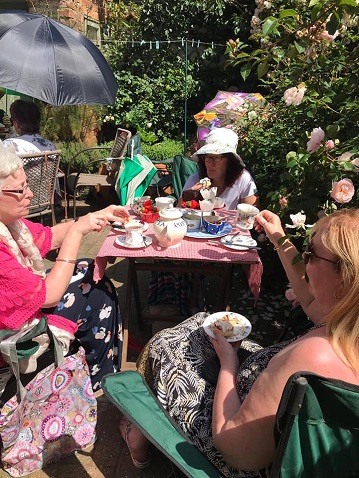 Alfreton WI members enjoyed an Afternoon Cream Tea hosted by Trustee and Alfreton WI member Linda Singleton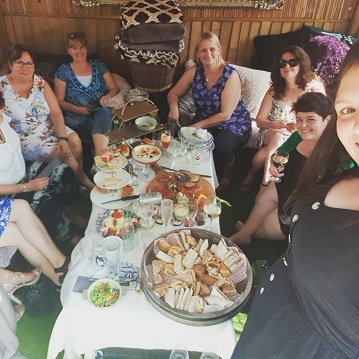 League of Ladies WI had a brilliant day @prideofthepeaks for a delicious afternoon tea in their pod!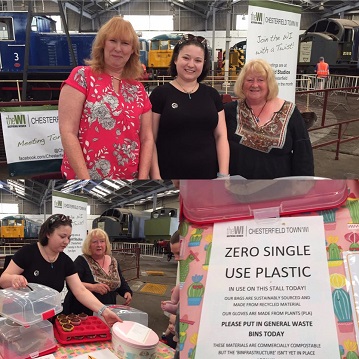 Chesterfield Town WI at the WW1 D Day event at Barrow Hill Roundhouse promoting not only the WI but Zero Single Use Plastic simply by serving their delicious cake in brown paper bags. Small changes making a big impact. Well done ladies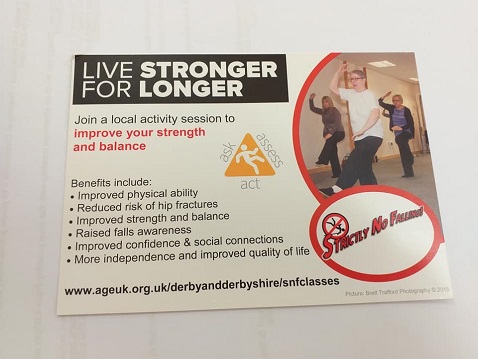 Barlow Newbold and District WI were visited by Occupational Therapists, Sue Boam & Sue Haynes promoting 'Strictly No Falling'.
Their aim is to provide instructions on core strengthening & balance exercises designed to help maintain physical fitness & to strengthen abdominal/back muscles essential for daily tasks e.g. carrying grocery bags, climbing stairs or getting out of a chair.
The session was very absorbing providing members with a solid foundation for all types of physical movements & exercises.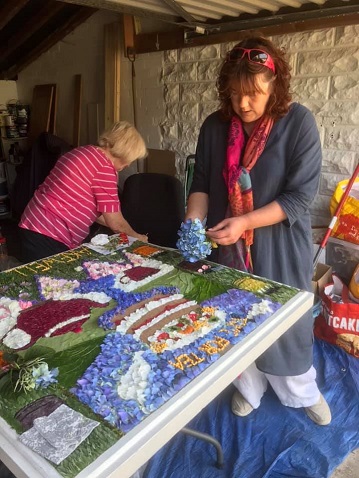 Bakewell WI's Well Dressing is finished in time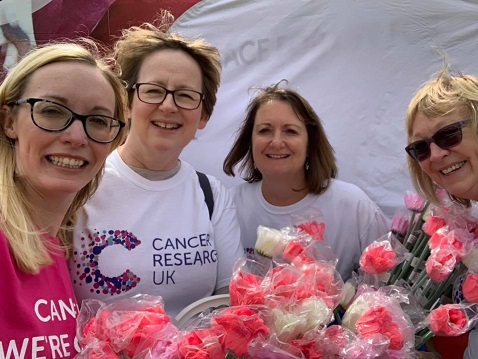 Well done to everyone taking part in Chesterfield Race for Life. And thank you to all of our volunteers including Chesterfield Town WI - huge thanks for your support!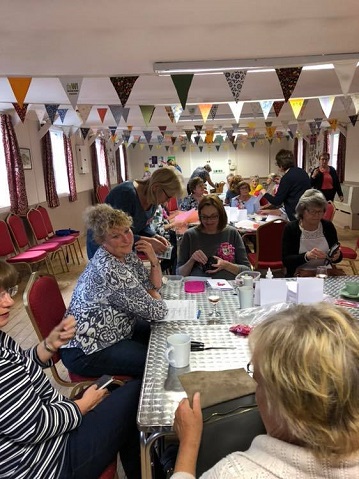 Bingham Belles WI had a very sedate productive evening of crafting at their meeting in June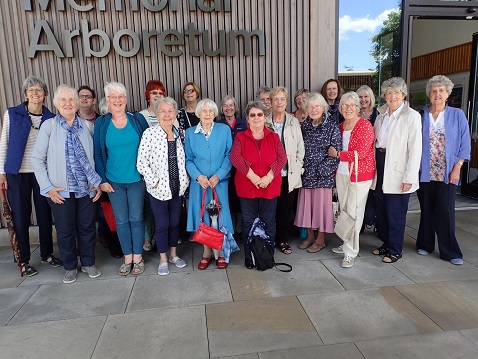 Chaddesden WI Group photo from their visit to the National Memorial Arbouretum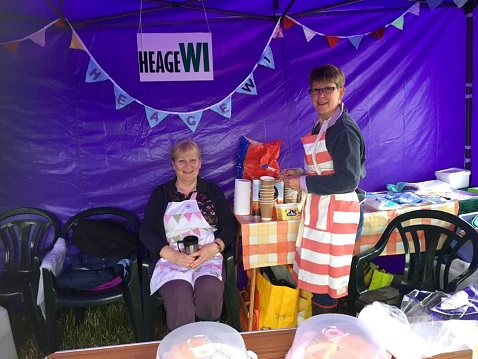 Heage WI spent a great weekend at The Old Goats Grumble, and would like to offer their appreciation thanks and support to the team managing the weekend, despite the problems with the weather and lots of mud. It was a great team effort all for a worthy cause The Teenage Cancer Trust. Do hope you have raised lots of money.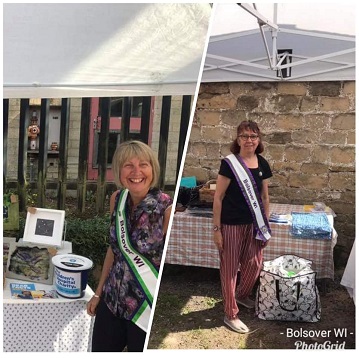 Bolsover WI recently held an event in The Old Bolsover Yard to promote the WI. It was a lovely day for it and to round it off with the Red Arrows was the icing on the cake!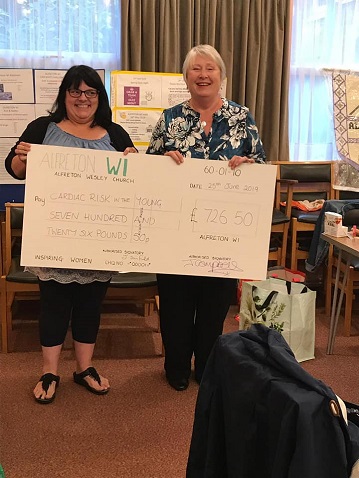 Alfreton WI recently handed over £726.50 to Elaine Ward for the charity 'CRY'. Thanks to all the ladies of Alfreton WI who helped with all of the fundraising activities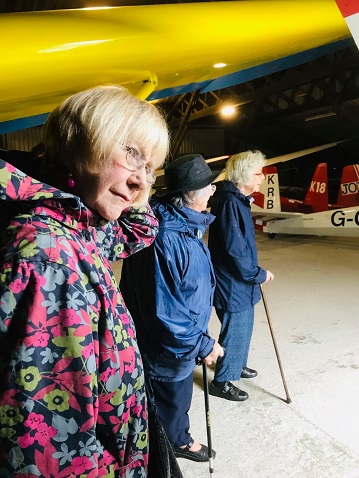 Baslow WI visited Great Hucklow Gliding Club....why have we never been here before....what a wonderful place full of excitement....apart from the rain. Thanks to Tom, Andrew and Shirley for making it so special and for the wonderful lunch.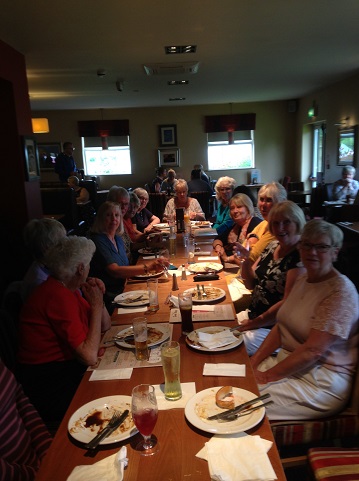 Willington WI. Another lunch date. This time at the Greyhound in Woodville and enjoyed by all.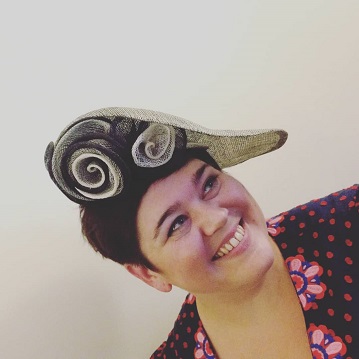 League of Ladies WI had brilliant evening for their June's monthly meeting - Milliner. A huge thank you to Lorna Young who gave a brief history of hats, the hidden importance of Stockport and a little demo as well as bringing some of her fabulous hats to see!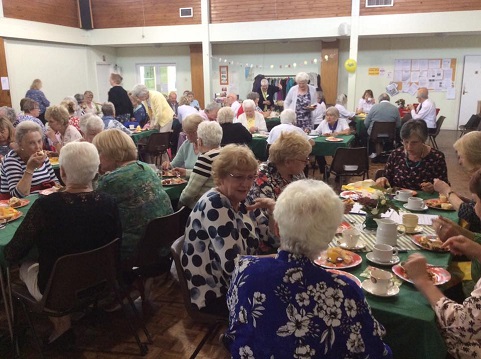 Old Brampton WI hosted a Strawberry Tea for their Group one Tuesday afternoon and it was the perfect way to spend a cold wet day - miserable outside and a lovely warm atmosphere inside. Brampton Singers entertained everyone before they all tucked in to a scrumptious buffet. The chosen charity was Sheffield Children's Hospital Charity, who will benefit from such a well attended afternoon. Thank you to everyone who supported this and to all the fantastic helpers who ensured everyone had a wonderful time.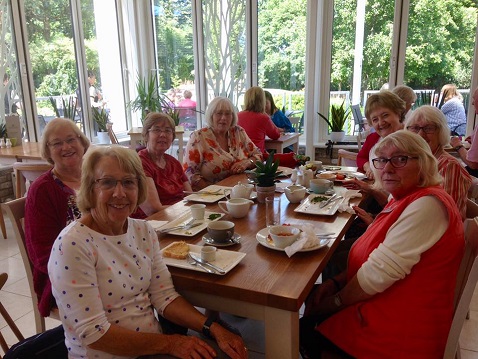 Some members of Bamford WI enjoying a brunch at Woodford Garden Centre, then a good look round and after a trip to M&S at Handforth Dean. A good day out for everyone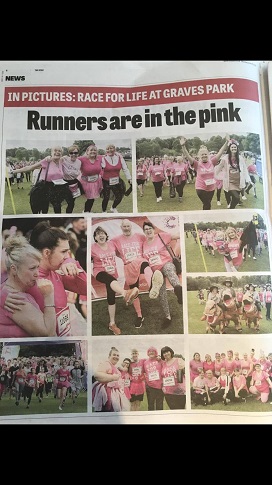 Liz Mangle, WI Adviser and member of Barlborough & Clowne WI is in the news, she has run the Race for Life 'in the pink' at Graves Park raising money for Cancer Research with her family.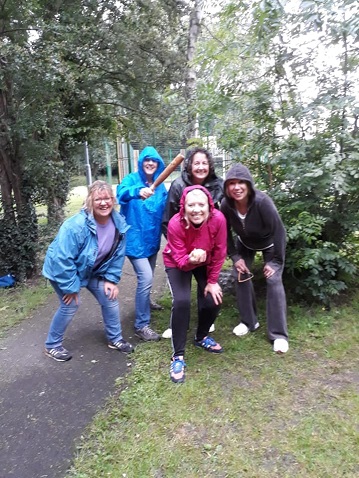 Despite the rain 6 members of Breaston WI had fun playing rounders under the trees. It was the Burlington Bashers versus the Drowned Rats! Thanks for organising Julie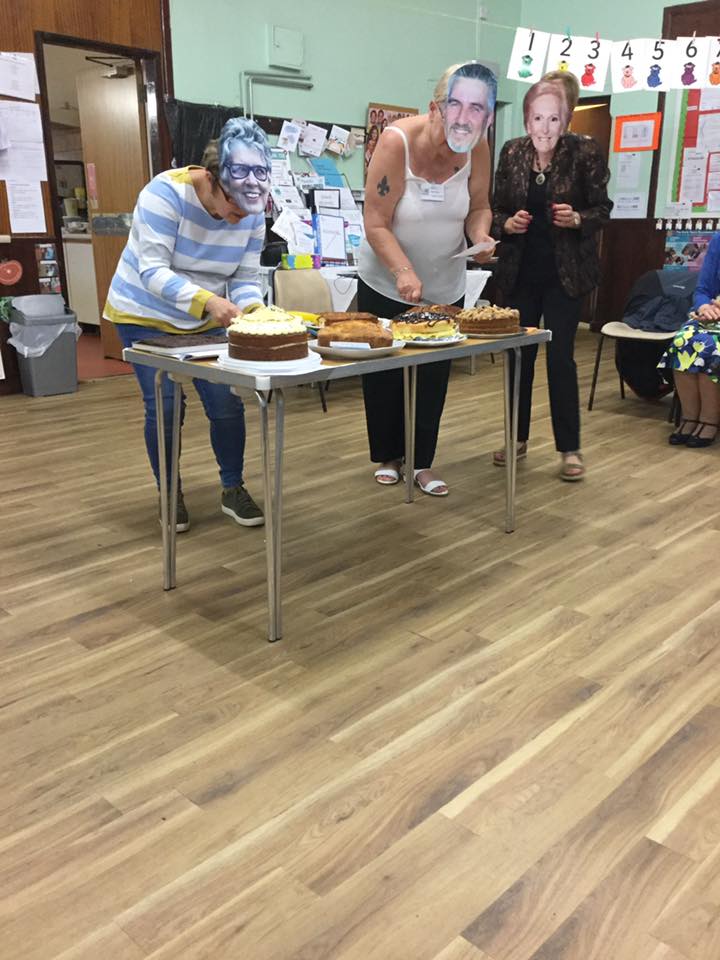 Heanor WI had a Bake Off event with three Celebrities to do the judging. It isn't every day you get Mary Berry and Prue Leith on the same show. They had a really fun night, with a big Thank You to Diane, Paula and Julie for being such good sports. Thank you to all the bakers. All the cakes were delicious and some looked stupendous too. Everyone ate thier fill, but they did take some home as well. Thank you Alison for the lovely prizes given to those in 1st, 2nd and 3rd places!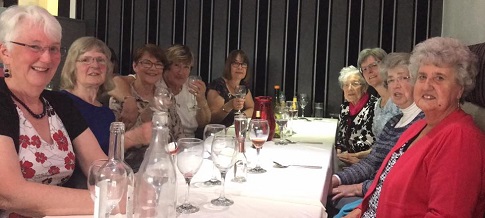 A group of ladies from Chaddesden WI had an enjoyable meal at Mozzas indian restaurant .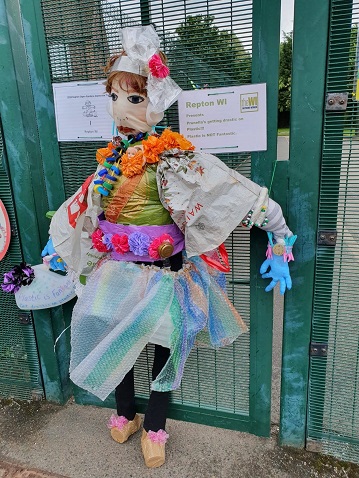 Repton WI scarecrow PRUNELLA WAS GETTING DRASTIC ON PLASTIC AT THE WEEKEND! Well done to all the members who helped create such a great model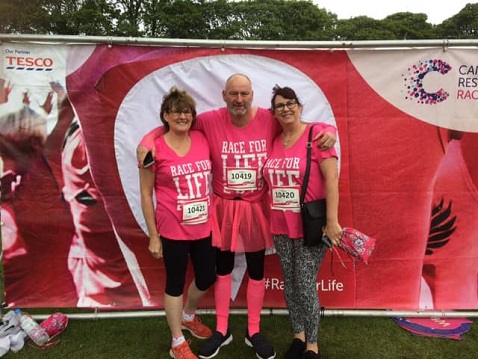 Barlborough and Clowne WI member and WI Adviser Liz Mangletook part in the Race for Life in Graves Park Sheffield in June . She managed to avoid the rain. 2019 is the first year that men could take part.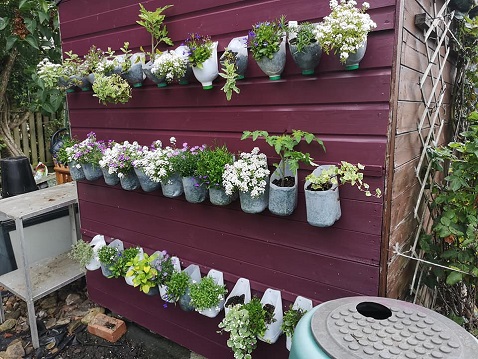 Alfreton WI's Little Allotment after the Rain. What a great idea to recycle plastic milk bottles too!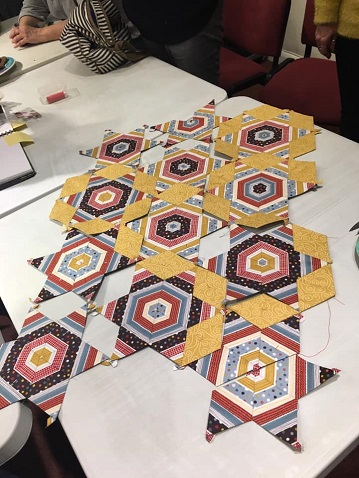 New Mills WI craft group a few months ago learning new skills and making a lovely quilt for their newest member Logan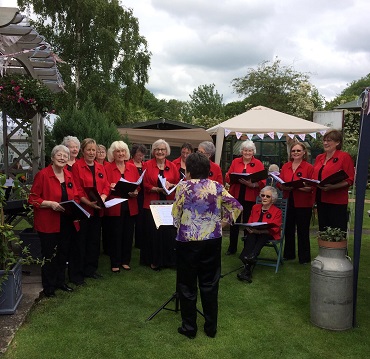 The Rothervale Ladies Choir provided a medley of songs at the open garden event of a member of Barlborough and Clowne WI. They were were fortunate that the sun shone. The cream scones and cake were delicious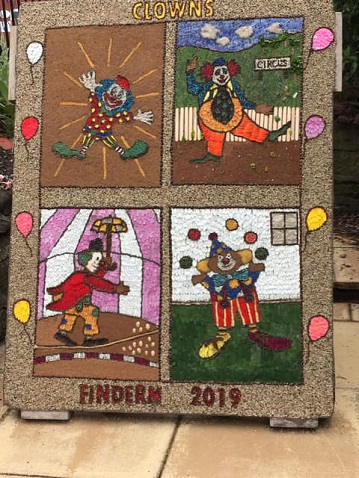 Well dressing by the ladies of Findern and Friends WI on display at the local Fete. Well done ladies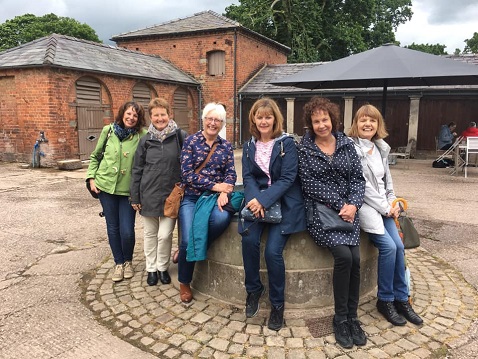 Breeston WI members had a great day at Shugborough hall! They visited Patrick Lichfield's private apartments, went round the hall, explored the lovely gardens and farm park and even got to dress up as servants!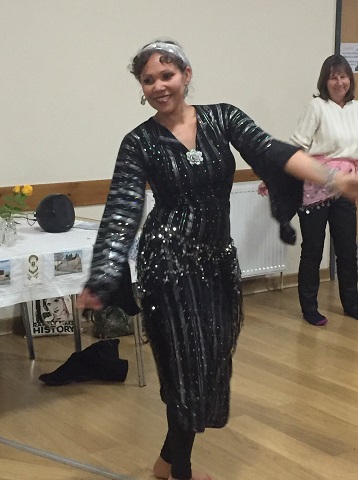 Little Eaton WI had a fun filled evening learning about the history and origins of Belly Dancing. they were taught a few moves by Diana Mehir and after burning all those calories were all ready for homemade cakes and a cup of tea!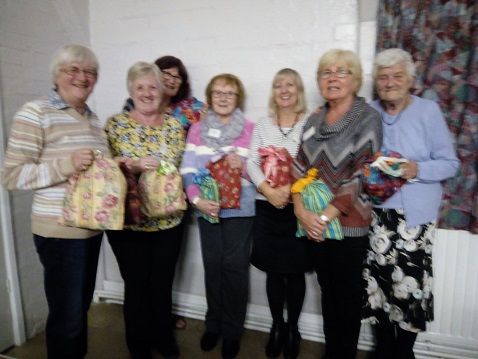 A busy Willington WI meeting! Steve from Canine Partners returned with Lacey. Steve was presented with a cheque for £400 from fund raising events. Then it was heads down, glue out, to make a card under the direction of Sally Shaw. Plenty of time for a chat whilst being creative! With donations from members and the efforts of a small team of sewers, nine 'Days for Girls' kits have been completed. They will be collected in September and taken out to Uganda, enabling nine young girls to go to school every week of the month and giving them some protection from abuse.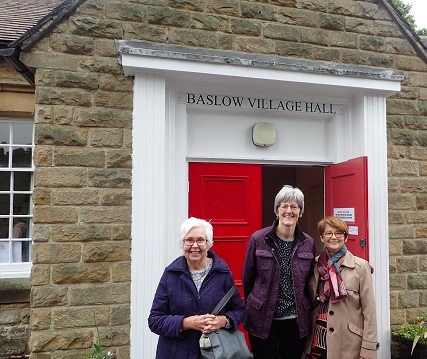 Chaddesden WI made a visit to Baslow . Lunch in the Cafe on the Green before the Baslow WI meeting. Chrissie and Linda, DFWI Trustees, were also there. Baslow is celebrating 100 Years this year. Congratulations Baslow WI.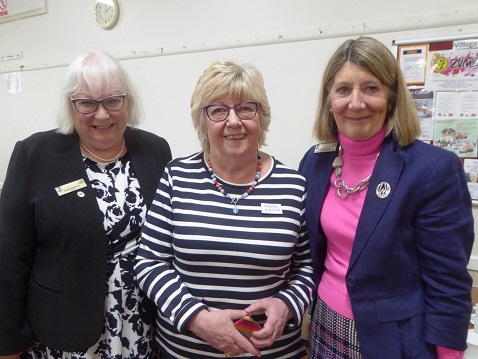 Baslow WI had a fabulous talk from Mike Gildersleve, 'The History of Thornbridge Hall' followed by entertainment by 'Darling Jayne & Friends'. They were pleased to welcome visitors from Chaddesden WI also Chrissie & Linda, DFWI Trustees.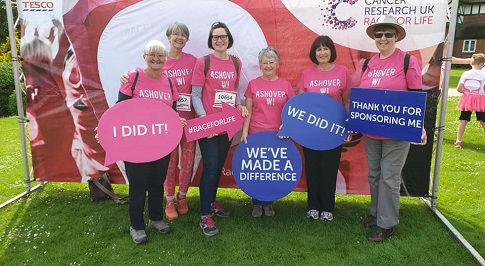 6 Ashover WI ladies completed the Chesterfield 5K 'Race for Life' in aid of Cancer Research today at Queens Park. Well done to Emma, Ann, Marion, Lynn, Carolyn and Barbara who all walked at their own pace for people in their lives they had lost to cancer. A very worthy cause and great fun!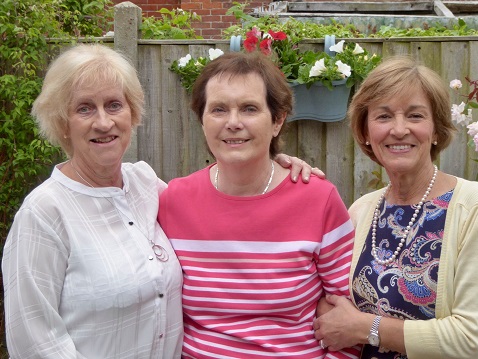 Darlings, Judith & Ann met up with a past Baslow WI Treasurer & President at her home in the New Forest recently. A lovely get-together for three friends who met through Baslow WI.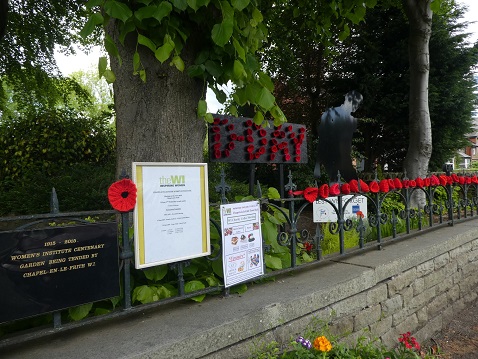 Chapel-en-le-Frith WI display in the Tramps Garden to commemorate the 75th Anniversary of D-Day. Our display would not be complete without the appearance of The Soldier courtesy of the Boy's Brigade. Thanks to those who made our display possible. Lest We Forget!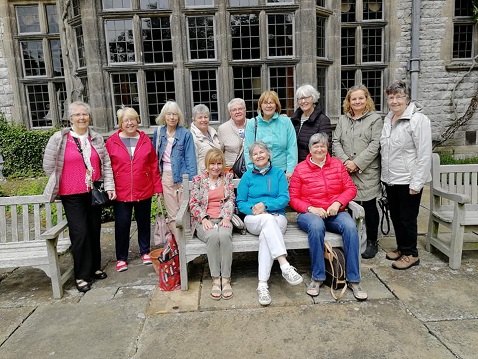 Heanor WI enjoying an interesting day at Tissington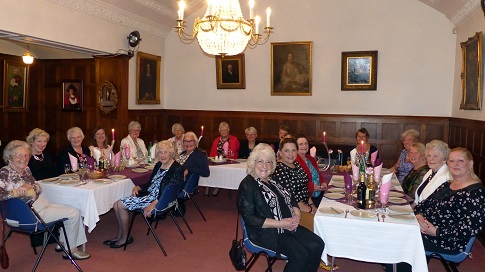 Some members of Ockbrook Redhill WI together with former Chair Barbara Parkinson were guests of Lord and Lady Fenton at Kilburn Hall last night. Wonderful food and great hospitality.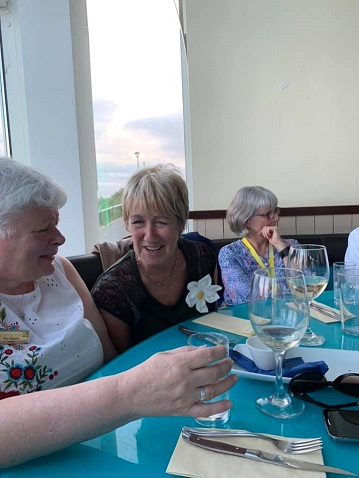 Briz Valley WI member and Denman Ambassador Barbara Bailey enjoying a reunion with other participants in the WI Walk at the National meeting in Bournemouth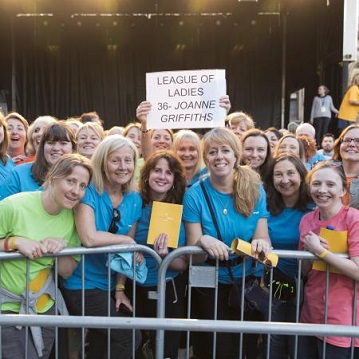 League of Ladies Choir are taking part in Buxton FriBriz Valleynge this year! Take a look at the programme, there is lots going on but League of Ladies Jar of Hearts show is one not to be missed!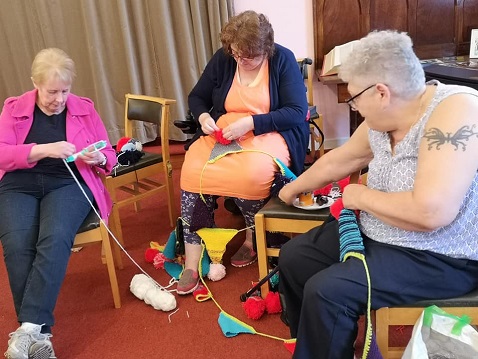 Alfreton WI WOOLBOMBING TEAM - Watch out Alfreton this event will be happening near you soon!!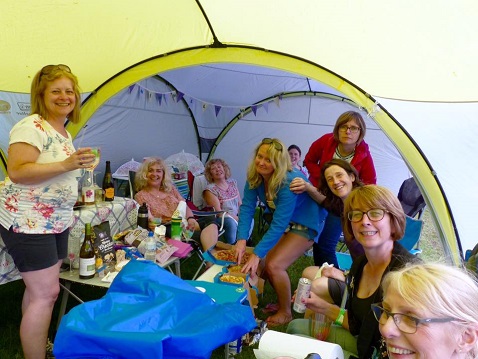 Lovely ladies from New Mills WI enjoying the outdoor life at 'Wigs n Wellies'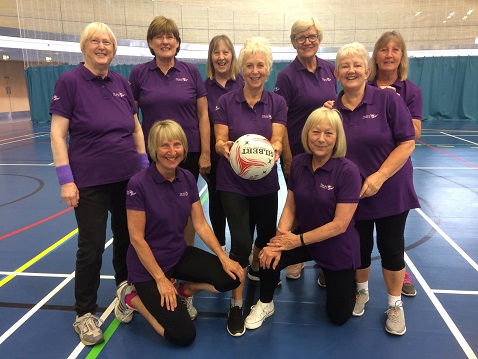 Barlborough and Clowne WI. Nine Arc Angels took part in a walking netball festival at Derby this morning. Have a look at our new shirts with our logo. Great morning and our thanks to Netball England for organising the event.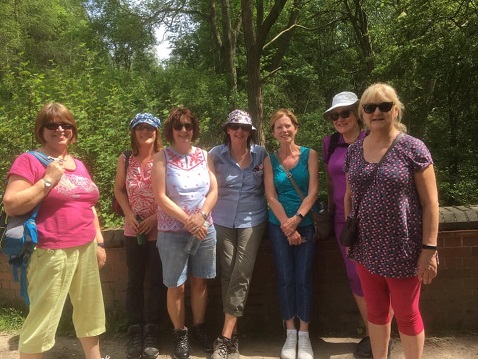 Burton Belles WI Another great walk with lovely belles ..if rather warm and a quick pit stop .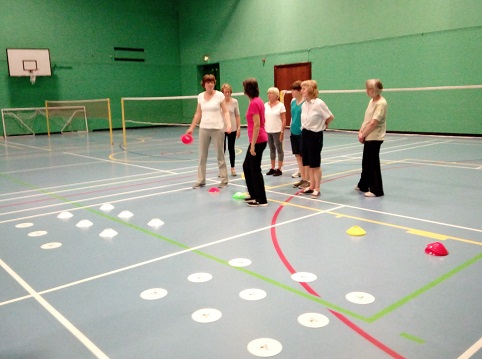 Willington WI welcomed 11 new people at a Walking Netball session in June so well done Netball host Nicola for keeping everyone active!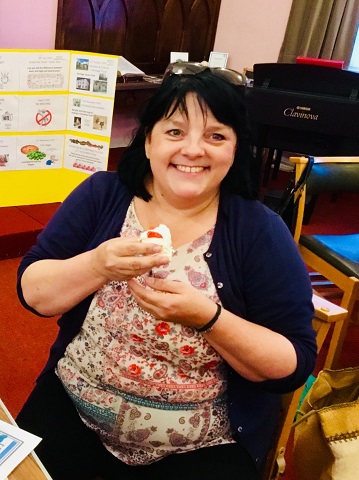 Alfreton WI lovely poster girl Jayne, President again for 2019-2020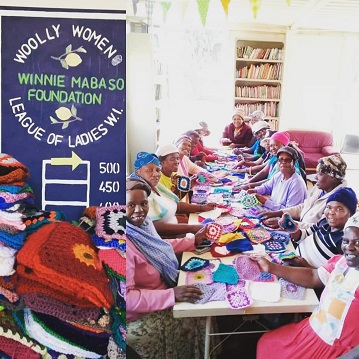 League of Ladies WI Woolly Women put so much Iove into crocheting these beautiful squares which were taken by @winniemabasofoundation to South Africa for their granny club who can't wait to begin knitting them into blankets for those in need.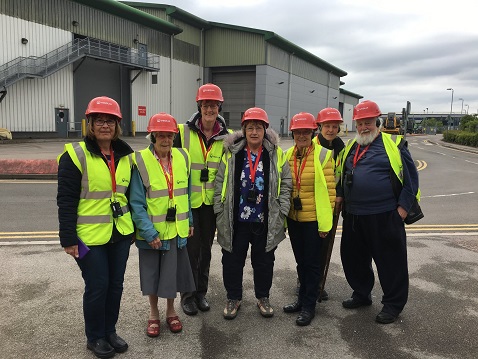 Thanks to Viv Rhodes and the DFWI PAI Committee, Chaddesden WI ladies were able to visit The Veoila Recycling Plant at Mansfield. Photo of 5 of their members with a member from Carver and District WI. A very interesting morning and now on a mission to get the Derby City Recycling team to one of their meetings!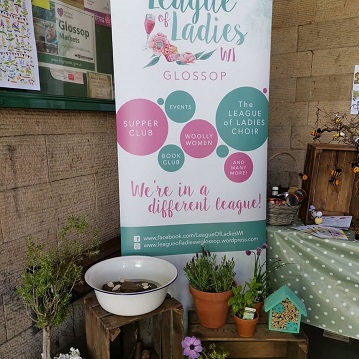 League of Ladies WI all set up and ready to save the bees at Glossop Market Arcade.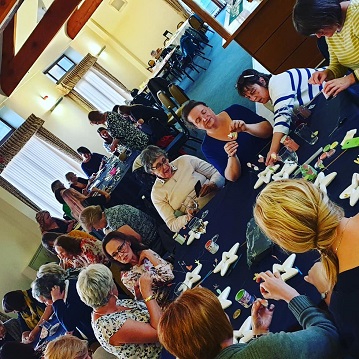 League of Ladies WI had a very busy night at their monthly meeting.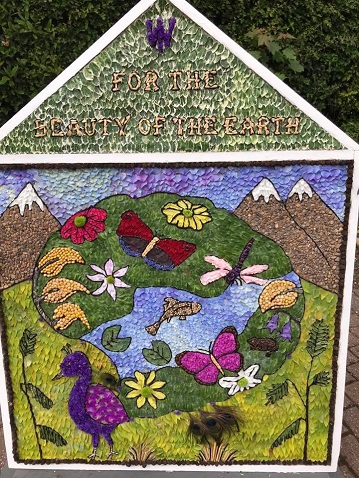 Swanwick WI's Well Dressing. Fantastic design by Lynne and lots of hard work by all the WI 'petalers'.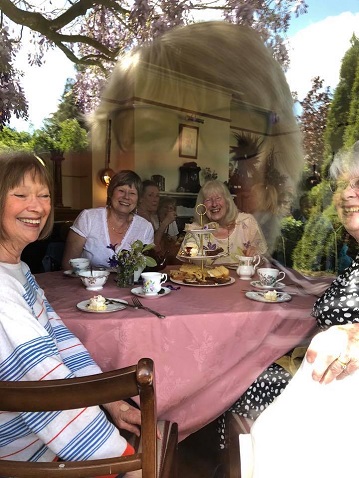 Baslow WI members at the Centenary Tea at The Hollow, Little Longston. What a beautiful venue..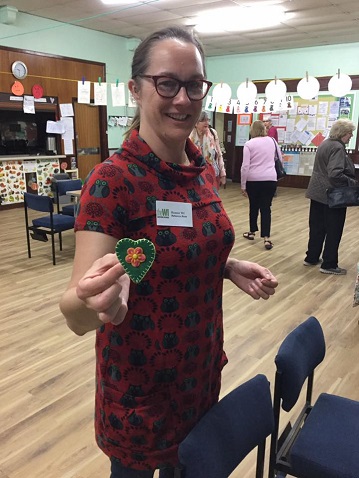 Heanor WI Annual Meeting and Resolutions voting night. The Committee and the President were returned for another year. Well done everyone. Everyone made green hearts after all the business was finished.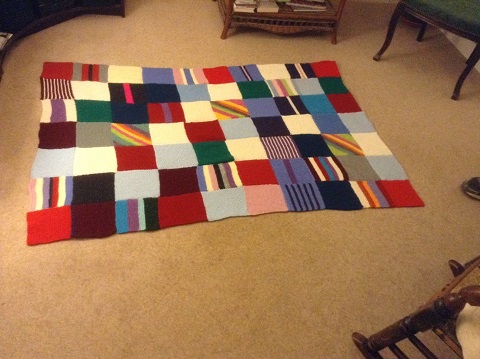 Duffield Afternoon WI members who helped with knitting squares so this blanket could be completed. It will be given to Jane Holden together with many others, at her 'tea party' to celebrate all the blankets she has been given over the year. They will be taken to a school in Kampala, Uganda in August.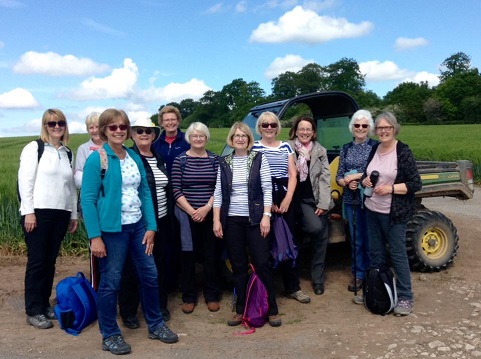 Uffa Magna - Mickleover WI ladies set out from Markeaton Park on a 4 mile walk to Mackworth and back to the park. The weather was perfect.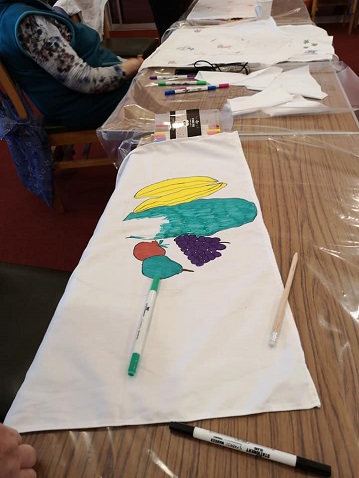 Alfreton WI Craft Club - Handmade apron printing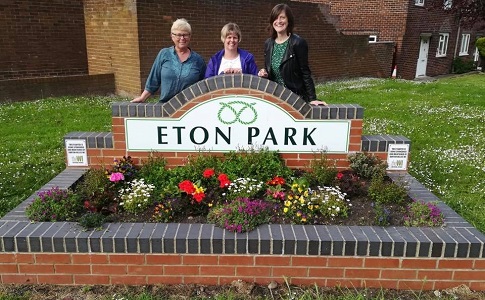 Burton Belles WI planter - rhe plaques are now in place - reward for all the hard work ladies!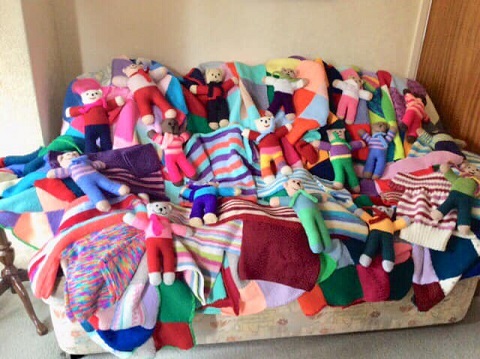 Duffield Cumberhills WI have even more knitting! They are now still knitting for a Ugandan school. Their ladies took all this work to be despatched recently!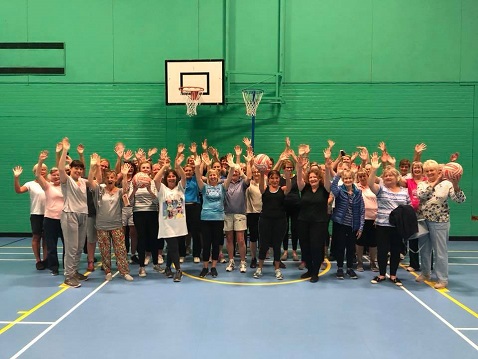 40 ladies from South Derbyshire WIs met at Greenbank Leisure Centre for the first of ther sessions of Walking Netball. They are the largest WI group England Netball have had in the whole country! Well done South Derbyshire members! They all enjoyed the afternoon, got to know each other and after a refresher on the rules had a short game of Netball. i.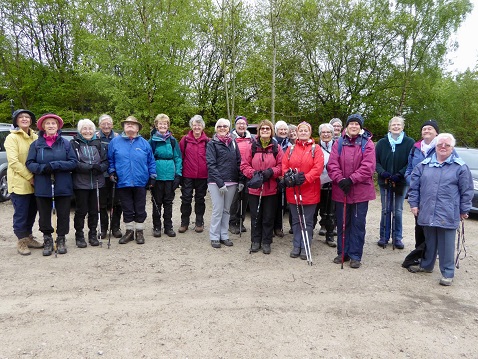 Chris Gilbert led a group of DFWI members on a fabulous walk around Birchover visiting the Nine Ladies Stone Circle, the Earl Grey Tower and Rowtor Rocks. It was good to meet up with members from all over the county. Thanks Chris for organising this.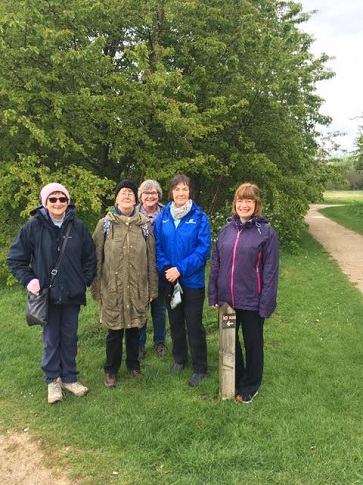 2nd walk for the Bingham Belles walking group today at Rushcliffe Country Park. A slower pace as they only walked 2.5miles. They walked, talked, dodged the showers & finished with a cuppa at the end! A nice way to spend a couple of hours on a bank holiday Monday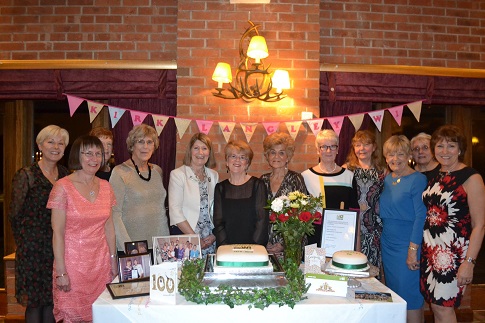 Kirk Langley WI had a brilliant Celebration Centenary Party at Morley Hayes recently with Chairman Chrissie Booth and WI Adviser Sally Jury in attendance. The highlight of the evening was receiving a letter of congratulations from Her Majesty Queen Elizabeth II after one members, Linda Smith, wrote to her about their Centenary Year of celebrations.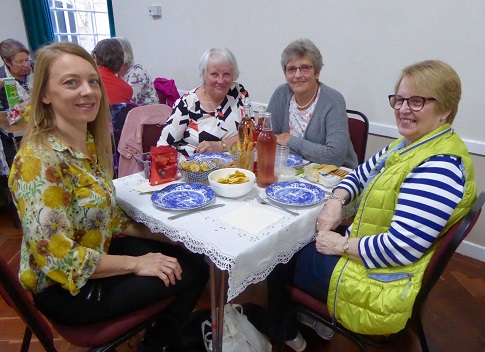 Chatsworth WI was represented at the County Quiz in Baslow . Their table would have won the prize for decoration had there been one, they were super organised!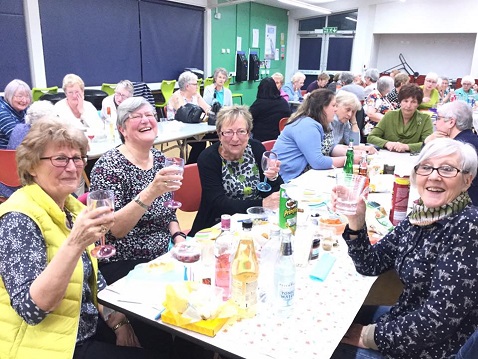 Heanor WI had a very enjoyable night at Swanwick for the DFWI annual Quiz. They didn't do too badly, but the winner at their venue was Pentrich, who just pipped Wessington & Brackenfield to the post in a tie break. Well done everyone!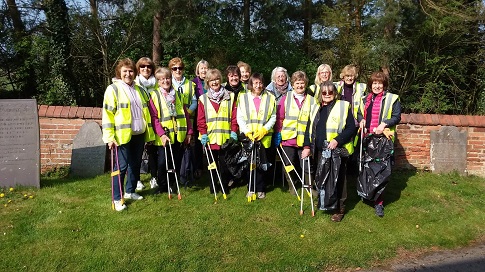 Kirk Langley WI Litter Pick as part of the Great British Spring Clean . Just one of the projects the WI are involved in to celebrate thier Centenary. Super tea and cakes in the church afterwards made this a very enjoyable and fun event. Well done everyone !!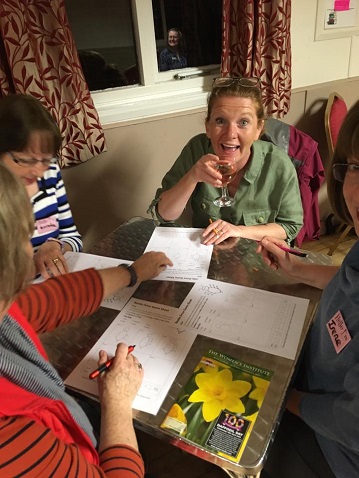 Bingham Belles WI birthday/annual meeting done for another year. Thank you to everyone who made it this evening. The beetle drive certainly was fun after the formalities. Also Thank you to Anne Sneath from Notts Fed for coming all the way from Worksop to oversee our formalities.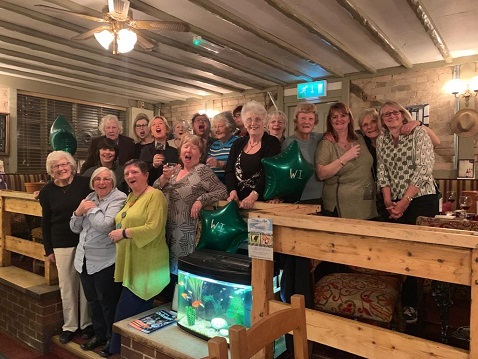 A wonderful social evening of Cheese and Wine for
Stanton by Dale WI
at their local pub. With the support of Ian and Sue who run The Chequers pub they have raised £50 for the pensioners summer tea party they hosting later in the year.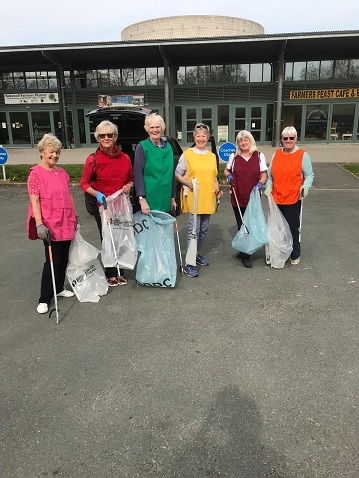 Bakewell WI - Litter pick completed in and around Bakewell
At the April meeting of Loscoe WI Mig Holder showed members how she recycles any fabrics, garments and haberdashery items into beautiful garments, soft furnishings and decorations. From an embroidered table cloth into a trendy cape or fabric samples into a fashionable jacket. Repurpose and recycle and you can have a whole new look. Mig is taking part in the Derbyshire Open Arts event 25th - 27th May, find her at 10 North Street, Derby.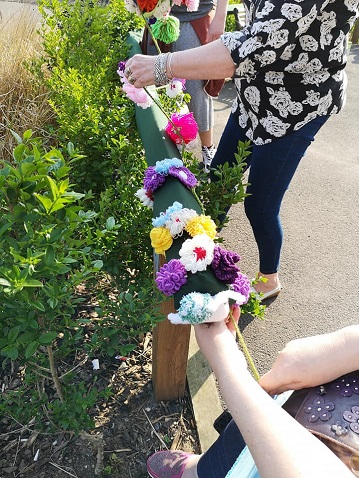 ALFRETON WI CRAFT CLUB WOOL BOMBERS...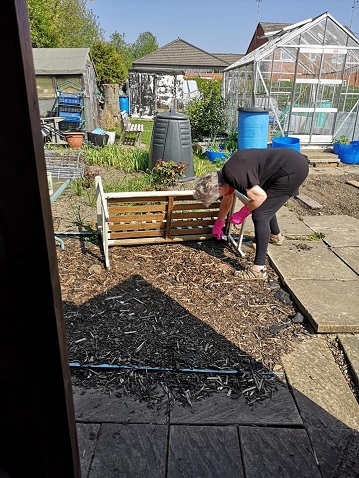 ALFRETON WI GARDENING CLUB... Allotment Paint Jobs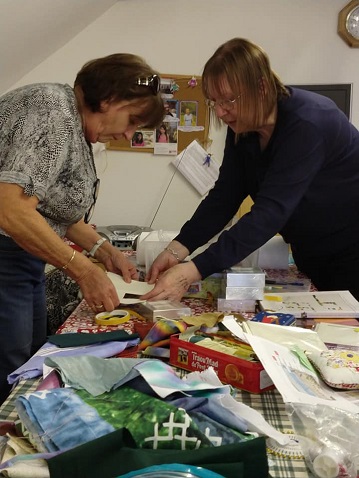 Risley WI. Once again lots of choices at the monthly craft session.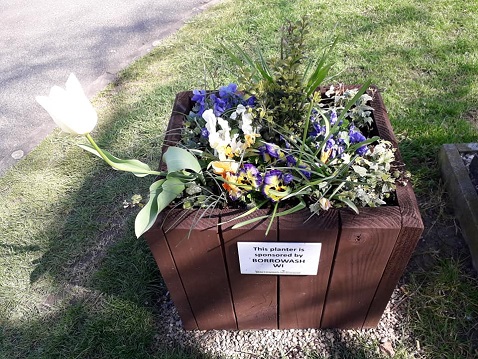 Ockbrook and Burrowash WI. This is our WI planter sponsored for Borrowash In Bloom, looking nice with the pansies blooming. It will be replanted in next two months with summer bedding.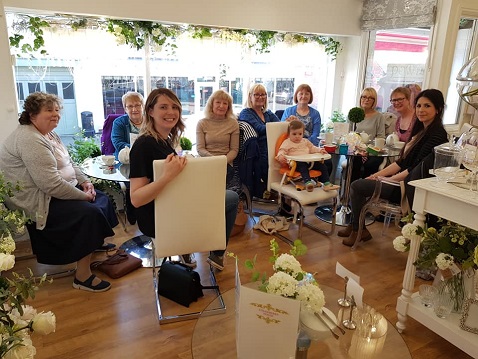 Shardlow WI ladies enjoyed a afternoon tea and cake last week at the gorgeous Strawberry House Interiors cafe in Castle Donington. If you haven't been you really really should 😋 the cake is to die for!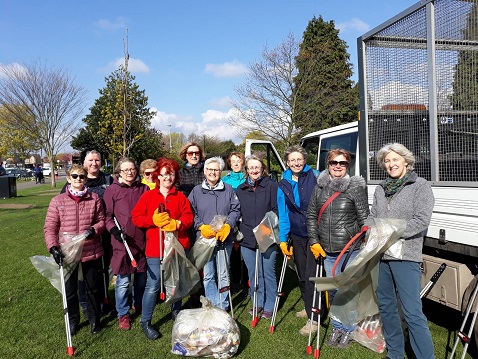 Hats off to the volunteers from Long Eaton WI who took part in the community litter pick at West Park in Long Eaton on Saturday morning as part of the Great British Spring Clean 2019 | Keep Britain Tidy.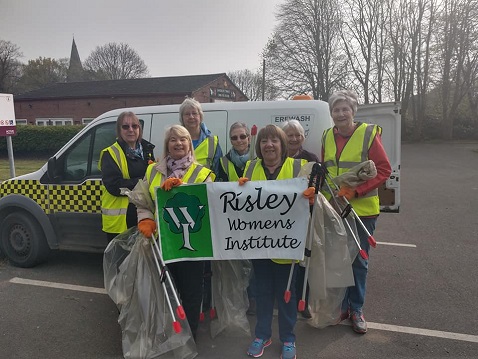 Risley WI members joining together to make a difference, litter picking in and around Sandiacre Park. Thanks to Richard from Erewash Council for leading this activity.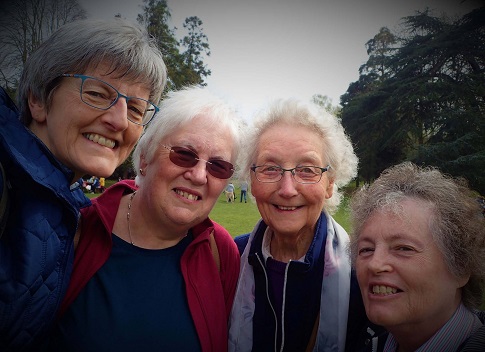 Chaddesden WI. Out and about today around Elvaston Country Park.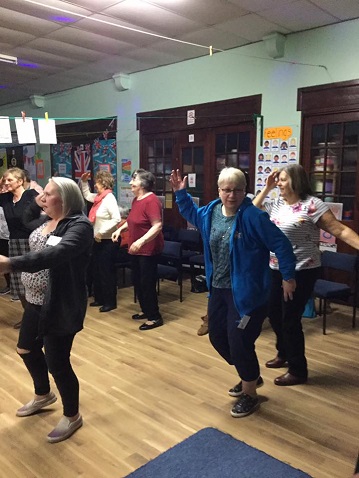 Heanor WI enjoyed a fun evening with the Exercise Roadshow, sampling Bhangra Blaze.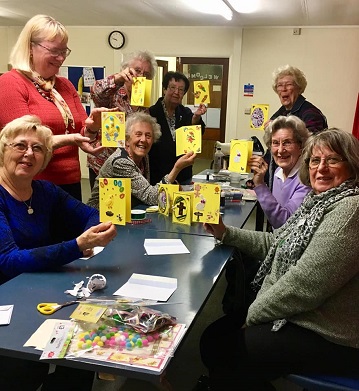 Ockbrook and Burrowash WI members enjoyed listening to speaker John Whitfield who gave a very good talk on the Mitfords, a very interesting family!! Easter cards making was also a highlight of the evening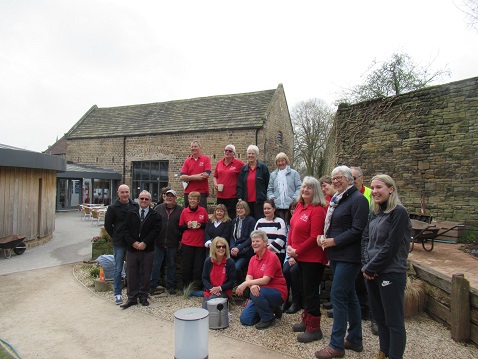 Drone Roses WI at Dronfield Old Barn making a donation of £500 to the Barn gardening team, in memory of their late treasurer, Gill Middleton. Stay tuned to hear further details of what it will be spent on.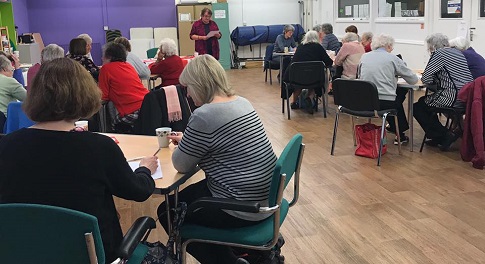 Chaddesden WI Quiz evening with a fish and chip supper! A good time was had by all.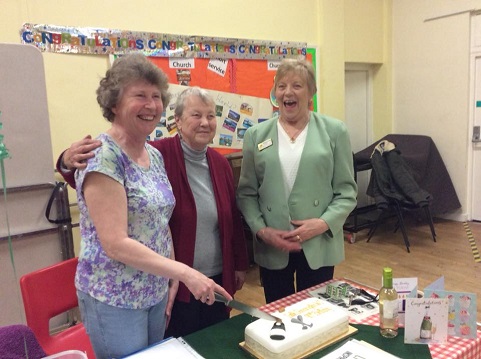 Members of Ockbrook and Borrowash WI were invited to help celebrate Castle Donington WI 90th birthday celebrations. Congratulations!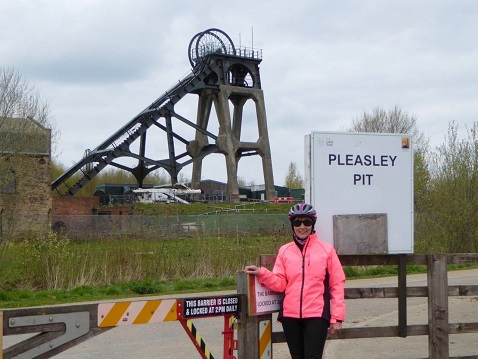 Baslow WI. Three Baslow Bikers enjoyed a 16 mile circular ride from Pleasley Country Park via Brierley where they had a picnic lunch. It was cold but dry- thankfully!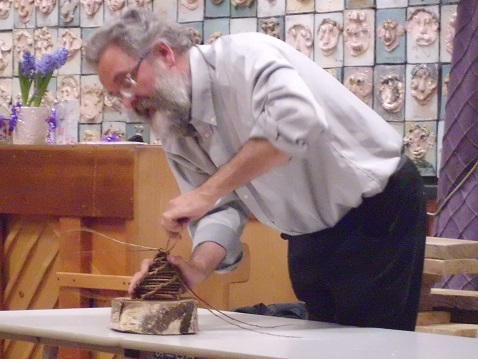 Members of Briz Valley WI enjoyed listening to speaker David Knowles from The Community Forest Project in Mercia Forest.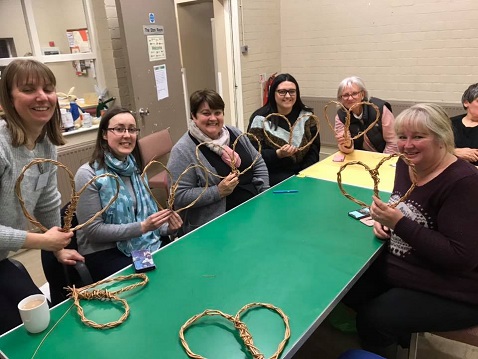 Members of Burton Belles WI were joined by Ellen from Wacky Willows who taught them how to make a willow heart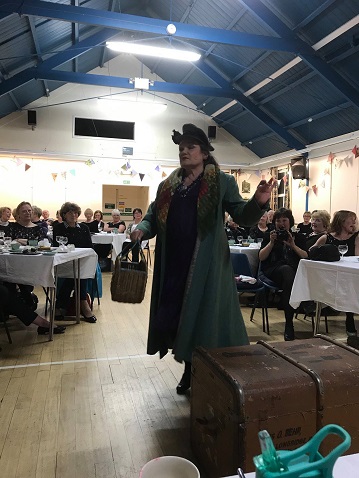 Bakewell WI members had a fabulous evening helping Youlegrave WI celebrate their 100th Anniversary......with a little help from the multi-talented Judith Hibbert. Congratulations Youlgrave WI....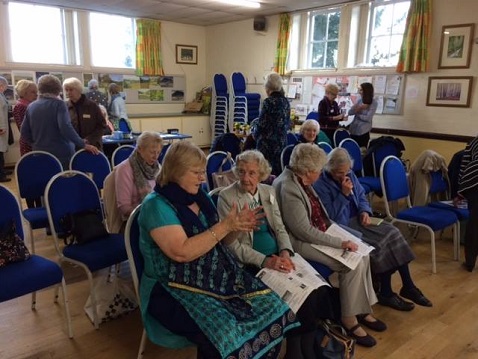 Another busy evening at Ashbourne WI this week. Although we have contributed to ACWW (associated country women of the world) over the years, many of us did not know how it operated. Sam Hall ACWW rep. gave us an in depth talk on the work and aims of the organisation.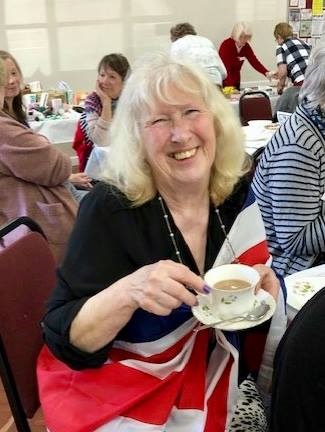 Baslow WIs Darling Jane their Roving Reporter at the Right Royal Tea Party!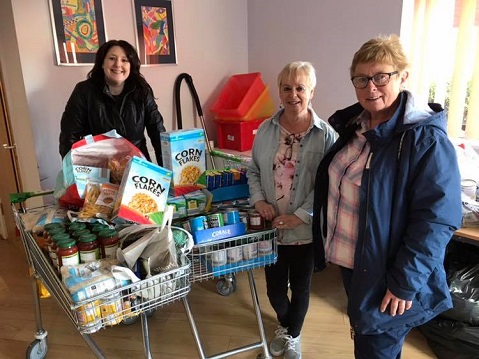 Burton Belles WI recent fundraising events enabled them to donate a substantial amount of much needed food to the YMCA Burton Food bank today . The trouble is this won't last long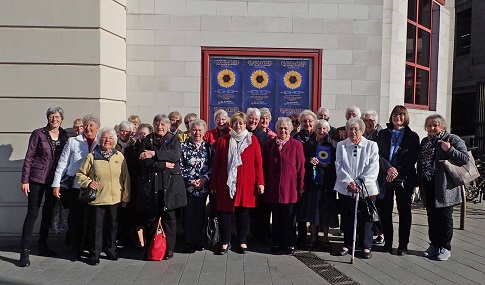 Chaddesden WI on their visit to the Sheffield Lyceum to see the wonderful Calendar Girls. 'I don't think there is anything on this planet that more trumpets life than the Sunflower. A satellite dish for sunshine' John Clark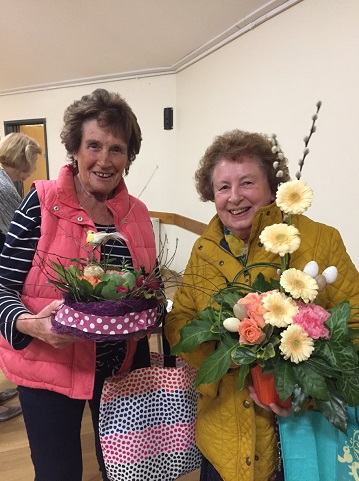 Jane Lowe gave members of Little Eaton WI fabulous ideas for Easter flower arrangements as well as an interesting talk about how she became a florist and the jobs she has done. Jane kindly donated all the arrangements for raffle prizes and look who won!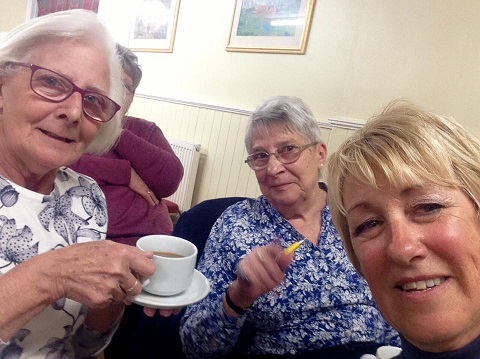 Barbara Bailey our Denman Ambassador spoke about Denman at Newhall WI. Here she is with a few of the lovely ladies.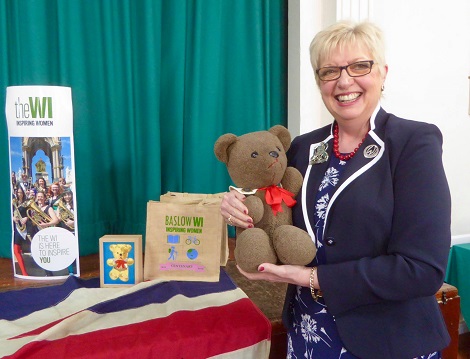 Baslow WI was thrilled to welcome NFWI Chair, Lynne Stubbings as their speaker at their last meeting. She spoke about her life in the WI inspiring everyone with her enthusiasm to move with the times and at the same time look after long standing members. Lynne was keen to meet our mascot Baslow Bear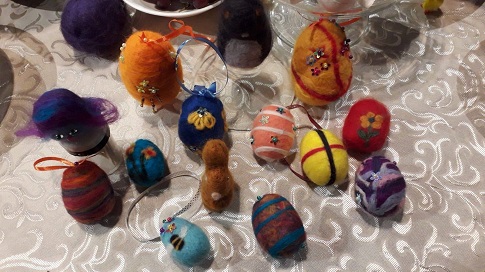 Members of Long Eaton WI enjoyed Easter needle felting, hosted by the gorgeous Mo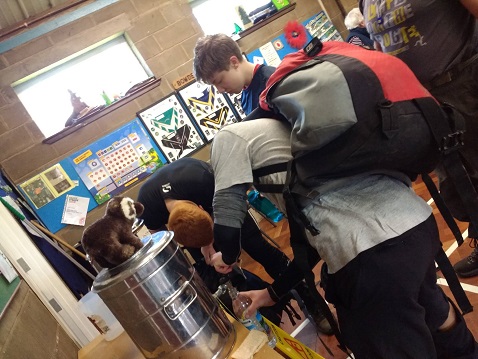 On Saturday 6 April 2019 a group of Ladies from Chapel-en-le-Frith WI manned the refreshments at the 1st Chapel Scout HQ, one of the check points on The Four Inns Walk. The previous afternoon they had made 91 loaves into sandwiches for the event. These wonderful ladies do this every year!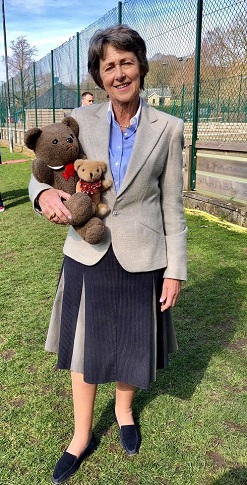 Baslow's Bear had his photograph taken with the Duchess of Devonshire and her bear🐻. The Duchess was opening the new adventure Playground in Baslow.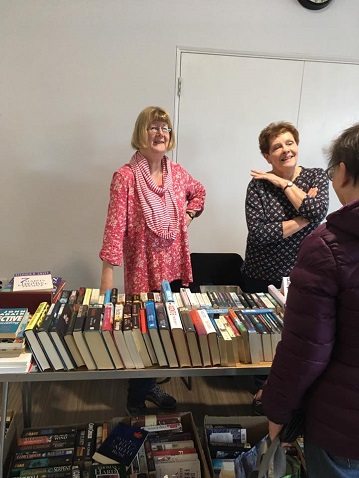 Bingham Belles WI membefs. Liz & Elaine doing well at selling books at the Scout Fair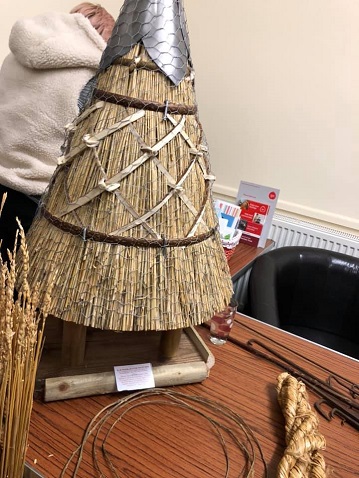 . Tibshelf WI had a wonderful evening with David Wood the Master Thatcher! Great competition pieces by members too all using the same contents of a craft bag - what a variety!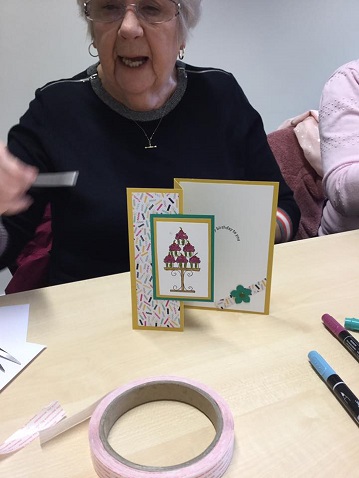 Heanor WI Here are the makes at Heanor Crafty Ladies. It's surprising how different they all look, even though everyone made the same basic cards. Thank you Alison, once again , for providing the components and the instructions!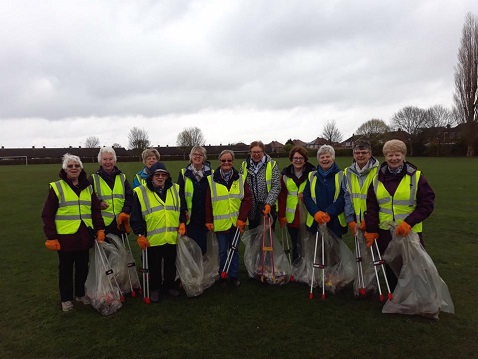 Sawley WI out doing a litter Pick on Sawley Park.
Photo EBC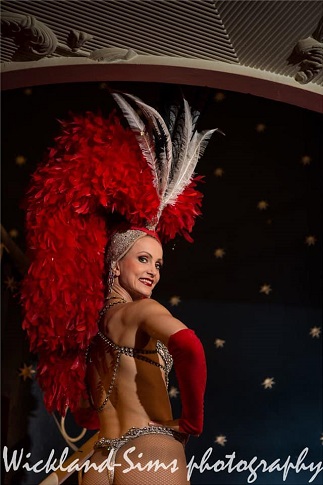 Shardlow WI enjoyed a fabulous speaker in the form of Natalie Dawn Sims, a lovely local lady who, along with her sister, has danced her way around the world including stints on cruise ships and an on-off 10 year career at the Moulin Rouge in Paris.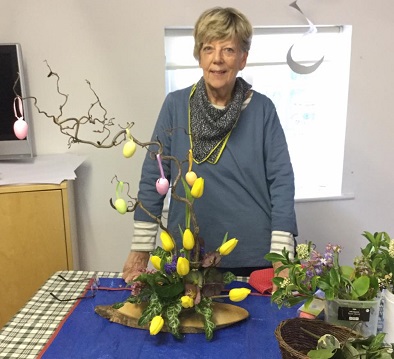 Risley WI Floral Afternoon. The wonderful stand-in demonstrator, Kay, showed everyone an Easter arrangement and 10 members followed her directions. Such lovely arrangements and delicious cakes from Eileen. Happy, friendly afternoon.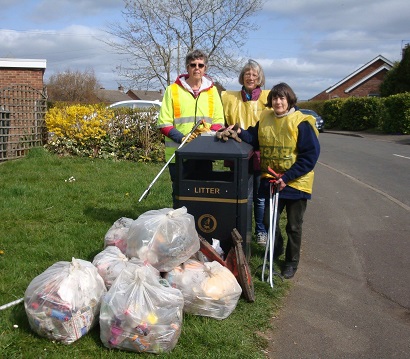 Ashbourne WI joined the annual litter pick again this year. In one morning collecting 6 bags of rubbish, 1 battered traffic cone, 1 street light cover, quite a few vodka bottles and dozens and dozens of undelivered charity collection bags.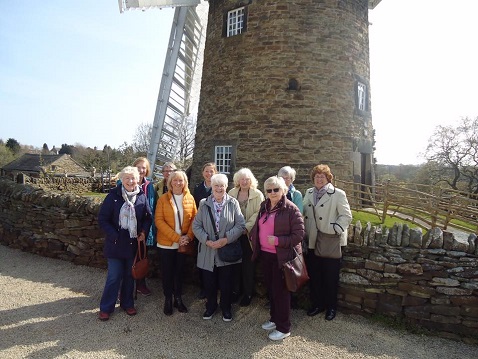 Baslow WI members visiting Heage Windmill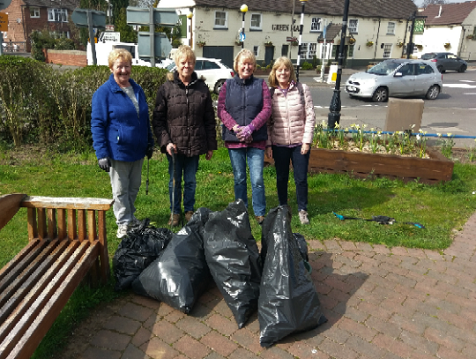 As part of the Great British Spring Clean, Willington WI have planned 3 litter picks. The first pictured here with their kindly donated litter pickers.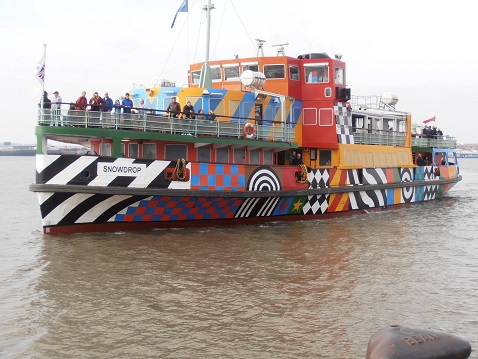 Chapel-en-le-Frith WI members enjoyed a day in Liverpool,including a cruise on the Mersey.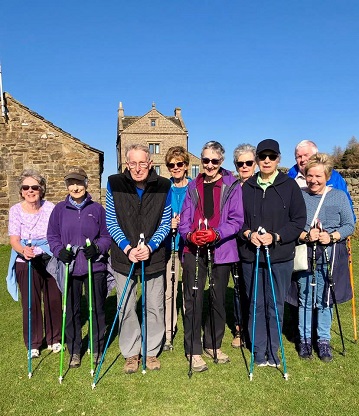 Baslow WI Nordic Walking Group walked across the Moor to White Edge Lodge in sunshine and no wind, lovely blue sky.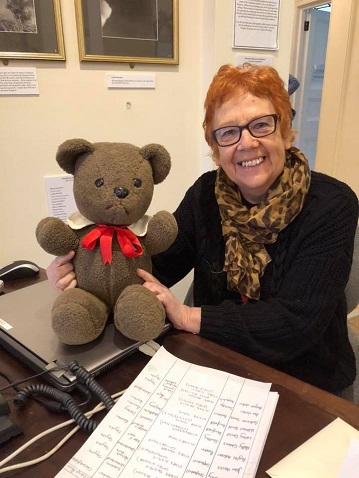 Baslow WI Baslow Bear met Diane Mc, Derbyshire Federation vice-Chairwoman. He meets the best people.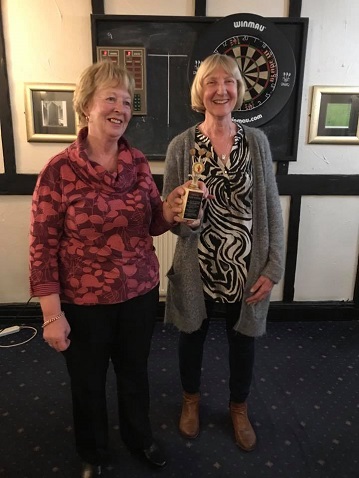 Shelford WI darts evening. Well done to Angela and Maureen, who won the darts pairs (again!).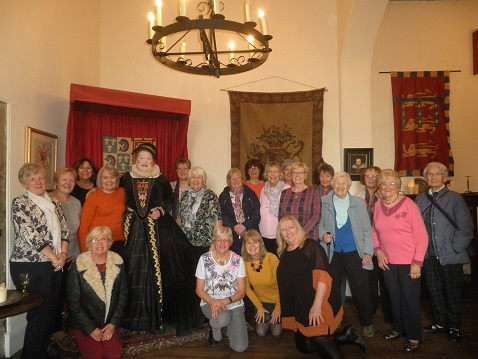 Willington WI: Tutbury Castle was the venue for another lunch, followed by one of Lesley Smith's fascinating historical talks. Dressed as Mary Queen of Scots, Sex and the Tudors was an intriguing subject and highly entertaining!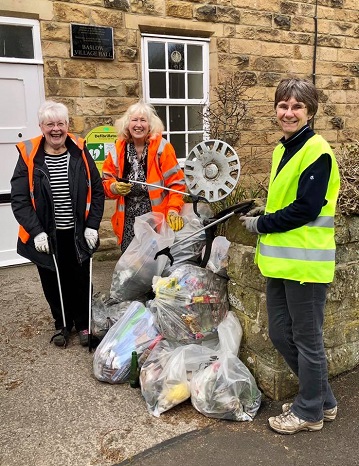 Members of Baslow WI busy collecting a mountain of rubbish around the village!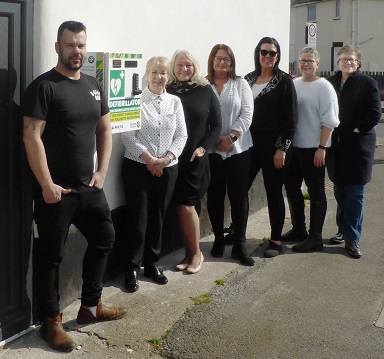 Wayne of Salvaged Bar, Clowne, with Alison Cook of St Johns Ambulance and some of the ladies from Barlborough and Clowne WI at the defibrillator in Clowne; funded by the WI, hosted in situ by Salvaged, organised by SJA and all for the local community. And some spring sunshine to boot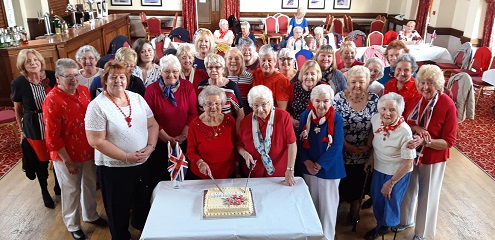 Killamarsh WI celebrated 75 years with their 2 longest standing members Lorna Jackson and Jean mantle cutting the birthday cake. They all had a lovely party good food and entertainment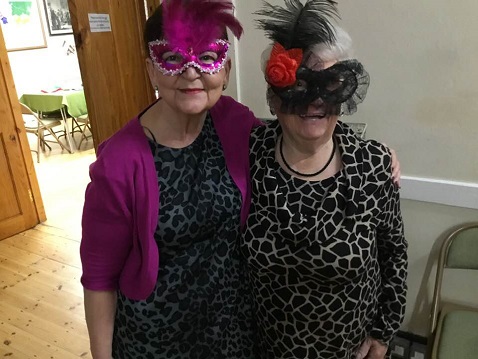 Cromford WI's Italian evening at Holloway looks like everyone had a great time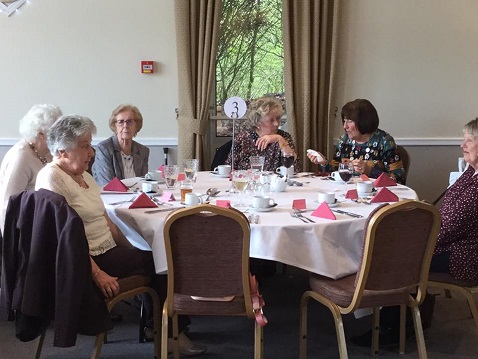 Ravensdale WI enjoyed their annual lunch at Mickleover Golf Club. As usual the meal was excellent,and thanks were given to the staff by Chris Black .A vote of thanks was given by Brenda Woodhead to Chris for organising the lunch.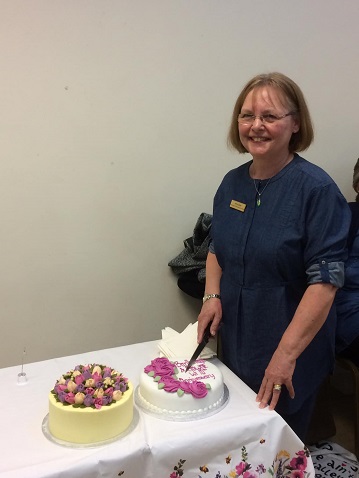 In March 2009 about 30/40 ladies living in Barlborough and Clowne met with Derbyshire WI Advisers in the Little School Barlborough to decide if they would like to form a WI. They did and Barlborough & Clowne WI was formed in April 2009 with Jen (cutting the cake) as President. What great friends have been made over the last 10 years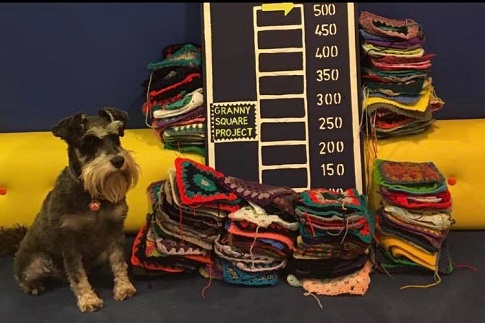 League of Ladies WI . Our fabulous Woolly Women hit their target of 500 squares for The Winnie Mombaso . A big thanks to Phoenix Crafters and other members of League of Ladies who contributed. Well done ladies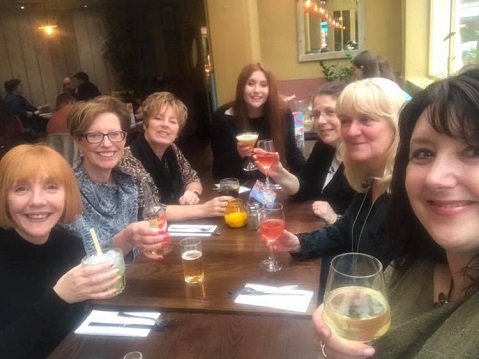 Burton Belles WI - A group of members went to Birmingham to see the musical Kinky Boots and enjoyed cocktails and lunch before seeing the show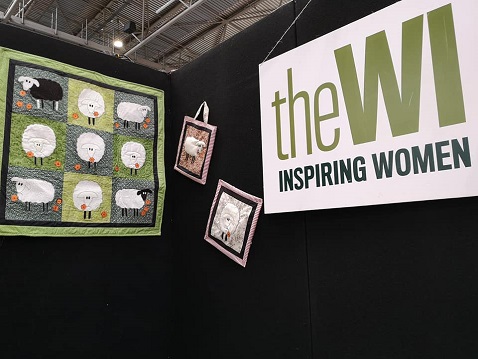 Alfreton WI Craft Club visited the NEC and took great interest in the WI stand there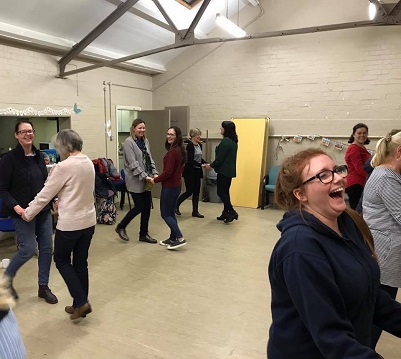 Burton Belles WI had lots of fun learning to dance modern jive with Victoria Neale ( and worked up a bit of a sweat so it's clearly good for you!)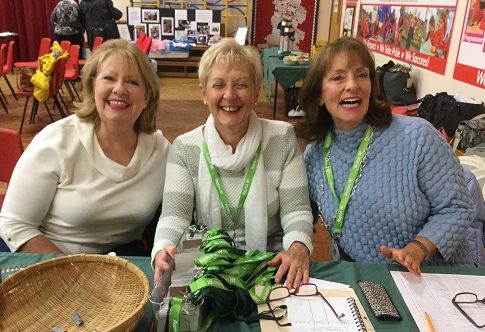 Repton WI had a GINTASTIC EVENING! - Tthanks to Stuart & Herbie for a very entertaining evening introducing everyone to some botanical gin mixes and giving a brief insight into the history of gin. It was a really social, fun event with coffee and delicious cake to finish off the evening. The photo says it all!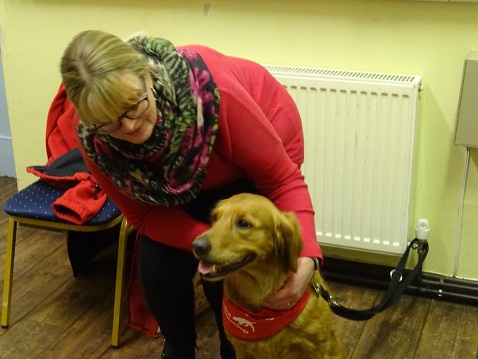 Pentrich WI - It was a big Aaaaah moment when we met Alice and her handler David last night. She is an ambassador for the charity Medical Detection Dogs. These dogs do some amazing work with sufferers of Type 1 diabetes and sniffing out a variety of cancers.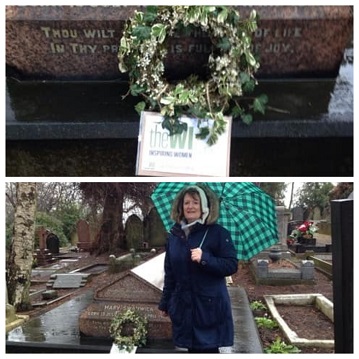 Chesterfield Town WI - We were honoured to be invited to Friends of Spital Cemetery International Women's Day service this year. Unfortunately, the adverse weather today means the event has been postponed. Nevertheless we persisted! Mandy and Ann joining together with Lyn to lay the beautiful wreath Mandy has made for the occasion.
Thank you ladies for representing us all and for celebrating one of the extraordinary women buried in the cemetery. We look forward to hearing more about some of them in our June meeting!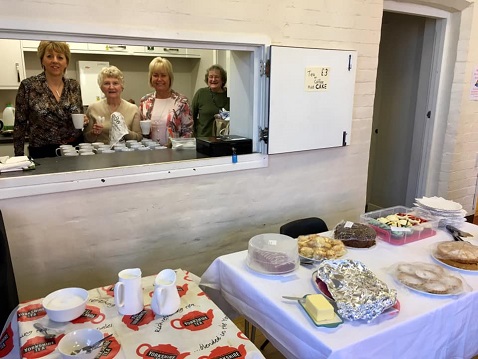 Despite the intermittent rain, Breaston WI had a packed hall at their coffee morning - obviously eager to enjoy the delicious home made cakes baked by our WI ladies. Another successful fund raiser !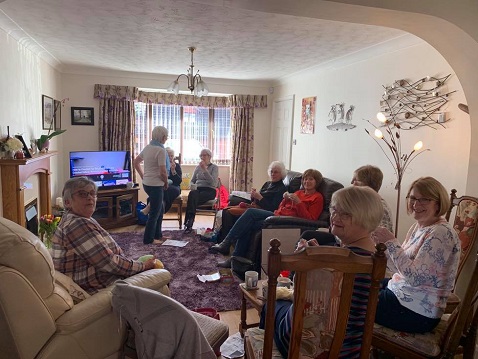 Uffa Magna - Mickleover WI spent a very enjoyable afternoon learning to crochet with the help of Gill James and YouTube! They decided to change the name of the craft group to the Monday Makers, to encompass lots of different crafts. Next month they will be painting stones to 'hide' in various locations around the village.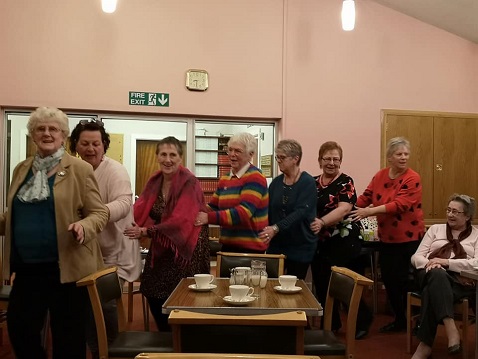 Alfreton WI A Great night raised £110.00 for the local Alzhimers society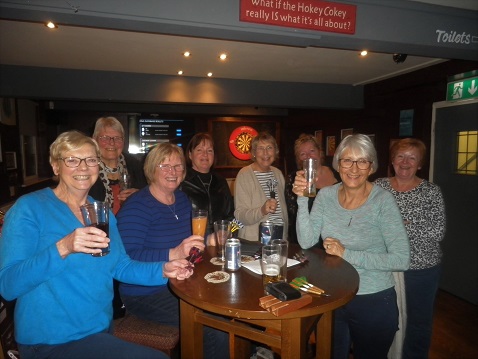 Willington WI - Last Monday of the month- it must be darts night! The general opinion was - we are improving... slowly!!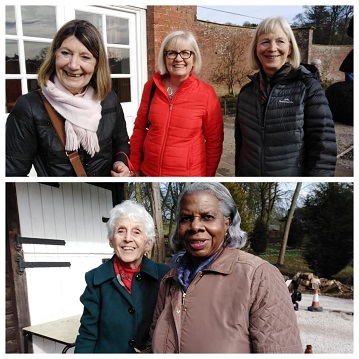 Breaston WI visit to snowdrops at Hopton Hall. A bevy of Breaston flowers amongst the Hopton flowers !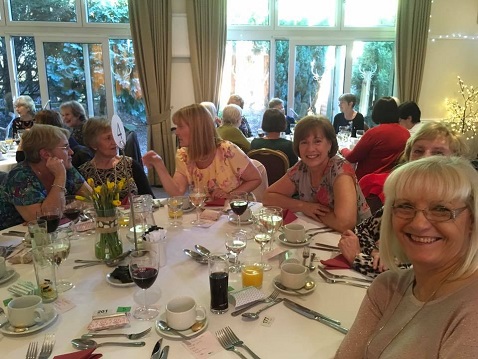 Uffa Magna - Mickleover WI ladies enjoyed an excellent three course lunch to celebrate thier 24th birthday. On a beautiful spring like day they gathered at Mickleover Golf Club for a lovely meal. The company was great and everyone seemed to have enjoyed themselves (which is always the plan!)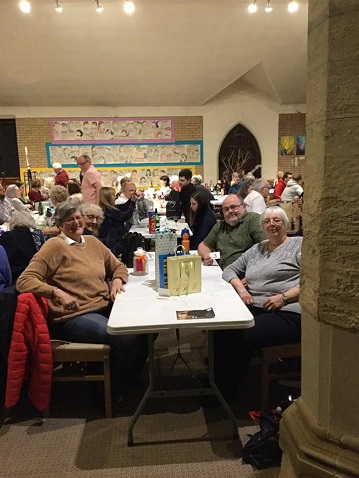 Heanor WI had a very enjoyable quiz evening fundraiser and the profit will be in the region of £300. This will be donated to Heanor Vision, who do such sterling work for the people of Heanor.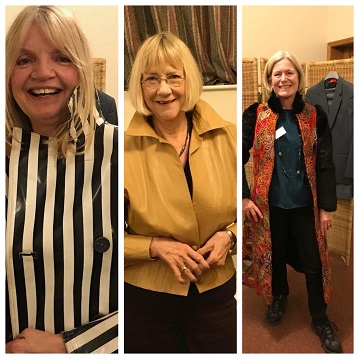 Janet Green came to talk to Bakewell WI members about her eclectic mix of clothes she has collected over the years. Absolutely brilliant, and our members enjoyed trying them on too!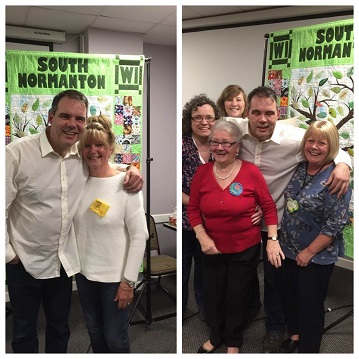 Members of South Normanton WI with Egg Head celebrity Steve Cook. A local lad from Bolsover who gave a talk on his 'rise to fame'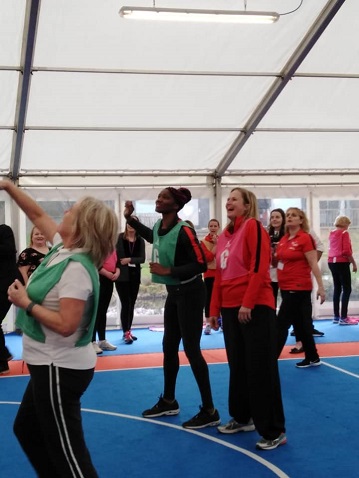 Breaston WI 5 ladies went to Denman for an event to celebrate the first year of the Walking Netball programme . (Sue, Sally, Cherie, Melody and Helen ). They were privileged to meet Ama Agbeze captain of the England Netball team and NFWI chair Lynne Stubbings. Looking good ladies !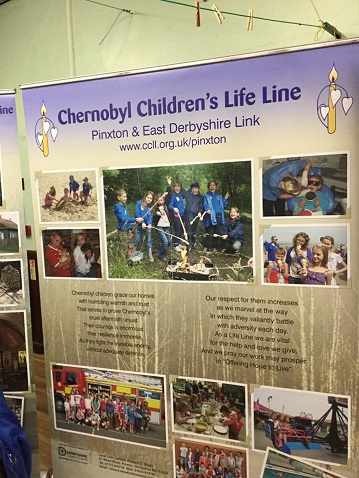 Heanor WI had a talk from members of the Chernobyl Children Lifeline, who gave them an insight into the valuable work that is undertaken every year by the trust! They heard about the living conditions of people who live in the area where the nuclear disaster took place in April, 1986. The group, based in Pinxton and East Derbyshire, raises funds all year to bring several children from Belarus over to the UK for a month's respite and to build up their immune systems with good food, fresh air, and multivitamins, which sets them up for the next two years once they go home. The children are all looked after by host families.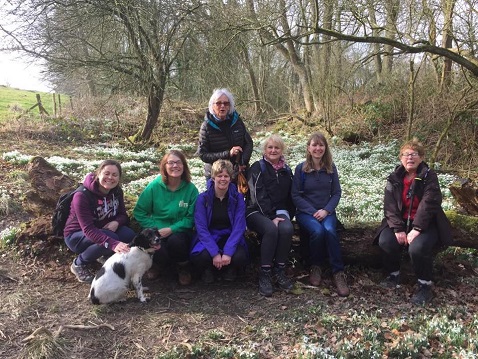 Burton Belles WI. A group of ladies ( and a doggy) walked around Dimminsdale today to see the beautiful snowdrops
A well earned cuppa ended a lovely morning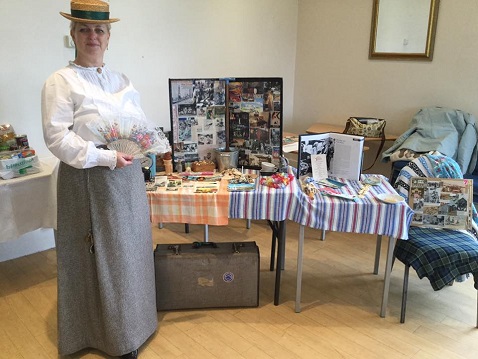 Ravensdale WI enjoyed listening to speakerJo Golby at their February meeting. .Her talk 'A postcard from the past' travelled through the bygone age of holidays. She had members involved, talking about where they went for holidays,what sort of accommodation they stayed at and their mode of transport, adding her own funny memories to the talk. A nostalgic trip down memory lane.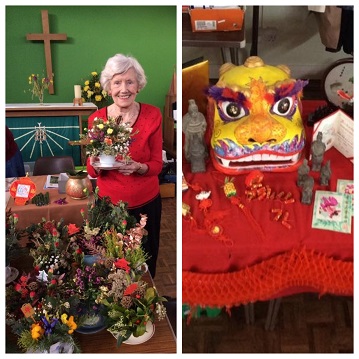 Old Brampton WI celebrated the Chinese New Year for their WI meeting . Everyone dressed in red or gold and made flower arrangements in tea cups with a Chinese theme. They all had fortune cookies and the afternoon finished with red and gold cupcakes and everyone went home with a Chinese gift.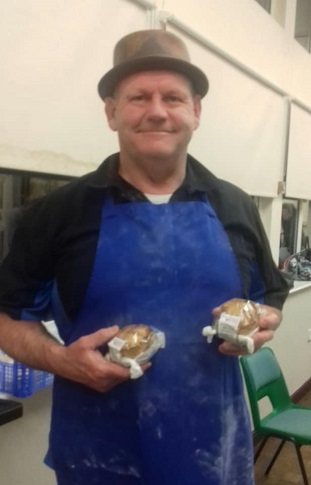 Risley WI - Ian Hartland with his handmade pies. Such an interesting and jolly evening. He even managed to teach us things we didn't know about pastry!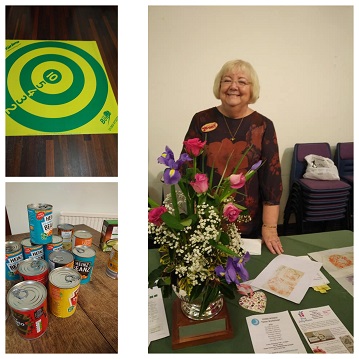 Littleover WI - Just a normal Thursday night!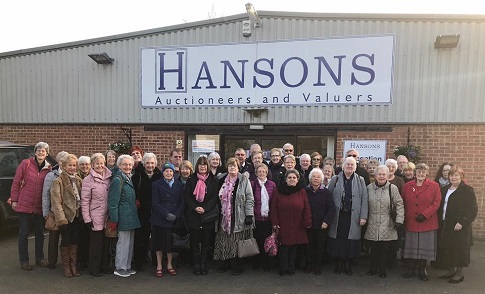 Chaddesdon WI had a very enjoyable time at Hanson 's jewelery auction. Hope they were not tempted to buy!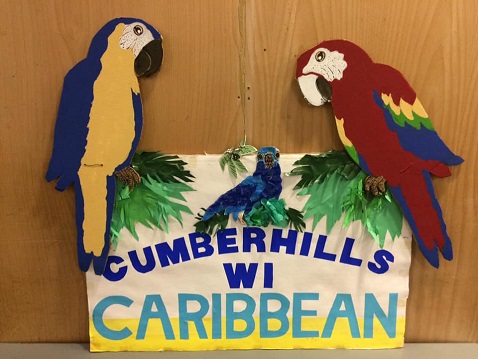 Duffield Cumberhills WI had a wonderful Caribbean night - great fun! Cocktails, mocktails, music, Caribbean recipe cakes and so much more!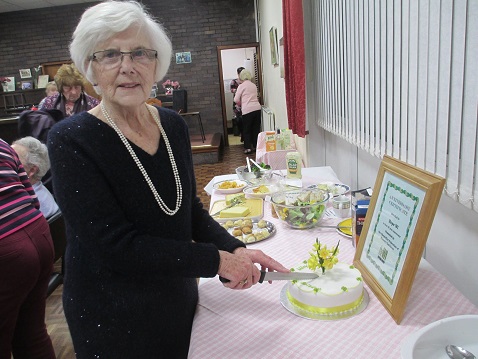 Hope WI celebrating their 30th anniversary party - what a great cake!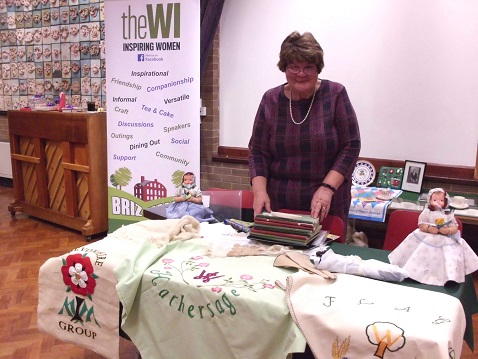 Briz Valley WI Judy Stanhope Trustee spoke to the meeting about the Derbyshire Federation archives. The Archives committee members sort papers and artifacts from WI's some of which no longer are running and date back years. It is so important to keep records,photographs etc from mothers and grandmothers and as we saw it is part of the WI,s history.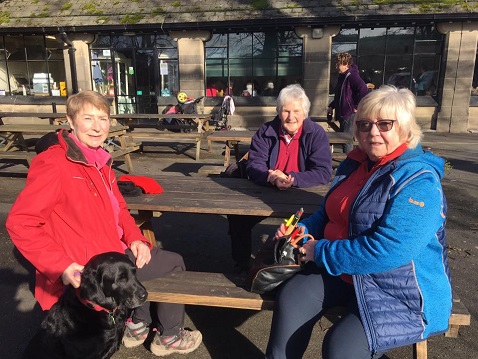 Baslow WI Fourteen "darlings" (plus dog )enjoyed the walk today along the Rowsley Trail to the Whitworth Park cafe for a very pleasant lunch stop before returning to the carpark. A mild, sunny day to enjoy the spring flowers, peaceful cattle and views of Peak Rail.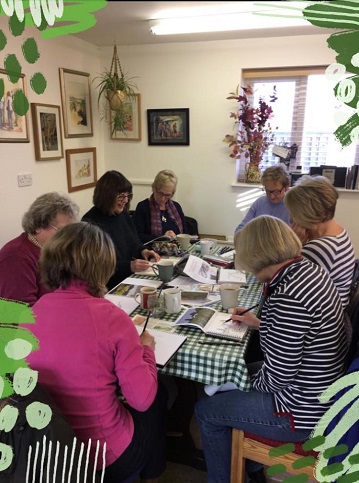 Breeston WI Art Club. Ania's Doodlebags Group in action. Artists in the making !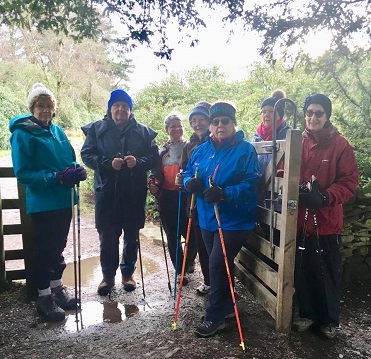 Members of Baslow WI very popular Nordic Walking at Longshaw in early February. Very windy outside but the hot drinks afterwards were vey much appreciated.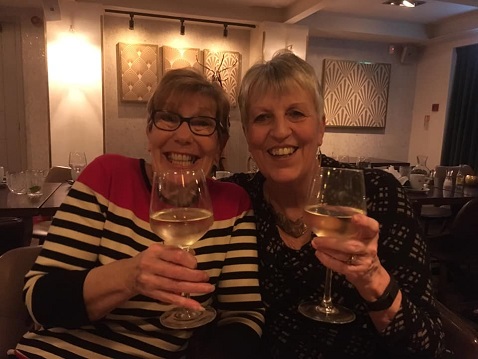 Briz Valley WI members at The Dial in Burton for their Birthday Meal. We think they all had a great night. judging by the photo!!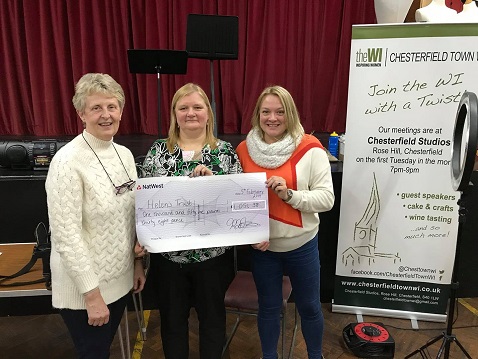 Chesterfield Town WI were very proud to present Helen's Trust, their chosen charity for 2018, with a cheque for £1,051.38 at the February meeting. Well done and thank you to all members for their generosity and hard work - especially those involved with the Garden Party. A big thank you to friends at Barlborough Hall School for all their help with and hosting of the Garden Party.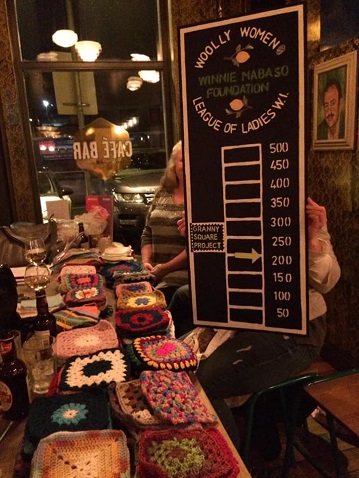 Glossop Woolly Women are making these beautiful squares which will be taken to South Africa and made into blankets by their granny club. Not too far to go before they reach their target.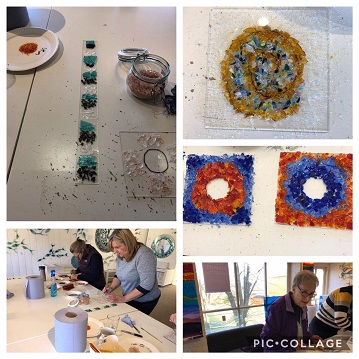 A group of Moseley WI ladies attended a 'Fusing with Frit' (crushed glass) Workshop at Jo Downs Glass in Ripley in February. Here are some of the creations that were made. How lovely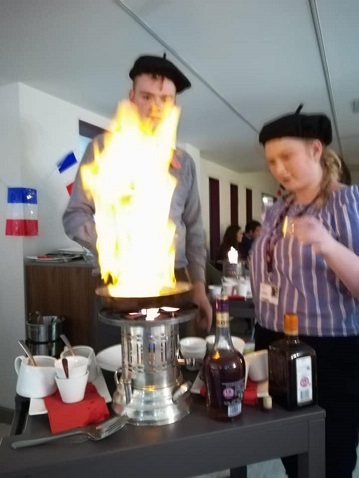 Burton Belles WI. Some of our ladies enjoyed a French themed meal at Burton College recently. Great value dining. Supporting local students. Fun & friendship.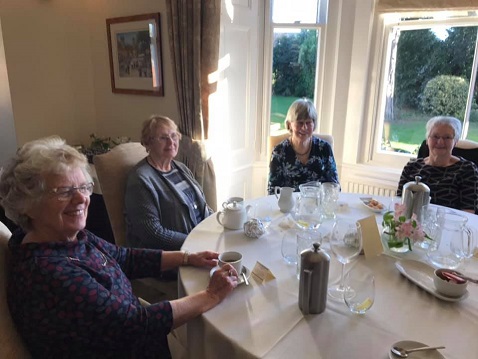 Bretby WI celebrating their 80th Birthday - lunch at Pascal at the Vicarage. Delicious meal and good company! The first of many events in 2019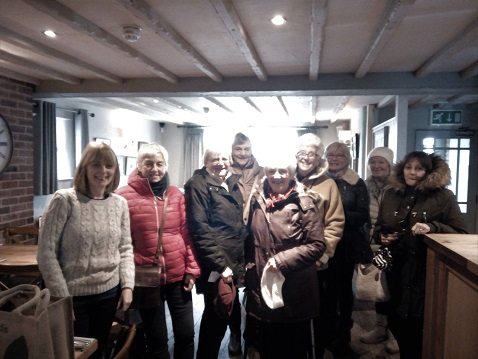 The Willington WI station team met to discuss some minor damage to plants in one planter but with such frozen conditions they retired to the warmth of The Dragon for future planning and coffee! Having got all togged up to leave and pay, they discovered an unknown lady had made a wonderful gesture in paying for all their coffees. A very big THANK YOU to you from Willington WI.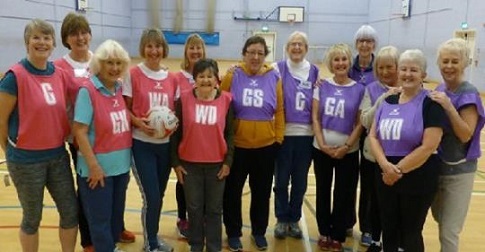 The Women's Insitute and England Netball teamed up to run a national programme for WI members and following a successful taster session at Arc Clowne, Barlborough and Clowne WI member Sue Ammon applied for the group, now known as the Arc Angels, to be part of the programme and 20 funded sessions began in June last year. Eventually opened up to the winder community, the group now has around 16 members and is also now self sustaining after the funding ended but group members successfully negotiated with Arc Clowne to add it to their weekly timetable.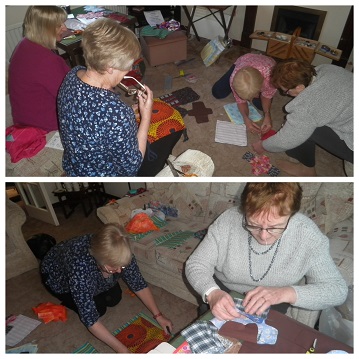 Willington WI held a small workshop where they started to make feminine hygiene kits after the DFWI 'Days for Girls' event in September 2019. Well done ladies - it is not as easy as it looks at first glance!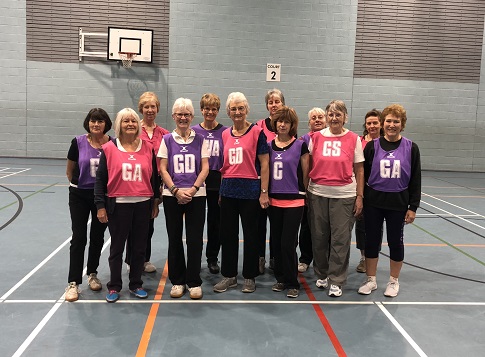 Members of
Ashbourne WI
enjoying Walking Netball. Walking Netball is really taking off in Derbyshire with new venues being set up.Anyone in the Ashbourne area is very welcome to come to the Ashbourne Leisure Centre each Friday from 10.30am until 11.30am and join in with the great group of ladies who have been coming to that session. A super fun activity 🏀👍come on down and bring a friend!For more information call Jenny on 01335 360171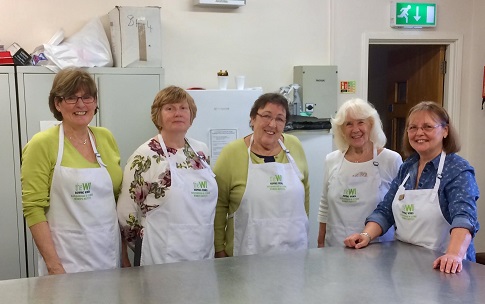 Barlborough & Clowne WI ladies once again supporting the Eats & Treats event this morning at Pinxton. A very busy morning and thanks to Anne and Liz for baking the gorgeous cakes.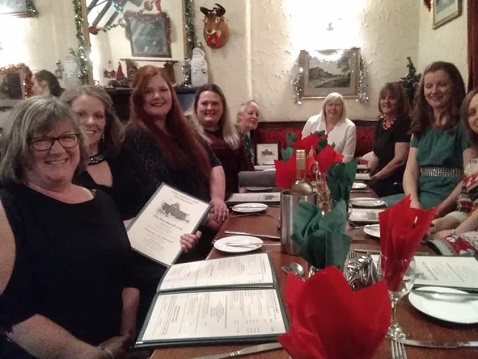 Tibshelf WI enjoyng their Christmas meal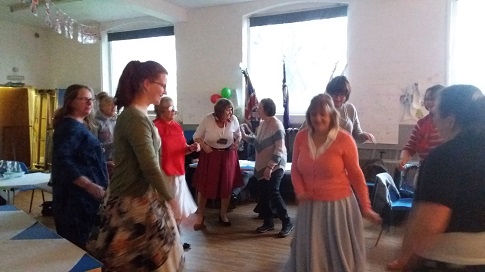 Members of Tibshelf WI had a great afternoon of singing and dancing with 'Harmony Plus' celebrating their 7th Birthday!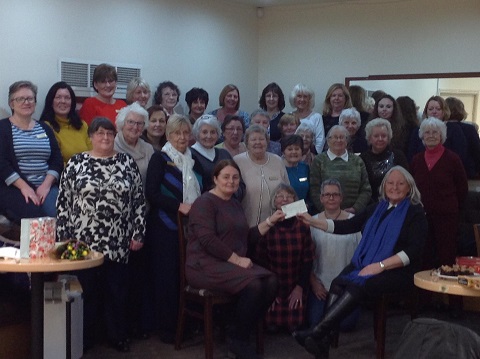 Barlborough and Clowne WI members have been very busy this year fundraising and are pleased to present a cheque for £1500 to St John Ambulance to install a defibrillator in Clowne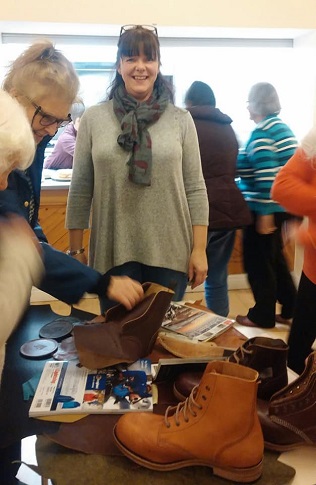 Thank you Libby Slattery for a very interesting talk at the Calver WI January meeting l. Members are all looking forward to visiting the Boot Factory!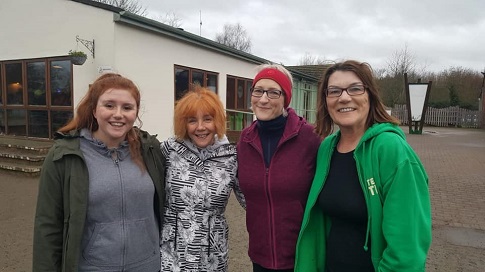 16 ladies from Buton Belles WI have signed up to the challenge of walking 1000 miles this year Here are 4 of them taking part in a local park run last weekend. They walked rather than ran and had a natter along the way, followed by a cuppa and more natt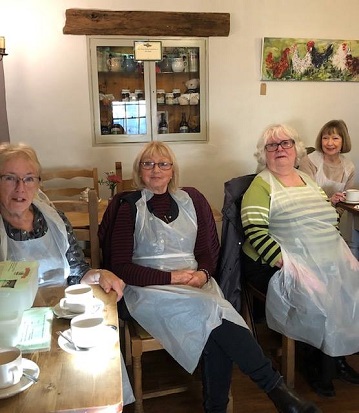 Baslow WI members enjoyed their first outing of the WI Centenary Year. IT was 'The Bakewell Pudding Experience'! They all made a pudding and whilst they were in the oven ate a late breakfast.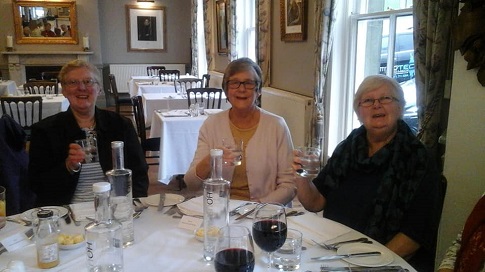 Chapel-in-the-Frith WI members enjoying a meal at Old Hall. Buxton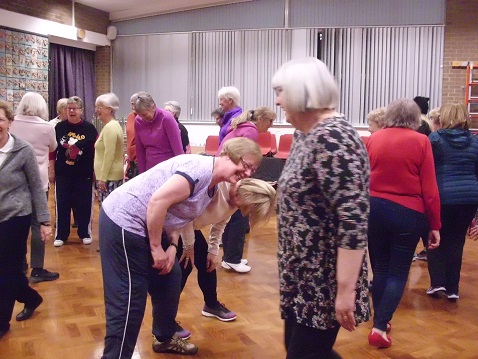 Photo's from Briz Valley WI January meeting. Laughing Yoga with Anne Huckerby, and what a laugh it was. Originating in India it is now world wide. Everyone interacted with one another and became a bee or a penguin!!! Evefyone was laughing at the end so it worked!!!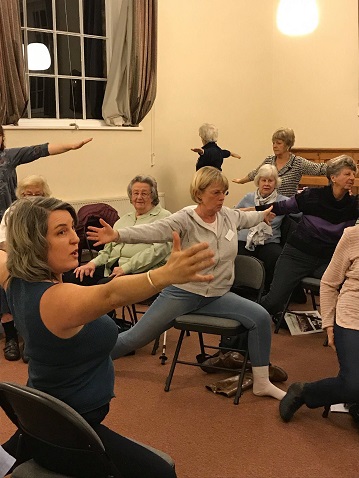 Chair Yoga with Louise Croome at Bakewell WI was a winner...thoroughly enjoyed by all, and a great turn out on a Winter's night.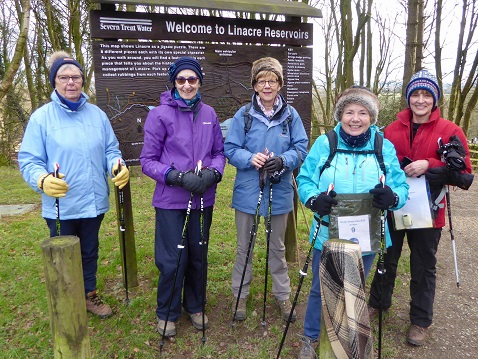 Four Baslow WI members and a friend met at Linacre Reservoirs to take up the challenge of the 'Virtual Runner Winter Walk'. They all achieved their goals and went home tired but happy! See @virtual_runners on Twitter.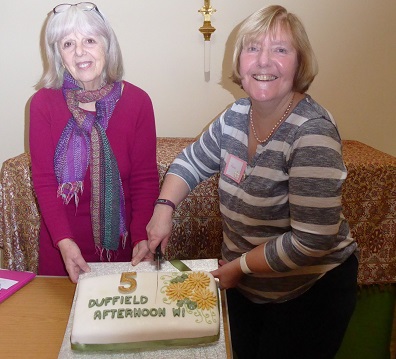 Duffield Afternoon WI celebrated their 5th Birthday with cake and prosecco!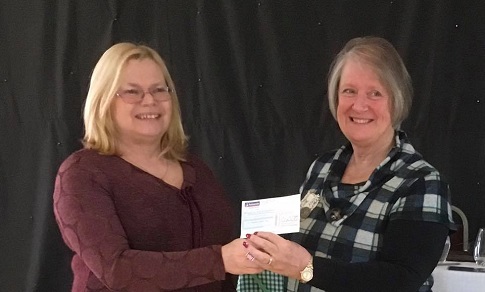 Uffa Magna WI held their first meeting of the year with 67 attending and one visitor. The members voted on the resolutions and talked about recycling and how to reduce the amount of plastic used. Linda from Derby MS Society joined the meetijng and was presented with a cheque for £600, the result of last year's fund raising activities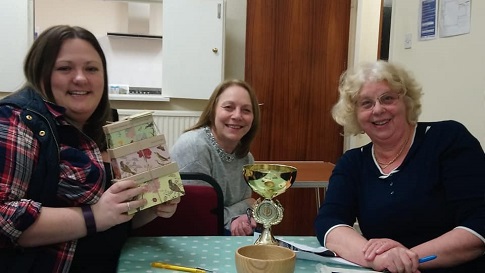 Congratulations to Sophie, Joyce and Pat of Tibshelf WI for winning their WI Big Quiz of the Year!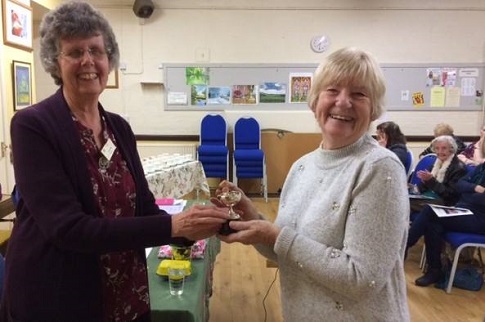 During their January meeting the President of Ashbourne WI presented Maureen with the Thorley Cup, awarded for her outstanding contribution to the Institute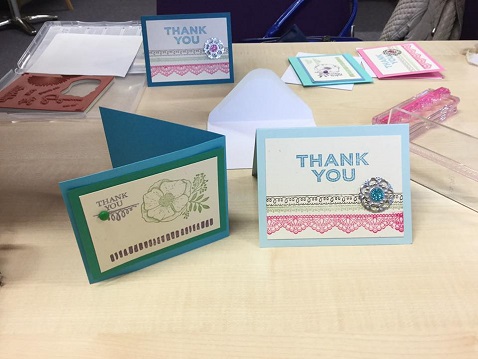 Members from Heanor WI found their first Crafty Ladies session of the new year very productive, with most ladies making four, or more cards. Very useful to send as thank you cards for their Christmas presents.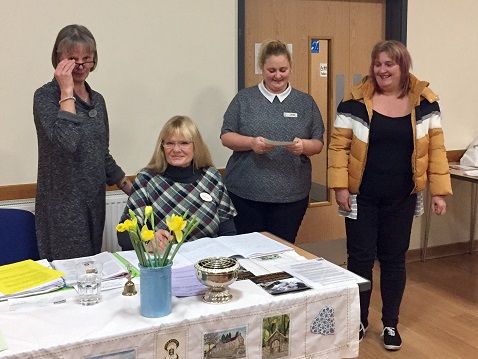 Over the last year Little Eaton WI members have raised a grand total of £1400 though social events, raffles and book stalls. President, Sue Tulloch presented cheques to representatives from Little Eaton Playschool and The Village Pre-School Little Eaton for £700 each. Well done !!!!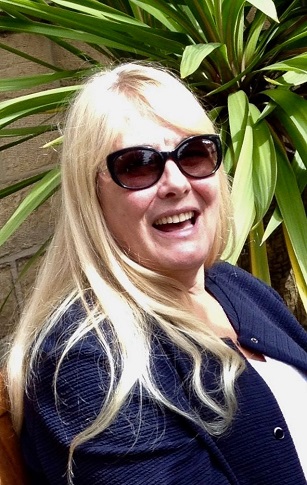 CONGRATULATIONS - BASLOW WI'S GILL STEEL has the menu of the month spot on MY WI, part of the NFWI website for members.Take a look, the menu is bursting with interesting flavour combinations it includes a dragon fruit starter and a spicy turkey hot pot main. Find the full recipes on My WI: https://t.co/CylWO4uEYd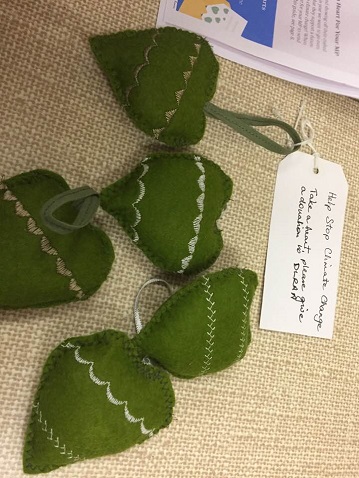 Cromford WI green hearts made to draw awareness to the problems of climate change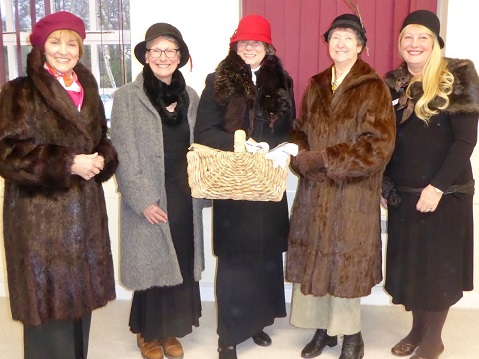 At the first meeting of their Centenary Year, five Baslow WI members acted out a sketch of how they imagined the meeting in January 1919 would have been. Great fun was had researching from the WI Record and Minute Books and dressing up too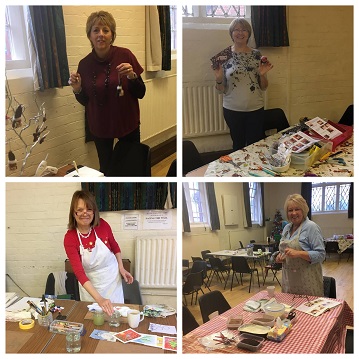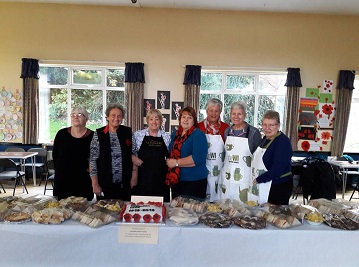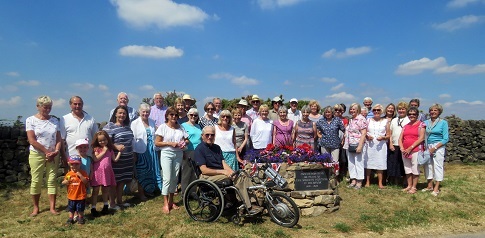 Holbrook WI members and friends, the Community Action Group (Holbrook) all gathered to see Ron Brien unveil the commemorative plaque on the centenary planter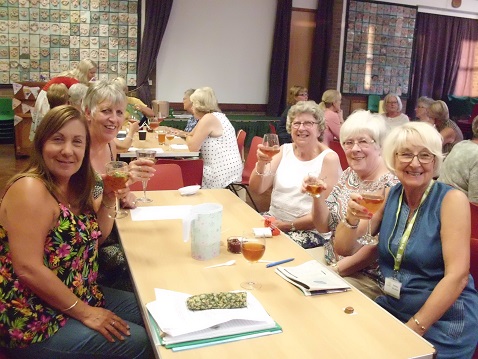 Briz Valley WI celebrating the Strawberry with homemade, lovely scones and cream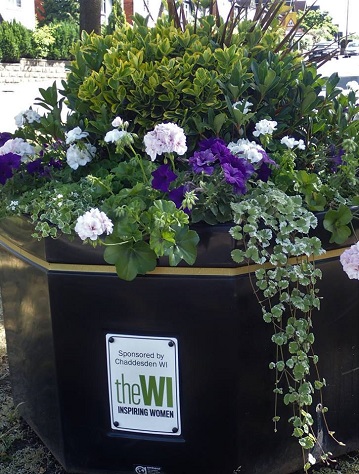 Chaddesden WI have donated this lovely planter to help cheer up the commuters in the station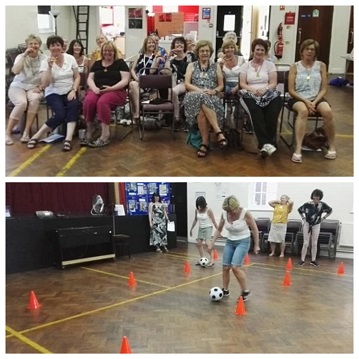 Chesterfield Town WI held their very own football tournament! Lots of fun with Football musical bingo (who knew that many football songs were about!) Hope everywhere is wearing their medals and enjoying their Chocolates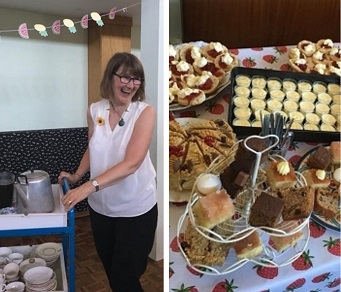 Members of Drone Roses WI attended a wonderful 'Strawberry Tea' event organised by Old Brampton WI in June.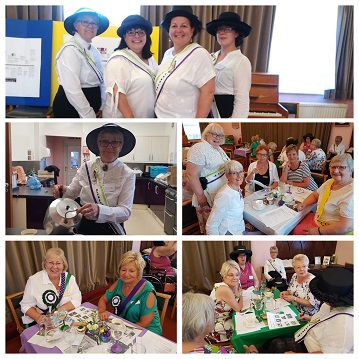 What a superb evening at ALFRETON WI X 100 YRS of Women, the Vote and Equality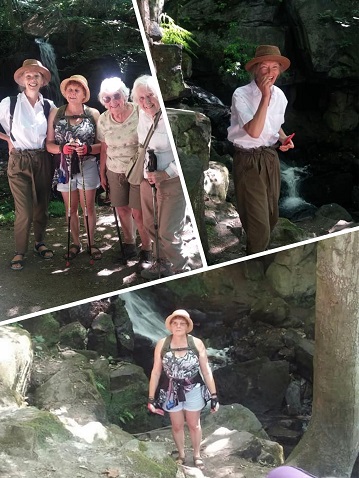 The Calver Cookies were out walking again in the sunshine. Our walk to Lumsdale Falls was hot and rather steep in places but enjoyed by all.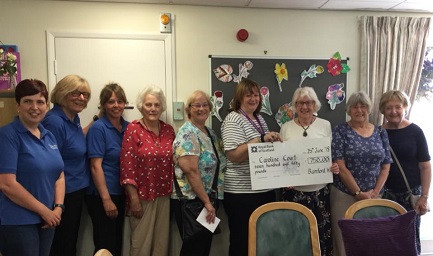 Bamford WI presented a cheque for £750.00 to Caroline Court Day Care Centre, Hope. Earlier this year members of our WI chose the Centre as our annual charity and the money was raised with a coffee morning, a raffle and other social events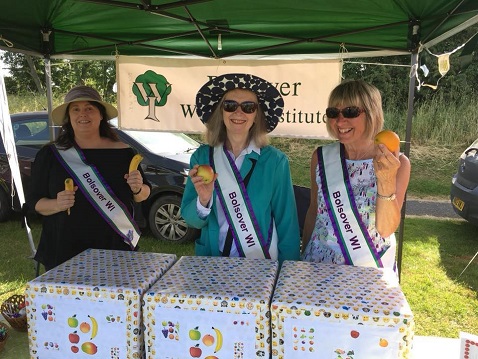 Bolsover WI with the human fruit machine at Bolsover Gala in June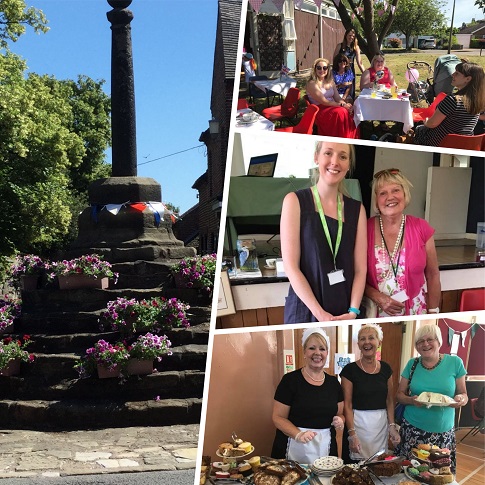 Repton WI celebrated their own centenary in style, decoratong the cross in the village and enjoying a delicious afternoon tea in the sunshine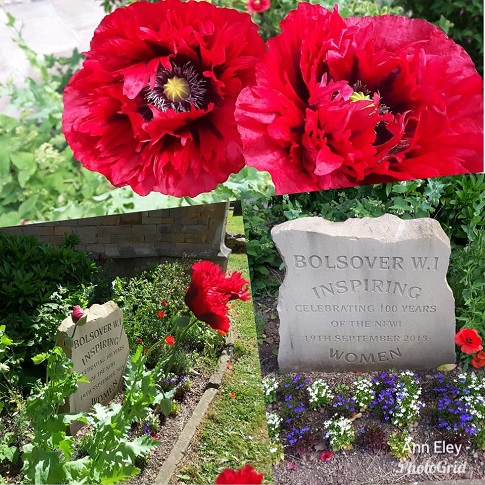 The beautiful Bolsover WI Centenary garden by the entrance door to St Mary and St Laurence Bolsover Parish Church. Photographs were taken by one of our members.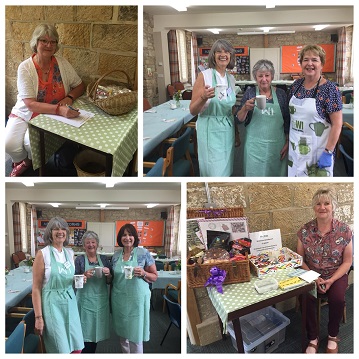 Ashover WI hosted the Centenary Walk 2018 in June. Here are the helpers behind the scenes on the day in the Bassett Rooms.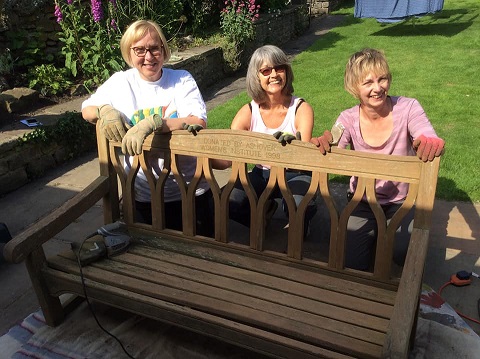 This is the story Ashover WI village Church yard bench. Placed there 30 years ago by the original Ashover WI it was in great need of some TLC. So a few of us got together to slough off years of dirt and bring it back to it's former glory. It's now been returned to its original site, looking lovelier than ever - just in time for this week's Centenary Walk.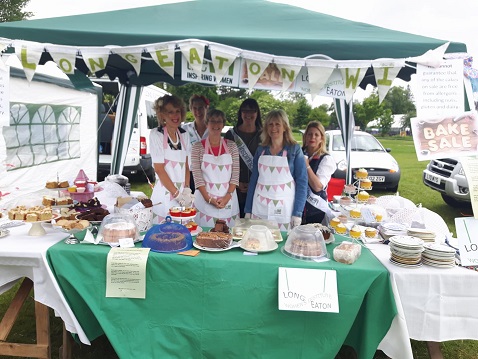 Long Eaton WI at the annual carnival with a delicious array of cake!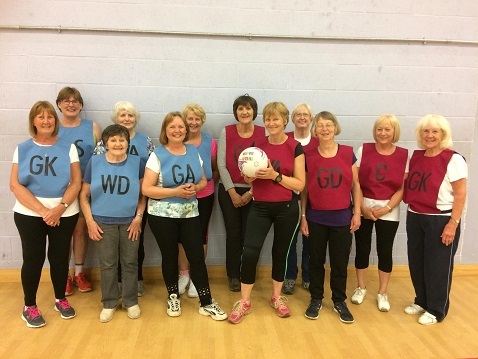 Members from the De Rodes Group of WIs enjoying the first of twenty Walking Netball sessions at the Arc Sport and Leisure Centre in Clowne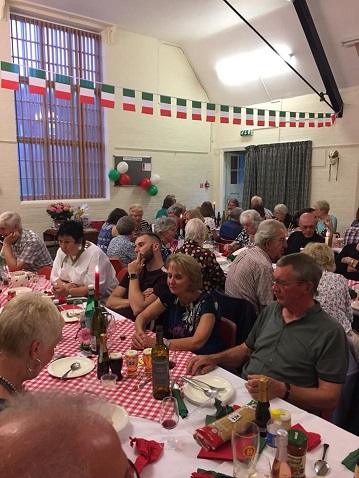 Newton Solney WI held an Italian evening with entertainment for members friends and partners - it looked fantastic!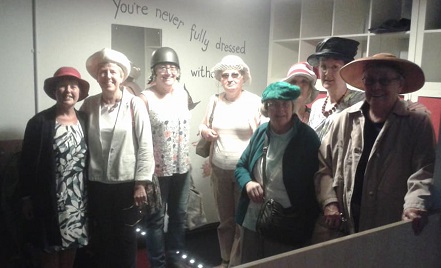 Several members Chinley and Buxworth W.I. enjoyed a very interesting visit to the Hat Works Museum in Stockport last week followed by a extremely pleasant lunch at the Plaza !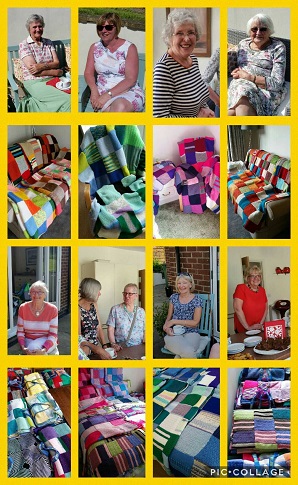 Members of Duffield Cumberhills & Duffield Afternoon WI's had a delicious Afternoon tea as a thanks for knitting blankets. They were wonderful, all 122 of them and thanks go to all members of both institutes, who over the Winter months knitted the squares for us to sew up. Jane with her husband Peter and students from Littleover School will be taking them to Kabale, Uganda at the end of June. A new dormitory has been built for older children so the project continues next year. Please keep knitting!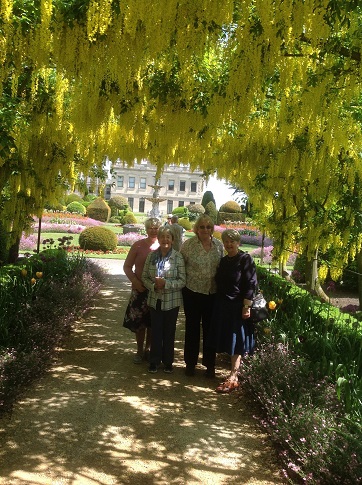 Old Brampton WI. A lovely day out for 4 of our Old Brampton members at Brodsworth Hall, near Doncaster. If you haven't been before, the gardens are stunning.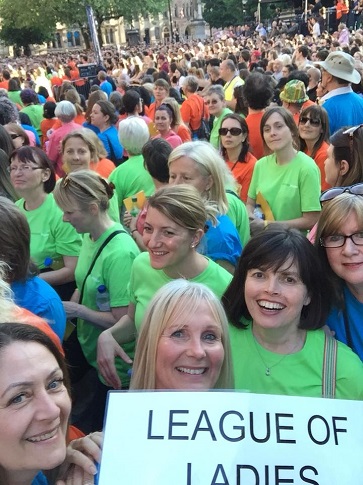 The League of Ladies WI Choir singing at the rememberance event one year after the Manchester bombing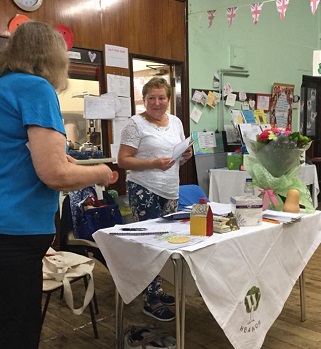 Heanor WI. Our lovely President, Diane, receiving flowers and a gift card from the members on stepping down after five years' service. Thank you so much Diane, you'll be a very hard act to follow.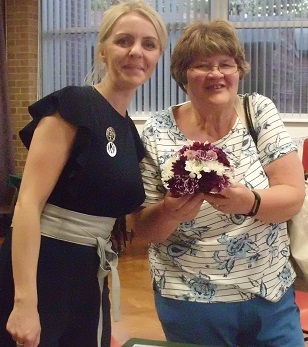 Briz Valley WI AGM. Judy Stanhope was our DFWI Advisor for the night. Our President Louise gave her report plus thanks to the out going committee,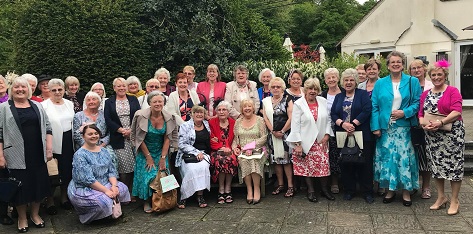 Newhall WI enjoying Afternoon Tea to celebrate the Royal wedding and DFWI centenary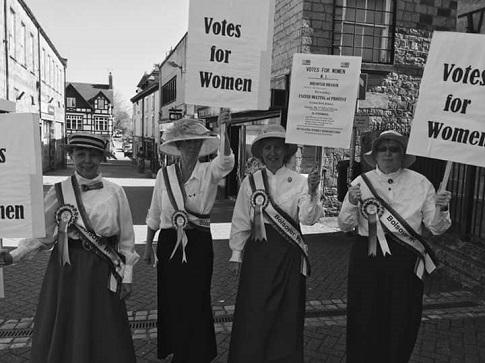 Bolsover WI A lovely sunny morning for our Suffragettes Hill race team publicity photoshoot. Fabulous outfits and hats!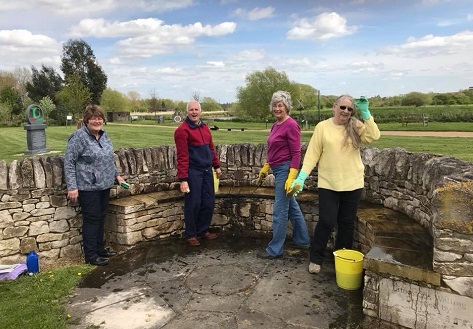 Three members from Bretby WI and WISH had a busy afternoon sprucing up the WI seat at the National Memorial Arboretum. Nice clean seats to sit on now when you next visit!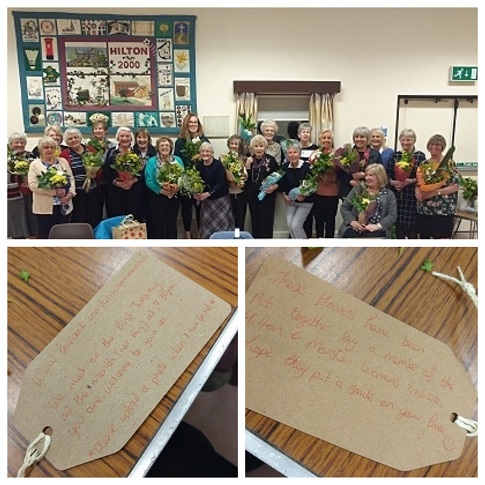 Hilton and Marston WI had a lovely meeting this month. Members created bouquets of flowers as part of a national initiative to distribute flowers to those you love, those that are lonely or just because. Some members gave their bouquets to friends and family and some left them on a doorstep of a neighbor.This is something everyone can do and it is so lovely to bring a smile to someone's face! Well done ladies, all the arrangements were beautiful!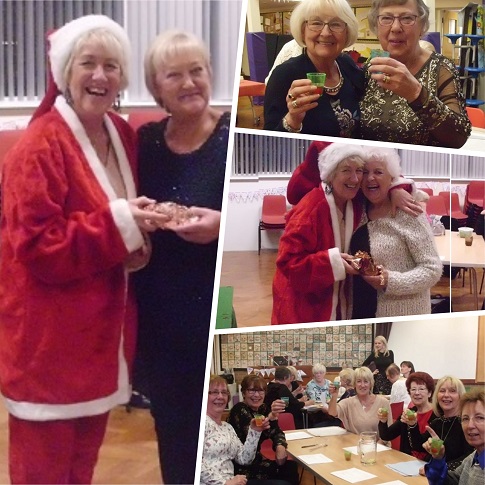 Briz Valley WI turned back to Christmas 2017. As they had to cancel Christmas in December they decided to have an extra meeting in April! It was a tad surreal. But they soon got into the swing of the night by making "Mocktails".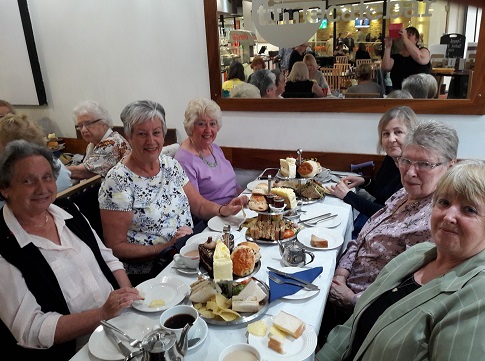 Killamarsh WI ladies enjoying afternoon tea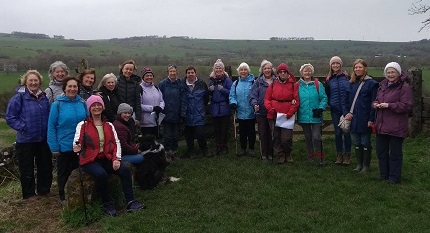 Longford WI link with Whitley WI, Cheshire for a Tissington Walk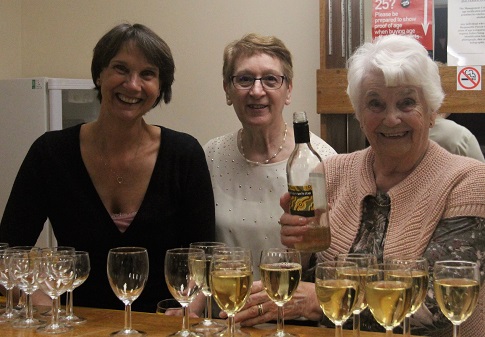 Breadsall WI. What an enjoyable evening it was at our Film Premiere! A full hall, lots of food and wine, happy people and a most brilliant film showing the changes in education over the last 100 years, It was a definite teary moment when Jerusalem came up at the end, and so many ladies stood up and joined in the singing.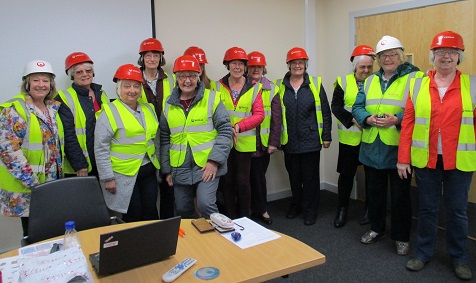 Whitwell & District WI's visit to the Veolia Materials Recovery Facility was amazing! Lesley, the Education Officer, taught us so much about what we should and should not be doing with our recycling. We learnt about the problem of recycling low-grade plastics, how to do the 'scrunch' test, what to do with hard plastics, etc. The actual tour to see the highly sophisticated sorting machinery in action was mind blowing. We are now all fired up to be better recyclers and do our bit towards the future of the planet.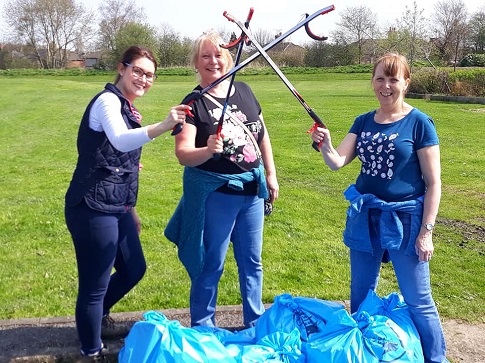 Bolsover WI took part in the Big Clean in April. A small group of 5 managed to fill 8 bags of rubbish from Hornscroft and surrounding area. Great work clean up team!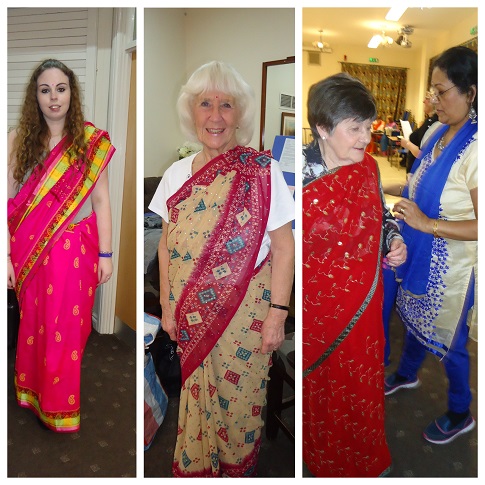 Barlborough and Clowne WI enjoyed a Bollywood Evening meeting in April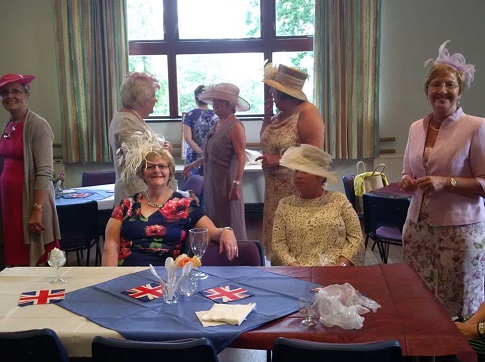 Littleover WI All of us in our finery to celebrate the Queen's birthday, don't we look grand!!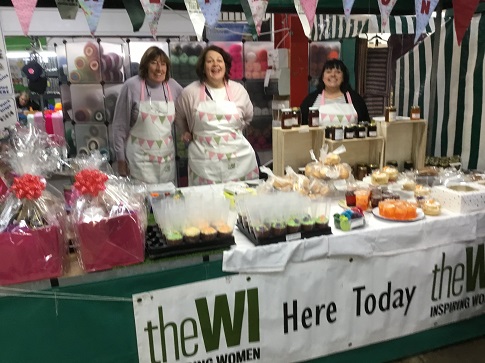 Alfreton WI Mothering Sunday stall on Alfreton Market selling amazing cakes and preserves. All homemade from fab ingredients. The WI doing what it does best!
2018 COUNTY QUIZ RESULTS
Initially a 3 way tie between Breadsall, Hatton and Pentrich A, who all finished on top with 87 points out of a possible 90, Breadsall WI was declared the overall winner when answering a tie break question gave them that final vital point. Congratulations Breadsall, and well done to everyone who took part.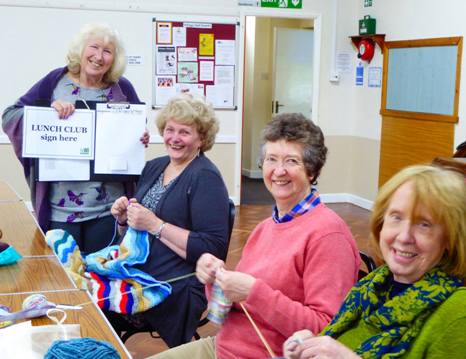 Four Darlings at Baslow WI's Social Afternoon in April 2018. WISA, it's time for tea and chat keeping busy or being lazy everyone does what they want!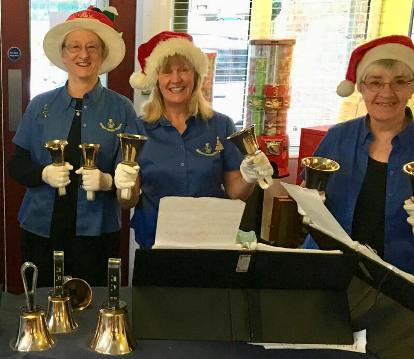 This is a picture of the Nelson Handbell Ringers featuring two members of Ockbrook and Borrowash WI it was taken when they gave a performance at the Briar Close Care Home in December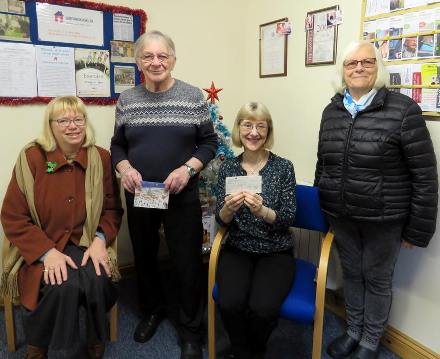 Ockbrook and Borrowash WI pesented a cheque to Borrowbrook Home Link group made in early December
We had raised money by selling delicious cakes for a number of monthly meetings and then topped donation up to £100 which we presented to Borrowbrook. This is an organisation which helps to alleviate loneliness in older people in both parishes. This ties in with the WI resolution on loneliness. Borrowbrook were very pleased and have recently sent us a thank you letter.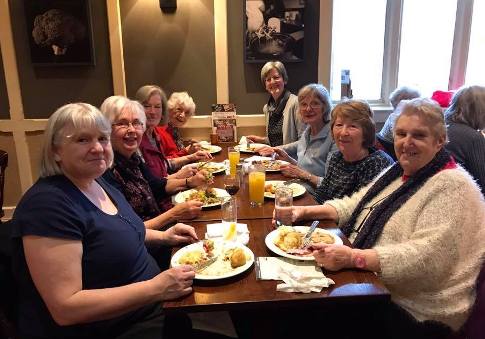 21 members of Chaddesden WI met at the Toby Carvery at the Park Hotel for sociable time with a good meal.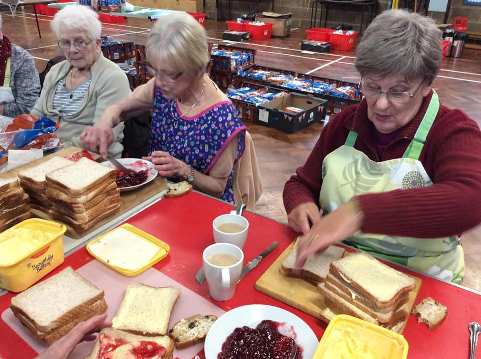 Members of Chapel-en-le-Frith WI making sandwiches for the Scouting Association Four Inns Walk in the High Peak in March.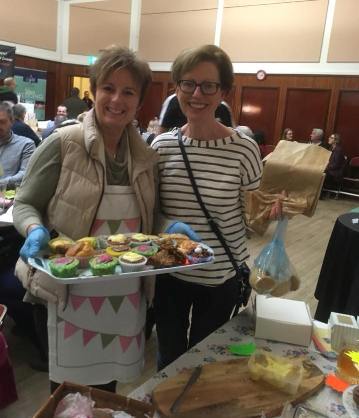 Burton Belles WI selling cakes, fudge and jam to raise funds for the Burton YMCA at the Burton Beer Festival in March.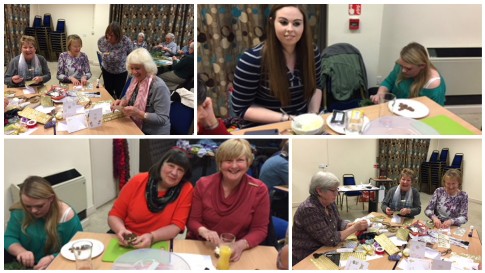 Barlborough and Clowne WI. Easter Crafts kept everyone busy at the March meeting. Everyone went home with something to help decorate the house for Easter. We had Easter Chicks, Easter buns, Easter cards, Easter trees to decorate and two types of Easter wreath to choose from. A great evening to chat, laugh and get creative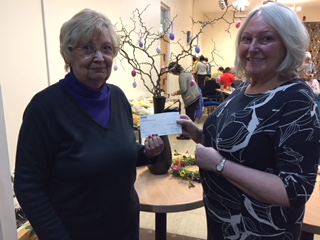 At the March meeting on Tuesday evening Patricia Quinn, President of Barlborough and Clowne WI presented a cheque for £202 to Anne Bellamy, DFWI County Treasurer as our contribution to the Saving Denman Appeal. The money was raised at a recent WI Coffee Morning in the village.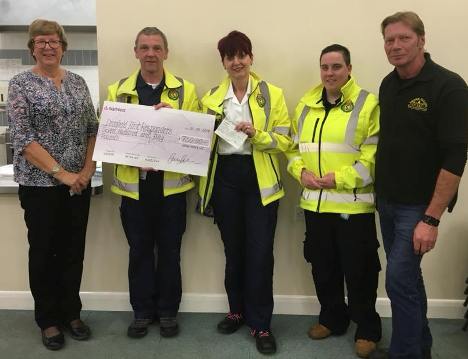 Drone Roses WI were delighted this evening to present a cheque for £750 to Dronfield First Responders. Funds were raised after our recent beer brew in conjunction with Drone Valley Brewery.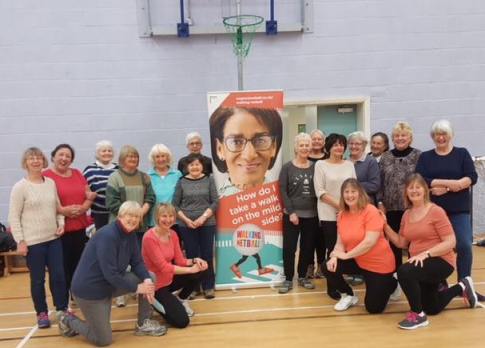 Barlborough & Clowne WI organised a walking netball session at The Arc in Clowne. Other WI members from the De Rodes Group of WIs were also invited. What a fantastic afternoon, thanks to Sue for organising the taster session and for applying to NFWI to be part of the walking netball project. Sue is waiting to hear from England Netball as to when our sessions will start.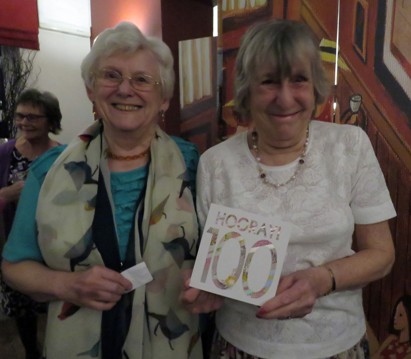 Congratulations Holbrook WI on your Centenary. Enjoy your special year.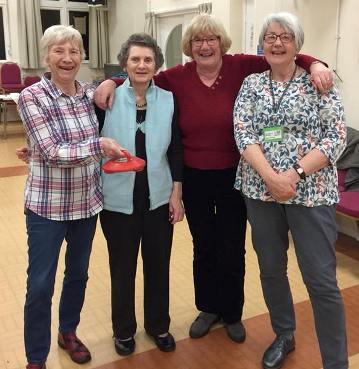 Whitwell and District WI -The victorious team from the curling evening in March. Good fun and well done the winners!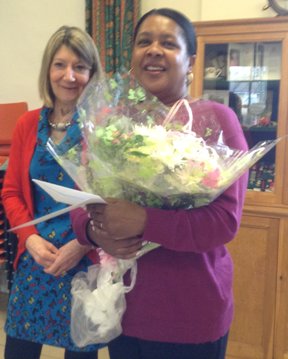 Arlene a member of the admin team at Derbyshire House has completed 20 years service - and she is still smiling. She was presented with a bouquet of flowers, a card and gift by Chrissie Booth DFWI Chairman.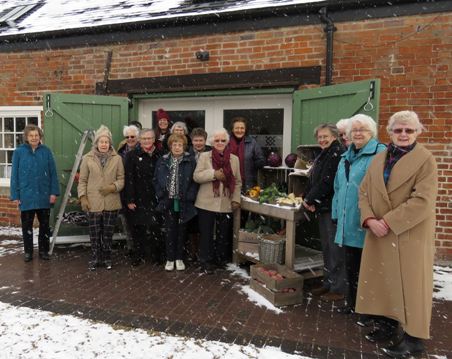 Braving the snow! Sudbury WI members met up at 'Sweet Little' in the Courtyard at Sudbury Hall for coffee and light lunch before choosing from the range of vegetables on display.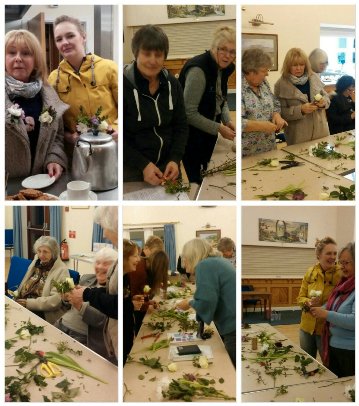 Calver & District WI have moved their meetings to the Village Hall and look how they are taking advantage of all the space they have. Good luck to you all with your re-formed WI.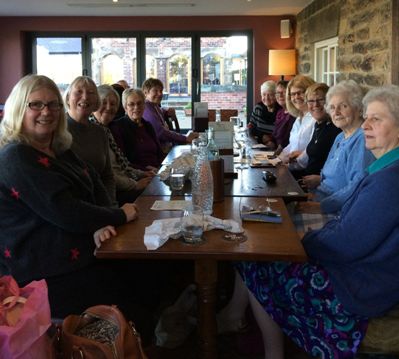 Barlow, Newbold and District WI ladies enjoying a very nice Friday luncheon in The Peacock at Barlow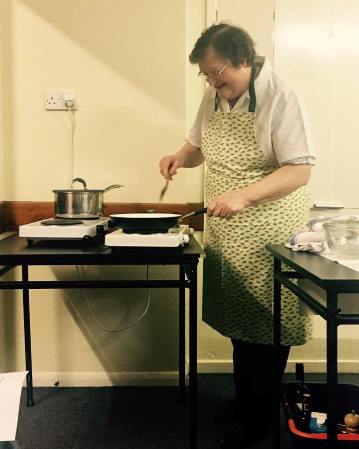 Shardlow WIs speaker was our very own Nancy Hawksworth. She whipped up an amazing 4 dishes in an hour, all including at least one of your five a day, and all absolutely delicious!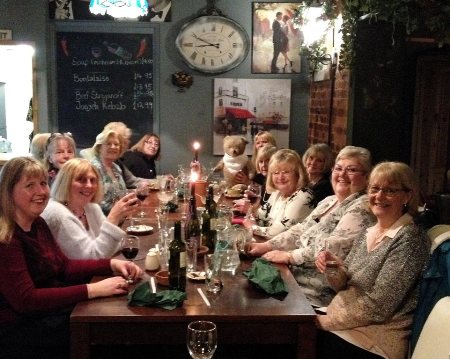 Little Eaton WI committee enjoying the annual meal out at The Clock Bistro, Spondon. Even WI teddy had his own chair and had a wonderful time!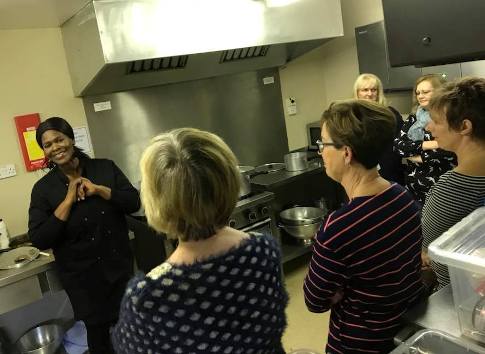 Burton Belles WI members were treated to a Caribbean cookery demonstrationn and enyoyed eating the final product.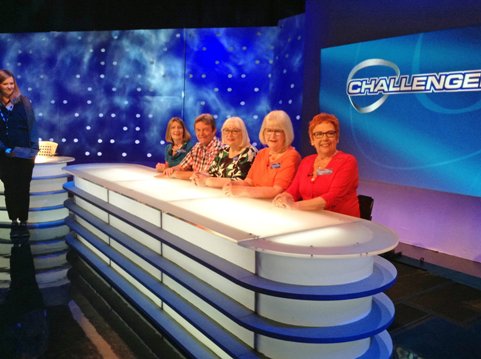 Trustees on TV. Members of the Board of Trustees made the trip to Scotland to take part in a recording of the quiz programme Eggheads which was broadcast in January 2018
_____
.
DFWI 'Fun and Games' at Chinley - A brilliant video of the antics at the 'Funand Games'event in the north of the county.