Meeting Updates
As well as our monthly meetings at the Community Centre in Clowne many of our members are involved in other activities linked to the WI. Click here to find out more
At our September meeting the Baroness of Bolsover took us through the intricacies of a Victorian Aftenoon Tea. We now know why tea gowns were such importand dress wear for these occasions and even how to stir the sugar in our tea! A great event which we can thourougly recommend.
Our usual informal get together in August was again somewhat different this year. The committee organised a socially distanced Afternoon Tea outside at a local cafe. Not everyone felt confident or able to attend but a great time was had by everyone who did. The cafe is situated in Old Bolsover Yard which has been renovated to include some lovely little local artisan shops so some retail therapy was enjoyed along with an impromptu rope making demonstration by one of the artisans
2020 has proved to be a very different year for meetings. Here is a screen shot of members attending a virtual Zoom coffee monring in June - one of the first opportunities we have had to 'meet' this year
At our September meeting Neil and John from Barlborough Heritage Centre gave us a very interesting insight into the work and research done in Barlbororough and the surrounding area.
The August 2019 Social Meeting at Barlborough and Clowne WI started with a walk through Clowne, along the Clowne Branch Line Greenway and back to the community centre where they met up with other members for pie and peas.Thanks to Karen and Sue for leading the walk. A lovely evening with great company.
In March 2009 about 30/40 ladies living in Barlborough and Clowne met with Derbyshire WI Advisers in the Little School Barlborough to decide if they would like to form a WI. They did and Barlborough & Clowne WI was formed in April 2009 with Jen (cutting the cake) as President. What great friends have been made over the last 10 years
A flavour of our meetings and events in 2018
At our meeting in November we were shown how to do Needle felting. Didn't we do well!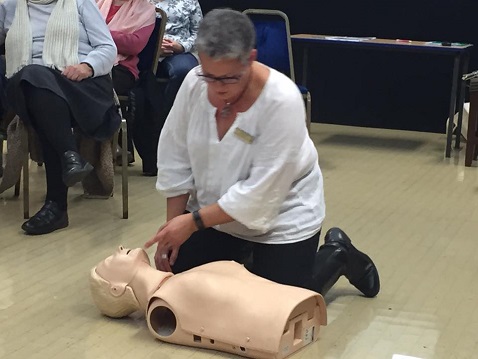 CPR training at our October meeting given by members of the St Johns Ambulance. An opportunity to ask questions and test the procedure.
September was the time for something completely different - we were guests at a private gin and beer tasting event at Heist Brewery in Clowne. A great evening full of information about the liquids we were tasting and an opportunity to chat and get to know one another even better! I have a feeling we will will be repeating this one fairly soon.
During August we do not have a formal meeting but have enjoyed an informal walk around the area organised by members followed by a Pie and Pea supper in the local community centre for the past few years . A chance to chat outside of our normal meetings. This is a very popular event and this time we were joined by a few new faces.
July was an information month. We had a facinating speaker who spoke to us about the origins of that great favourite - the pantomime.
In June we 'got competetive' with an indoor Curling competition,. We hired two Curling sets from the Federation and had a really fun evening with four teams competing to be outright winners on the night. Federation Treasurer and Barlborough and Clowne member Anne Bellamy kept the score chart to ensure there was no cheating!
At our May meeting we did the serious stuff - discussed and voted on the Resolution 2018 - Mental Health Matters - in readiness for our delegate to take our voting choice to the National Federation meeting which was held in Cardiff this year. We also voted in our committee for 2018-19 and recapped on the success of our contribution to the Centenery Celebrations earlier in the month. Click here for photos of this event.
Bollywood came to Barlborough and Clowne for our April meeting. The subtleties and gesture interpretations of Asian dance were explained to us by a very competent dance artist. We were all encouraged to try the sari - a beautiful dress style and to try some of the movements and gestures of this 2000 year old dance form. Another interesting and enjoyable evening.
Easter Crafts were the theme of our March meeting. WI ladies excited to be 'sticking and glueing' again! We made Easter chickens, Easter buns and chocolates, Easter Cards, Easter wreaths and much more. A relaxed evening of laughter and chatter
Our annual Cheese and Chutney evening was held at our February meeting this year. This is a very popular event when members bring along their home made chutneys for everyone to sample. We all judge by placing a coin alongside our favourite chutney. The jar with the most coins wins the Chutney Spoon - to keep for one year. The money is put towards our donation to Pennies for Friendship. The winner this year was Octavia one of our youngest members.
At our January meeting we all stepped back in time remembering weddings and anniversaries. As part of the Centenary Celebrations our WI has decided to display 100 years of weddings. We plan to model an example of wedding dresses for every decade since 1918 along with relevant memorabilia to highlight the changes in wedding ceremonies over the years. A collection of wedding photos lent by members was displayed as a slideshow with many happy comments. Wedding dresses were brought in to be loaned for the event in May - all beautiful examples of memorable days. To 'get into the swing of things' members wore their very best wedding hats on the night, we also toastd with non aloholic Bucks Fizz and enjoyed a slice of wedding cake.
Fundraiser for CRY Charity
A last minute competition at the Annual Meeting at the Winding Wheel in Chesterfield– Guess the Name of the Dog – raised almost £50 for the CRY charity and WI member Elaine Ward their Derbyshire Representative was delighted with the spontaneous generosity of members. The resolution proposed by Dronfield WI and Barlborough WI in support of CRY was not unfortunately selected for submission at the National meeting in Bournmouth in June 2016. Check out the Cry web site here
Eats and Treats 2016
On Monday 29 February members from Barlborough and Clowne and Bolsover WIs met to prepare the cookie jars for the next Eats and Treats event in March. 32 jars were filled in record time with most of the ingredients to make a batch of cookies, amid lots of chatter and laughter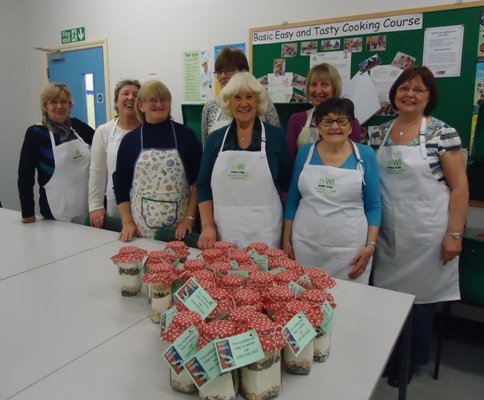 Elastic FM Awards Evening
Some of the members who have helped over the past two years supporting the Eats and Treats events as part of the Food Poverty initiative run by Bolsover District Council at the Elastic FM Awards evening on Friday 12 February 2016. We did not win the Community Organisation of the Year Award but we had a great evening!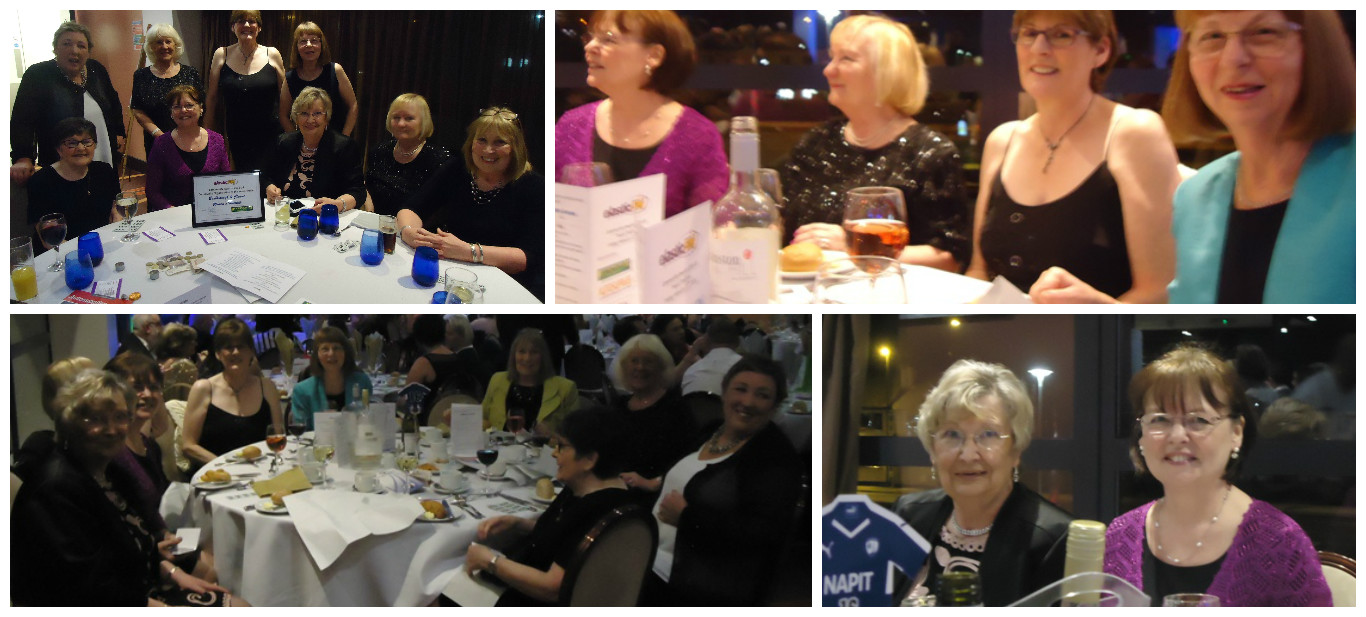 A photo collage of some of our member activities during 2015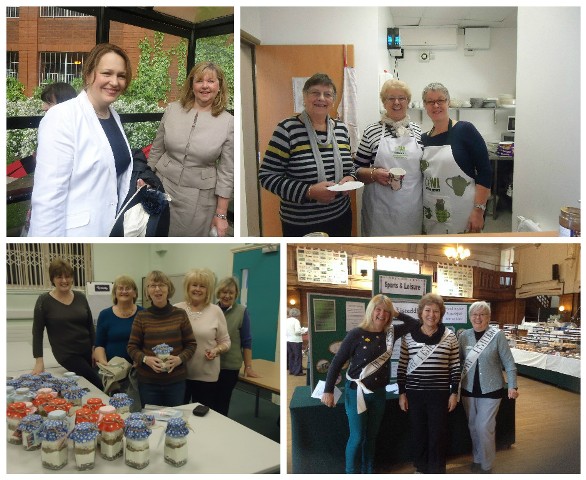 Eats and Treats 2015
Well done all the Barlborough and Clowne and Bolsover members who have supported the Eats and Treats initiative run by Bolsover District Council. Because of your hard work in supporting the Food Poverty initiative, BCWI has been shortlisted for an Elastic FM Community Award. The photo is of members preparing 'Cookie Jars' for an event in 2015